PATTAYA, THAILAND — With its early bird deadline fast approaching, ADFEST 2023 has reminded entrants that there is still time to submit by December 16, the final date before entry fees increase.
Submissions are open to all 20 categories including Brand Experience Lotus, Commerce Lotus, Design Lotus, Digital Craft Lotus, Digital & Social Lotus, Direct Lotus, Effective Lotus, Entertainment Lotus, Film Craft Lotus, Film Lotus, INNOVA Lotus, Lotus Roots, Media Lotus, Mobile Lotus, New Director Lotus, Outdoor Lotus, PR Lotus, Press Lotus, Print & Outdoor Craft Lotus, and Radio & Audio Lotus.
Highlights of changes to the Lotus categories include the Commerce Lotus (formerly eCommerce Lotus) expands to include offline commerce in addition to eCommerce, and the Digital & Social Lotus (formerly Digital Lotus) introduces various new sub-categories to reflect the fast-changing landscape of the digital world and social media. PR Agency of the Year is also added to the Special Awards line-up. Another significant change to this year's Special Awards is the scoring criteria for some Special Awards have also been updated.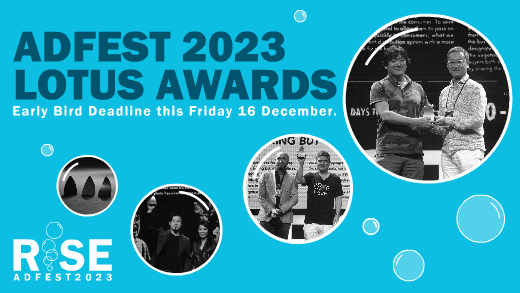 If you miss the Early Bird Deadline, you can still submit by our Final Submission Deadline on January 13, 2023. For more information on the ADFEST 2023 Lotus Awards, click here for the Entry Kit.