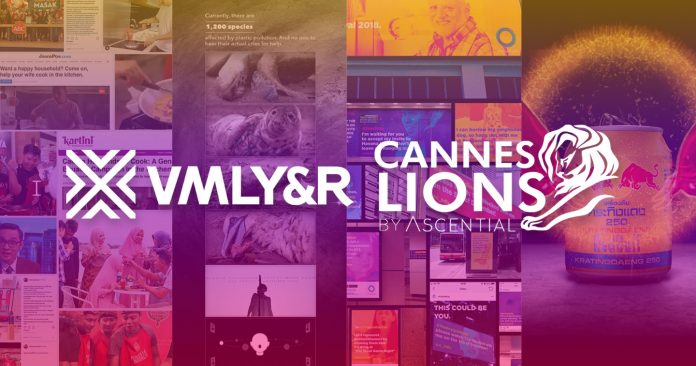 The most-anticipated event in the advertising and creative industry is finally here! The Cannes Lions Festival of Creativity is a five-day event celebrating the value of creativity in branded communications. It showcases only the most effective, innovative, and creative campaigns. Taking place from the 17th to the 21st of June, here are some of the incredible campaigns to watch out for brought to you by the full-service marketing agency, VMLY&R Asia.
Heinz: Real Husbands Cook
In Indonesia, the world's largest Muslim-dominated country, 60% of wives work. But patriarchal attitudes force them into a grueling "double shift" of work and housework. #RealHusbandsCook, a campaign by Kecap ABC, is a campaign to get Indonesian husbands cooking, and partnering with their wives in the kitchen. The campaign launched with a video featuring a recent divorcee, triggering a national debate and inspiring husbands across the country. A response campaign by divorcees turned hate into positivity, and an online academy taught husbands how to cook.
Red Bull: Giving Life to the Night
Making a real difference in Saigon's suburbs, 'Giving Life to the Night' is a unique innovation, where 2,475 recycled Red Bull cans were turned into a new and renewable source of energy that converts thermal heat from the sun into electricity, creating a billboard that lights up during sun down — giving birth to community spaces that people can enjoy at night. Stationed at poorly-lit street basketball courts, football fields and recreational parks, the billboard has provided an estimated 216.25 hours of renewable light since the beginning of the campaign, turning otherwise vacant areas into vibrant, attractive spaces for individuals to carry out their passions and dreams.
Circles: Epic Invite
Circles. Life wanted to launch their new events discovery app in Singapore, where people only trusted their friends for event recommendations. So, instead of promoting the feature themselves, Circles. Life gave all their media to anyone who invited their friends to one of the events on the app. People just had to visit the app, find an event, and invite their friends on one of Circles. Life's billboards all over the city.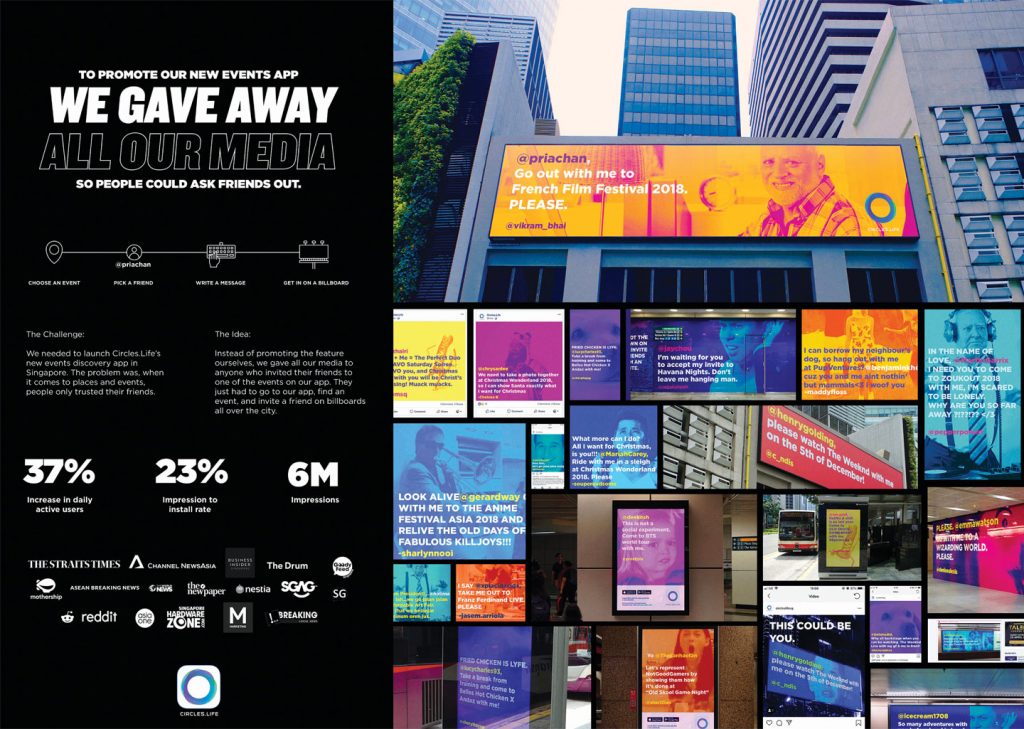 Dolby: Unsilencing the Beasts
In a performance done within a live theatre, a renowned voice artist teamed up with Dolby Atmos, making full use of its surround sound technology to get her message of plastic awareness across. Ami Yamasaki is known for altering her voice to channel sounds from various species of animals. For this partnership, she brought out the cries of animals suffering from plastic pollution, and in the process, unsilenced their plight. The performance took place during the screening of Fantastic Beasts, giving the message deeper relevance.