MANILA, PHILIPPINES — Michelangelo's Sistine Chapel: The Exhibition, a once-in-a-lifetime event, is ongoing in the Philippines, and it's best seen in groups for a communal and more affordable experience. 
Globe collaborated with ATIN Global, Inc. to bring the breathtaking exhibition to the Philippines. It will be on display at Estancia Mall in Pasig City until September 30, 2023.
Whether families, friends, classmates, officemates, or organizations, groups of all kinds can enjoy the shared experience of exploring the exhibit. With a special rate of PHP 3,300 for six people, visitors can save PHP 100 to PHP 200 per head compared to the individual rates of PHP 650 (weekdays) to PHP 750 (weekends), making this globally successful multi-sensory exhibit easier on the pocket.  
Families can bond over the timeless beauty of the artworks, friends can capture "Instagrammable" moments, classmates can learn about the Renaissance era in an immersive setting, and officemates and organizations can enjoy a unique team-building experience. The exhibit is an ideal destination for those seeking a memorable cultural outing together.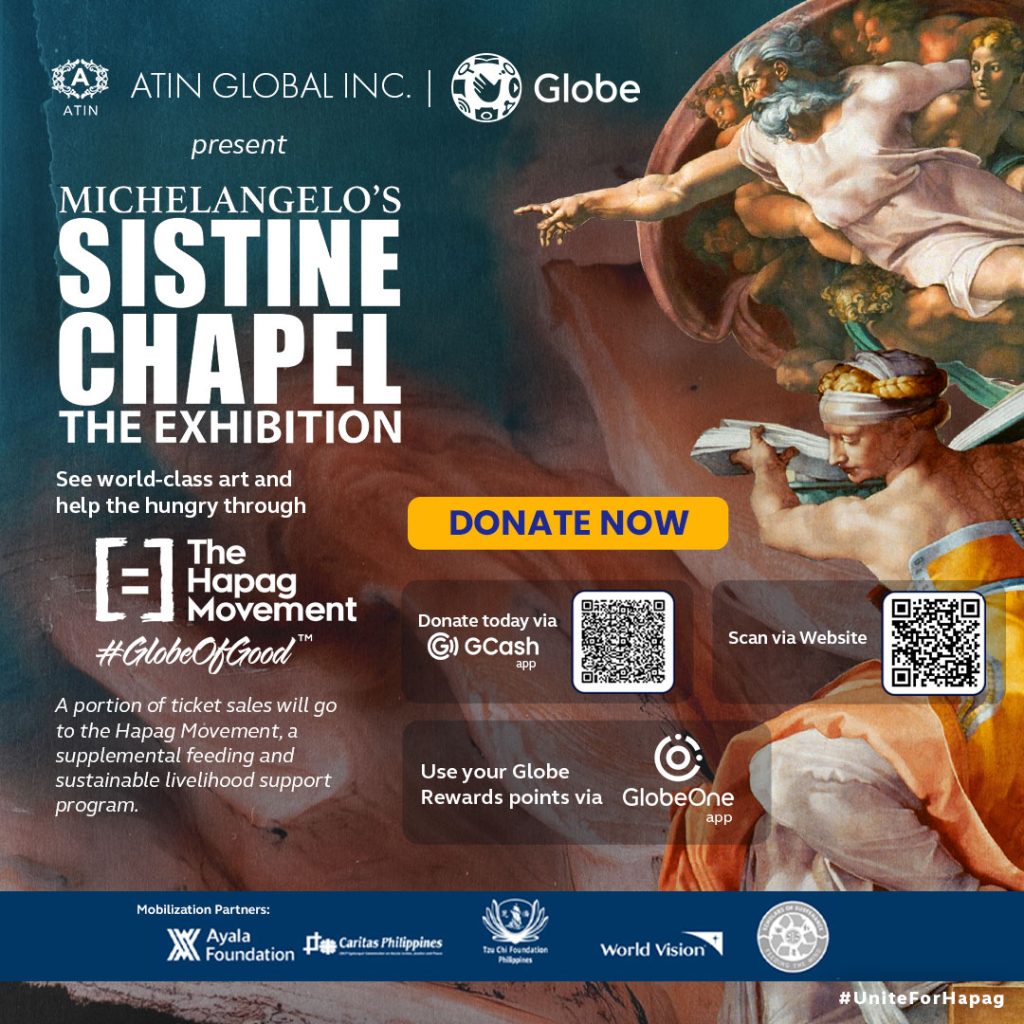 "This collaboration aligns with our commitment to enrich lives through art and culture. The affordability of the exhibit, especially for groups, is a testament to our belief that world-class experiences should be within everyone's reach," said Yoly Crisanto, Globe Group Chief Sustainability and Corporate Communications Officer.
"An experience like this exhibit is best shared in groups. We encourage everyone to come to the exhibit and make new memories together through our immersive display," said Sabrina Co, Founder of ATIN Inc. 
The exhibit has traveled from New York to Shanghai, London to Melbourne, and Vienna to Los Angeles, with the Philippines as its first stop in Southeast Asia. Filipinos have the unique opportunity to witness Michelangelo's 34 iconic frescoes, including The Last Judgment and The Creation of Adam, from a never-before-seen perspective. 
Guests will also be immersed in the ambiance of the Renaissance era, complete with curated music by Manila Symphony Orchestra conductor, Marlon Chan, and subtle scents of patchouli, sandalwood, and frankincense. Unlike the actual Sistine Chapel, visitors are encouraged to take photos and videos, making it a fun-filled and "Instagrammable" affair for all ages. 
A portion of the proceeds from ticket sales will benefit The Hapag Movement, a Globe-led initiative that leverages technology to fight involuntary hunger. The program leverages technology and brings together an ecosystem of partners, including Ayala Foundation, Caritas Philippines, Tzu Chi Foundation Philippines, World Vision Philippines, and Scholars of Sustenance Philippines Food Rescue, to provide supplemental feeding and livelihood programs for at least 100,000 disadvantaged families in four years. 
This makes the exhibition more purposeful, allowing visitors to contribute to a meaningful cause while enjoying the artistic masterpieces.
Michelangelo's Sistine Chapel: The Exhibition is a celebration of the universal power of artistic expression, merging the rich heritage of Italian Renaissance art with the vibrant Philippine art scene. Don't miss this rare opportunity to witness the divine creations of "Il Divino" up close, and at an affordable price, especially when visiting in groups. 
Tickets are available at the exhibit or online at www.sistinechapelphilippines.com, with special packages for schools and organizations. The exhibition also offers spaces for corporate events, special private dinners, weddings, and product launches, complete with catering services. 
Stay tuned for updates and announcements on Instagram and TikTok @sistinechapelphilippines, as well as on Facebook @chapelsistine.