KIEV, UKRAINE — Pride events do not have a long history in Ukraine. In 2020, COVID-19 made it even more challenging when all Pride events were canceled and brought online – reducing the audience dramatically. Online activities involve only LGBTQ+ activists. Offline Pride events are a moment of visibility for a wider audience. If one is not seen, one will not heard. KyivPride had a difficult task—amid a pandemic, they needed a campaign that helps drive visibility for the online Pride events across the country.
To bring attention to this, KyivPride, with agency Saatchi & Saatchi Ukraine, hacked the tallest European statue, the iconic Motherland Monument, with the help of drones by attaching a huge rainbow flag to its sword in real-time. The statue's symbolism was transformed – from the protection of Soviet values to human rights protection and raising awareness on gender equality.
A key aspect of the strategy is to present the largest totalitarian symbol in Ukraine in a completely new and unexpected way.
Ukraine has a very traditional post-Soviet society. The country also still has a statue with what's believed to be the world's largest Soviet state emblem on it — the Motherland Monument.
The organization used this iconic monument – the symbol of Victory and Protection – which in fact "protects" only inhuman Soviet values (for example, in the USSR there was criminal persecution of representatives of the LGBTQ + community) and turning it into a symbol of gender equality and human rights protection.
It was an upside-down shift in symbolism that immediately resonated with society. In fact, with KyivPride's stunt, they set up the only relevant meaning to the monument – the Motherland should protect all "children". The idea was all about context—culturally as well as physically.
The task was to drive visibility for the Pride events in Kyiv during COVID-19 pandemic restrictions. But the stunt made Kyiv's Pride visible all over the world with more than 100 million impressions in the first three days (Source: CMM).
The culture-changing stunt blew up the media agenda of Ukraine and Eastern Europe. Everyone, from members of Parliament to stand-up comedians started talking about it. As a result, our stunt became the top news on Yandex and the most discussed news on social media (Source: Yandex).
The Motherland Monument stunt was recognized as the EVENT OF THE YEAR in Ukraine & Eastern Europe (Source: Zaborona.org).
Our event started a public discussion about LGBTQ+ rights, not only in Ukraine but across more than 50 other countries (Source: CMM). For example, the top TV-channel of the Russian Federation, Russia-1, aired two 60-minute prime-time programs dedicated exclusively to this event.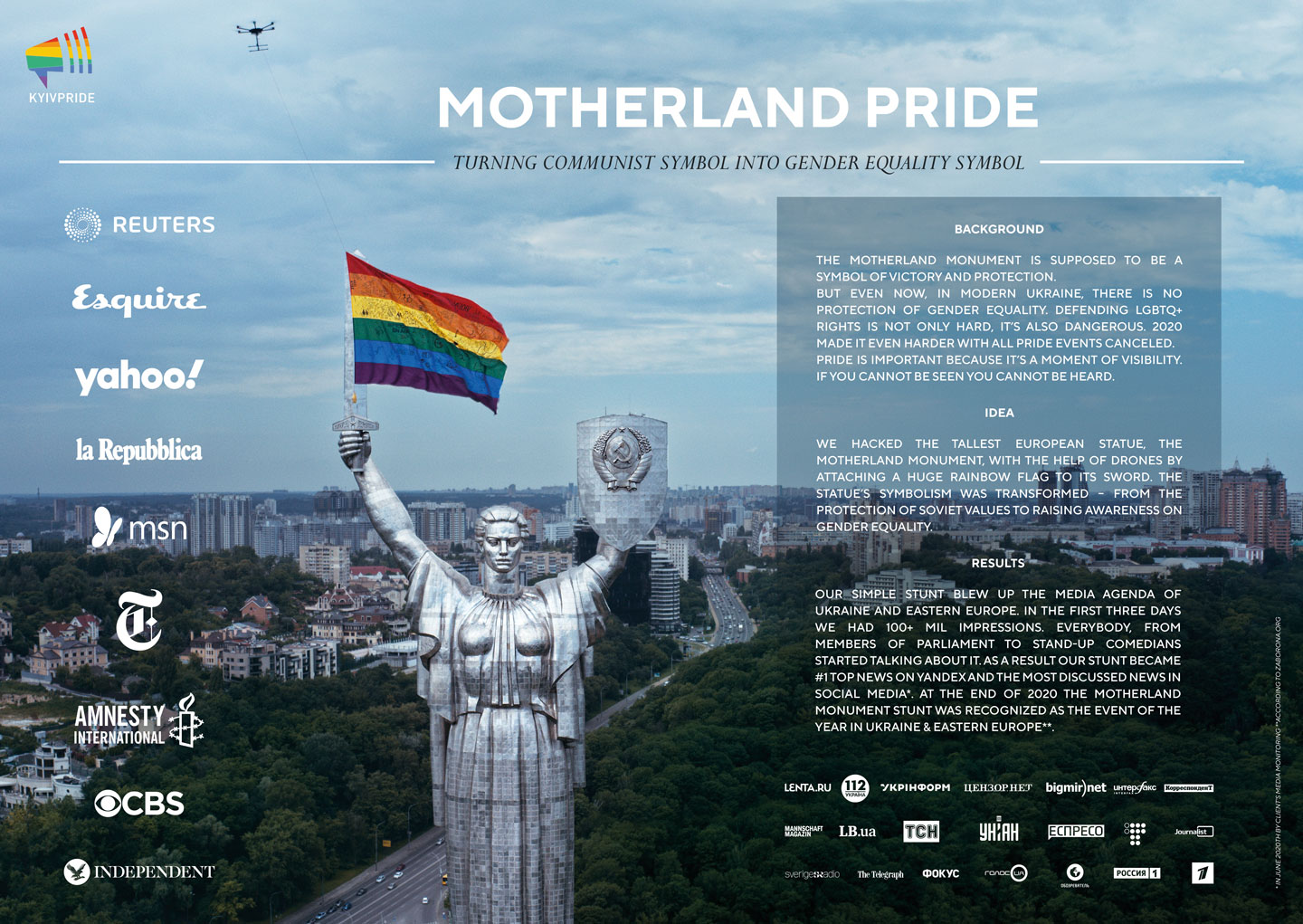 CREDITS
Project Title: Motherland Pride
Client: KyivPride
Agency: Saatchi & Saatchi Ukraine