SYDNEY, AUSTRALIA — HCF has launched a new brand platform, "We Put Our Money Where Our Members Are," in new work from creative agency Clemenger BBDO that highlights the values and unique benefits HCF offers as Australia's largest not-for-profit health fund.
As households face increasing cost of living pressures, the campaign shows Australians that HCF is not their typical health fund as it chooses to provide great value health cover and support to members over profits to shareholders.
At the center of the campaign is a not-so-fancy promotion–instead of running a big, expensive giveaway to woo new customers, HCF is offering new members free things from around their office – from pet rocks to odd socks and everything in between.
A documentary-style hero film follows HCF employees as they scour their desks for things they can give away to entice new customers, while 18 other films extend the promotion across television and social, alongside a national outdoor buy.
The tongue-in-cheek campaign continues to point-of-sale, with HCF giving away their not-so-fancy "gifts" to new customers in branches across Australia as well as "PDF gifts" for those who sign up online.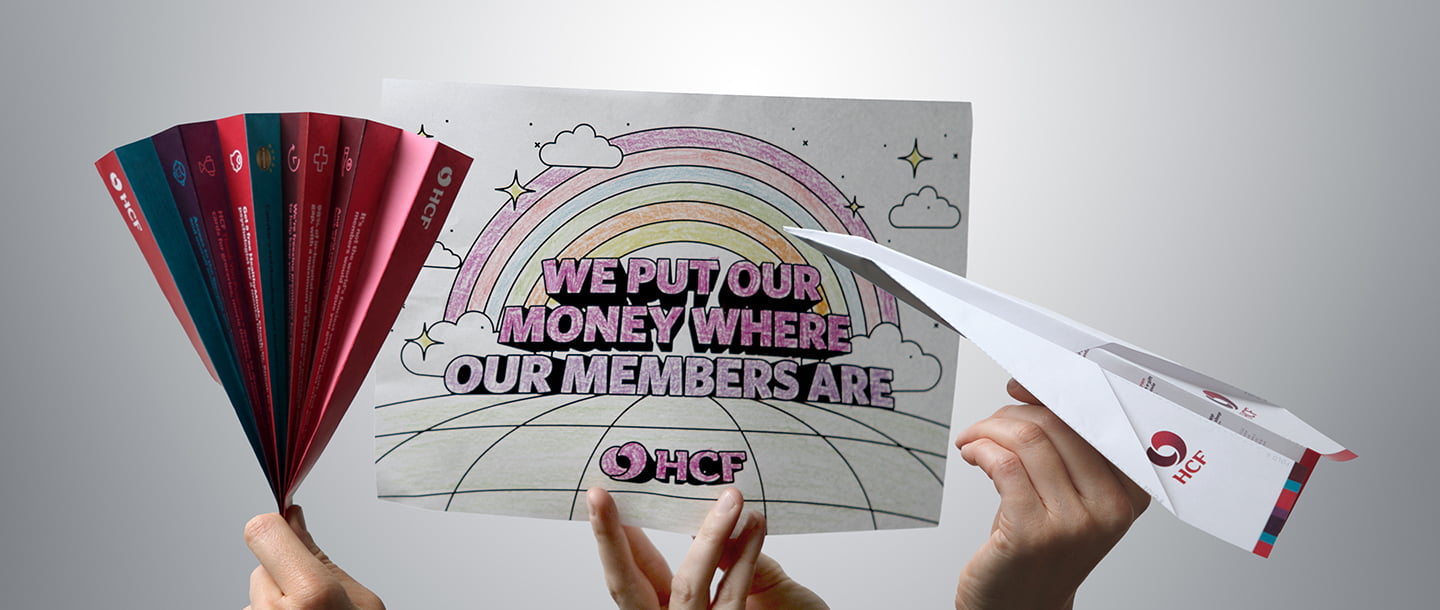 Tristan Graham, Executive Creative Director at Clemenger BBDO, shared "The idea for this campaign was born during a casual call we were having with a few of our clients. It's proof that collaboration really is key to creating brave, category-challenging work."
HCF is putting the money saved back into further member benefits, including the creation of a new HCF Women's Health Hub and Victor Chang heart screening activations–underscoring their commitment to providing quality preventative health services to their members.
Tatiana Papavero, Head of Advertising and Operations at HCF, added "The new platform is a true reflection of the unique value HCF offers our customers. The campaign itself allows us to connect with people in a humorous way, and poke fun at ourselves and our industry."
The campaign will run across TV, radio, OLV, OOH, social, digital, and native placements.

For more information about HCF's history of putting their money where its members are, visit their website.
CREDITS
Client: HCF
Head of Advertising and Operations: Tatiana Papavero
Senior Marketing Manager, PHI: Amelia Deakin
Head of Brand and Content: Lindsay Carter
Senior Brand and Sponsorship Manager: Patricia Wade
Marketing Manager, PHI: Katie Reinbott
Marketing Specialist, PHI: Amy Sutevski
Senior Marketing Manager, Diversified: Alexandra Roche-West
Marketing Manager, Diversified: Susana Gutierrez Hoyos
Creative Agency: Clemenger BBDO
Media: Spark Foundry
Media: Mindbox
Production Company: Scoundrel
Director: Ric Cantor
DOP: Germain McMicking
Executive Producer: Kate Gooden
Producer: Isabella Vitelli
Photographer: Tracey Lee Hayes
Photographer: Andrew Craig
Post House: The Editors
Editor: Mark Burnett
Online Editor: Eugene Richards
Colourist: Ben Eagleton
Sound House: Rumble Studios
Sound Designer: Liam Annert
*90% compared to 86% across the industry over 10 years. APRA Statistics: PHI Operations Reports 2013-22.
**Available on selected covers. Waiting periods and annual limits apply.