MELBOURNE, AUSTRALIA — Breaking new ground to drive ongoing engagement for customer loyalty, R/GA has helped launch a first-of-its-kind Web3 and NFT experience for Toyota Australia, in collaboration with Rotor Studios and Moonshot.
GR-ID is a beta Web3 and NFT program designed to reward eligible GR Yaris Rallye owners*. Each GR-ID NFT features a unique set of traits that echo the spirit and energy of the GR Yaris Rallye, an iconic hot hatch born from World Rally Cars (WRC). A limited collection of unique NFTs were created, ready to be minted on the blockchain and gifted to members for free, unlocking a range of rewards.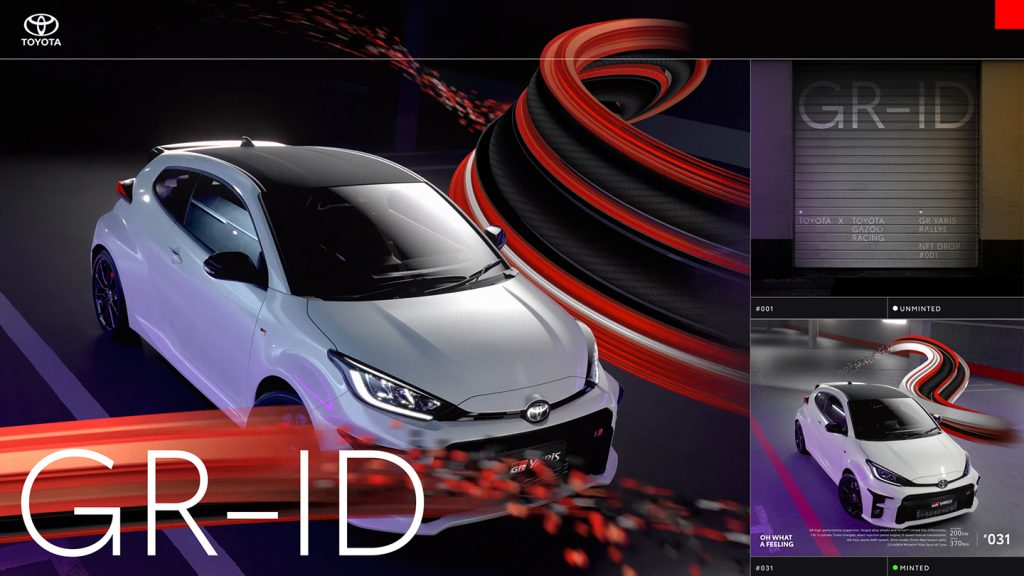 Opening up a new avenue for ongoing engagement to drive loyalty, GR-ID also includes the rare opportunity to 'evolve' the NFT's design and gain a premium reward access level by purchasing a minimum of $300 worth of One Toyota products or services. The first 20 NFT holders to evolve their token scored an exclusive Genuine Stilo© GR-ID personalized Racing Helmet, customized with their NFT number and signed by Australia Rally Championship (ARC) legend Harry Bates.
The beta project had over 25% of available NFTs minted in the first week, with all 20 helmets quickly snapped up by their lucky owners. One-third of eligible owners have engaged with the program to date.
R/GA worked closely with Toyota Australia to develop the customer experience strategy and led the brand and web design for the project, following the successful launch of GAZOO RACING CLUB membership program for Toyota in 2021. Rotor handled NFT asset production, while Moonshot led Web3 strategy, website development, and blockchain integration.
Michael Titshall, CEO, of Australia, R/GA, said, "If brands are going to continue to generate customer loyalty, they need to adapt to new behaviors and opportunities. Toyota is constantly looking for innovative ways to engage with their communities. So it's been a pleasure to partner with them to deliver their first ever Web3 and NFT project successfully."
Experience Toyota's GR-ID here.