By JV Tanjuatco
Creators Brian Bendis and Michael Gaydos first introduced super sleuth Jessica Jones to the Marvel Universe in Alias. The title served as the flagship comic for the Max comics, a line of Marvel books for mature readers. The self-destructive and alcoholic Jones may not have seemed like a fan-favorite character at first yet she's stuck around. It helps to have critically-acclaimed Netflix show named after you. And now that the third and final season has been released (out now!), fans that can't get enough of Jones should check out her latest Marvel series written by Kelly Thompson and illustrated by Mattia De Iulis.
Poster Child For The #MeToo Movement – Since her Marvel Comics introduction back in 2001, the character has been defined by her PSTD at the hands of Killgrave, the Purple Man. Killgrave used his mind-control powers and made her his slave for several months. While he never raped her (the Netflix series did go there), it was still a man exercising his will over a woman. What's more #MeToo than that? In this series, Thompson and De Iulis make it a point for the character to continue facing this trauma head on. Whether it's putting a groper (painfully) in his place or fighting a super-powered misogynist, Jones personifies the stand against female oppression.
The Witty and Naturalistic Dialogue – Taking a page from the Bendis style of writing, Thompson makes her characters feel like real-life people in the way she writes their conversations. There's no cliché-ridden lines in this super hero story. Jessica and Luke have a playful repartee with each other that makes their chemistry come alive. Jessica often meets up with popular heroes like Captain Marvel, Daredevil, and Doctor Strange and though they converse about fantastical subject matter, you can imagine talking like them in a similar fashion. 
Action-packed Art – Michael Gaydos went for an all out noir-style (enhanced by colorist Matt Hollingsworth), applying lots thick and heavy line work and sketchy characterization in his run. It didn't seem like conventional superhero art could work in the shady city underbelly where Jessica resides in. Yet somehow, artist Mattia De Iulis makes it work. His characters are detailed, coloring them with a gloss, making them really pop out from their panels, particularly in the numerous action scenes. There is a real sense of physics when Jessica punches someone, to the extent that there's really no need for any sound effects. De Iulis knows his action choreography. Thompson seems to be aware of this, giving her partner action scenes in almost every issue.
The Pace – When Bendis was writing Jessica Jones, it was all about setting a mood and that meant long lingering close-ups and dialogue. Some issues of Alias were all one long scene. He could pull it off because he applied rhythm and suspense to his scripts that kept readers drawn in to the story. Thompson just keeps things moving along every issue. Jessica is always on the go and all over the city to solve the case. Thompson's version of tension comes from the killer twists she throws at readers to throw them off the track. She deftly knows how to set up twists that no one sees coming, making it a book that will have you turning the pages and eagerly awaiting the next issue. But even Thompson makes sure to give her hero time to breathe, crafting lengthy Bendis-like conversations in two pages using a nine-panel grid.
Realistic Situations in Superhero World – Thompson and De Iulis explore a part of the Marvel Universe that is seldom explored: the socio-psychological implications of having superpowers. Jessica encounters Dia, a girl with a very special power. Dia discovers that the power is difficult to control because it also works on a subconscious level. Making matters worse is her abusive boyfriend who is jealous of her power. To say anything further would deprive you of the pleasures of this riveting read. Lets just say that the creative team makes it a point to express that not everyone has the right personality to handle having powers. If super powers existed in the real world and were randomly bestowed to people, what exactly are the chances that it will end up with someone with a solid moral compass? Jessica Jones brings up a lot of profound food for thought.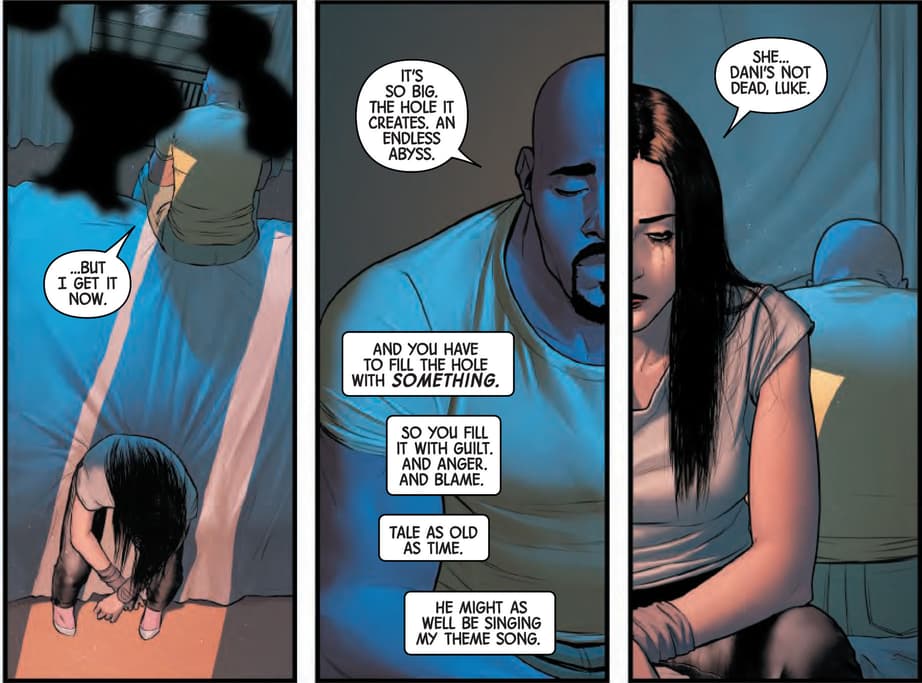 Jessica Jones is still Jessica Jones – If you were concerned that only Bendis could capture Jones' unique voice, you'll be happy to know that Kelly Thompson is definitely on the case. Thompson totally gets the character – the self-loathing, the disdain for authority, and that take no-crap-authority – it's still all there. At the start of the series, this is a more mellowed out Jessica Jones. She finds herself in a good place; she's happily married with Luke Cage and they're enjoying raising their baby daughter, Dani. But when things start to go south, the Jessica we know and love, comes back with a vengeance!
About the author:
JV Tanjuatco, comic book writer/editor/publisher, founded Comic Book Lab that publishes the comic book titles Mythopolis and War of Whispers (co-created and co-written by him). Comic Book Lab's most recent project was the graphic novel anthology Stay: 21 Comic Stories authored by Palanca Award winner Angelo R. Lacuesta and illustrated by a stellar line-up of artists including Trese's Kajo Baldisimo. He has also written articles/reviews for Spot.ph and Ain't It Cool.