NUR-SULTAN, KAZAKHSTAN – Top Kazakhstan and Central Asia startups piqued the interest of investors across the globe at a showcase of their technologies on Nov 3rd (Tuesday). The global demo day highlighted applications of artificial intelligence, energy monitoring, and education in the fast-emerging markets of Central Asia. 
The demo day was organised by the Kazakhstan Digital Accelerator (KDA), an international collaboration between QazTech Ventures – the venture capital arm of Baiterek Holdings, Kazakhstan's sovereign wealth fund; and Quest Ventures, a top-ranked venture capital firm based in Singapore and backed by investors including Pavilion Capital. 
The goals of KDA are multifaceted. It accelerates global-ready startups from Central Asia for international investment and market access. It is also tasked with jump-starting and developing the startup and innovation ecosystem of Kazakhstan. 
Startups in the Kazakhstan Digital Accelerator received seed funding of USD 50,000 each and had industry mentors work with them for a period of three months. Covering areas such as marketing, operations, and technology, startup founders had the opportunity to interact with dozens of industry veterans and founders. Startups had 40+ hours of masterclasses and fireside chats with the best experts and entrepreneurs; 13 weeks of personal and individual tracking and mentorship from Quest Ventures team; and access to Quest Ventures ecosystem through networking and partner benefits. 
The KDA also marks the first time an economic corridor for startups and innovation is created between the fast-growing regions of Southeast Asia and Central Asia. 
The startups are at seed stage, post-product and demonstrate traction: 
1Fit is the number 1 fitness app in Kazakhstan. They facilitate access to the daily sports routine. Purchasing a 1Fit membership provides a full range of health solutions. More: www.1fit.app 
Aero offers the most affordable and easy-to-use online proctoring services to educational institutions to prevent fraud during exam procedures. More: www.aeroexam.org 
ApartX is a SaaS service for landlords that allows for safe and remote management of rental apartments. More: www.apartx.app 
Campeat is an artificial intelligence-driven marketing platform for businesses that allows you to increase off-peak traffic on an hourly basis and uplift sales in stores using dynamic discounting strategies. More: www.campeat.kz 
Cerebra is an automated self-learning AI service for diagnosing ischemic and hemorrhagic strokes. More: www.ailab.kz 
Egistic is a SaaS farm management system for monitoring and managing crop areas using remote sensing technology, high precision satellite navigation, geoinformation systems and machine learning technologies. More: agro.egistic.kz 
Okoo is a digital coding school that combines online contests, video materials, interactive exercises, advanced analytics, and an automated assessment system. More: www.okoo.kz 
QLang is an online platform for learning English language with individual teachers or within group classes. More: www.qlang.kz 
Retail Analytica is a hybrid retail self-tuning artificial intelligence system that evaluates customer interaction. Speech recognition, human recognition, and self-learning of the system is based on this symbiosis. More: www.retail-analytica.com 
Smart Gas is a B2B2C solution that enables the automation of a fuel payment process in a secure and contactless way for gas stations, individual drivers and corporate customers based on its own payment infrastructure. More: www.smartgas.global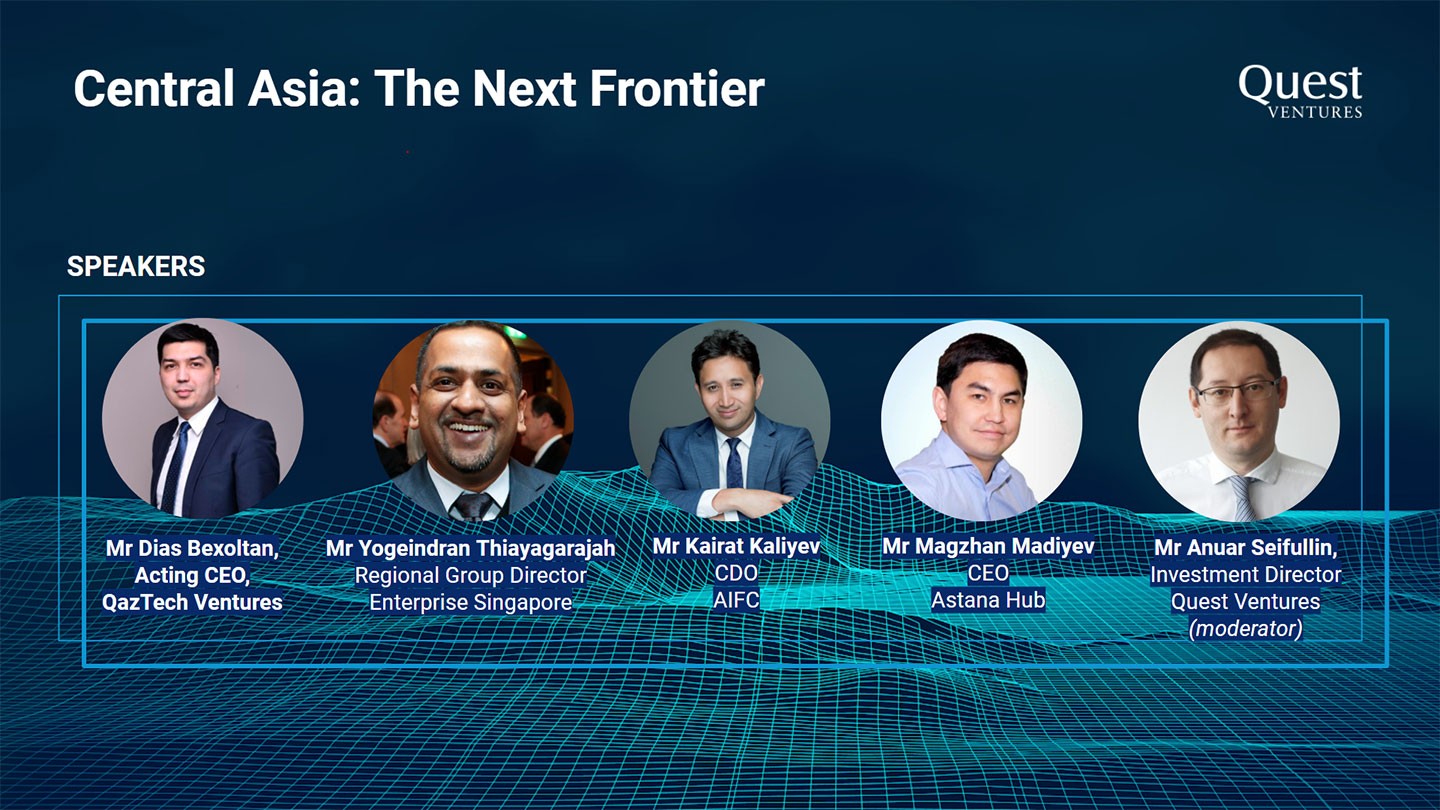 The demo day included a panel discussion on the development of venture financing in Central Asia. Speakers included Mr Edwin Chow, Assistant CEO of Enterprise Singapore; Mr Dias Bexoltan, Acting CEO of QazTech Ventures; Mr Kairat Kaliyev, Chief Development Officer of Astana International Financial Center; Mr Magzhan Madiyev, CEO of Astana Hub; and Mr Yogeindran Thiyagarajah, Regional Group Director for the Middle East & Africa, C&E Europe & Central Asia of Enterprise Singapore. 
In all, more than 150 investors and partners across the globe attended this virtual event. 

Mr Dias Bexoltan, Acting CEO at QazTech Ventures, said, "QazTech Ventures is extremely delighted with the showcase of amazing technology from the Kazakhstan Digital Accelerator. The transformation of these startups and their founders over the past three months has been nothing short of inspirational. Quest Ventures is an important partner and first mover in this exciting emerging market." 
Mr James Tan, Managing Partner at Quest Ventures, said, "The Kazakhstan Digital Accelerator demonstrates that amazing technology exists anywhere in the world. We are privileged to have the help of the entire ecosystem, especially QazTech Ventures, in this program. We look forward to these startups changing the world in their chosen fields."