MANILA, PHILIPPINES — Dokyu Power culminates with the two things we all miss: watching on the big screen and listening to a concert.
Slated on April 9, 2022, Araw Ng Kagitingan, Dokyu Power closes with a festival concert that is open to the public and free of charge. It will be held at the Liwasang Diokno, located at the Commission on Human Rights Complex in Quezon City.
The event opens with the Philippine premiere of the Oscar 2022-nominated documentary feature Writing With Fire.
Directed by Sushmit Ghosh and Rintu Thomas, Writing With Fire is about India's only all-female news outlet. The journalists, who belong to the lowest social group in the Hindu caste system, battle the odds, to tell the truth, fight fake news, and hold the powerful accountable. The film is a tribute to the brave journalists who stake their claim in an environment hostile to them. It also demonstrates the power of grassroots journalism.
Filmed over a period of five years, Writing With Fire, bagged the Special Jury Award and the Audience Award at the Sundance Film Festival.
Right after the watch party, a line-up of bands promises an entertaining night.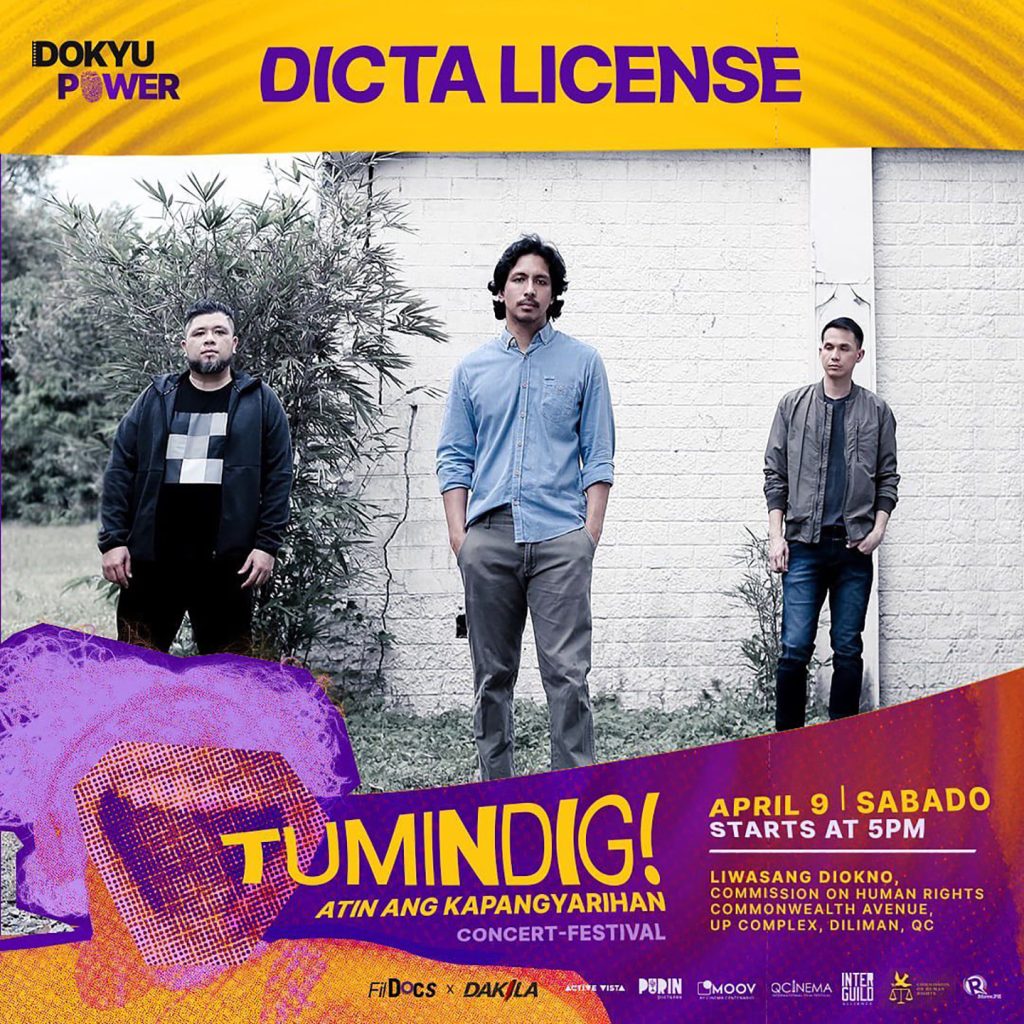 The concert is headlined by Dicta License as they launch the vinyl of Pagbigkas, their first album in 16 years. The themes of the songs are commentaries on the times, on issues like the drug war, the pandemic, and the anti-terror law. Guitarist Boogie Romero says he wants their songs to inspire reflection and action among its followers.
Other musicians are also coming in to support. They are Oh, Flamingo!, Lola Amour, Leanne & Naara, The Male Gaze, Chicosci, JA Quintana, Cheats, and more. The event will be hosted by A II Z, the comic tandem Aryn Cristobal and Zsaris.
Dokyu Power is organized by FilDocs (Filipino Documentary Society), Dakila, and its Active Vista Center. It is supported by Cinema Centenario, Purin Film Fund, Rappler's Move.Ph, QCinema International Film Festival and Inter-Guild Alliance.
Updates on the film festival's closing event are available on its facebook page – https://www.facebook.com/DaangDokyu