At the Spikes Asia Festival of Creativity held September of last year at the Suntech Singapore, BBDO Guerrero Philippines' Creative Chairman David Guerrero and Syn Music's CEO and Creative Director Nick Wood spoke at Spikes Asia 2019 on their talk titled, 'The Music is the Message'. Songs from the '60s until today have reflected some of the most important changes in society, shedding light on issues such as sexuality, race, and gender to name a few.
Words by David Guerrero
Music has the power to express hard truth. And sometimes does so in the most resonant way. In the struggle for racial equality one song by Billie Holiday, recorded in 1939, has echoed down the decades with its haunting description of the horrors of mass lynching in the American South. The song, 'Strange Fruit',  begins with the following words:
"Southern trees bear a strange fruit
Blood on the leaves and blood at the root
Black bodies swingin' in the Southern breeze
Strange fruit hangin' from the poplar trees"
It has become a landmark in the civil rights movement. With notable versions by artists like Nina Simone who covered the song in a powerful performance in concert in New York, Diana Ross and Annie Lennox. Kanye West recorded the song 'Blood on the Leaves' on his Yeezus album and Common who, in his "Letter to the Free," refers to the "Southern leaves, southern trees we hung from." 
Interviewed about his song, Common asserts that even when you are talking about something terrible like mass incarceration "you still got to make it beautiful, you still have to hit people in their spirits" in order to start a conversation about it. So it is worth looking at the power of music to bring difficult subjects into discussion and to convey joy, optimism, rage, resentment or complex mixtures of these and other emotions.
Aretha Franklin, in her song 'Young, Gifted and Black' sang in 1970 that it "was a lovely precious dream to be young, gifted and black" and that "we can all be proud" of that. The song expresses a confident, hopeful optimism.There is, of course, only so much that music can do. While progress has been made, including America's first black president, almost 50 years later Childish Gambino still sings that "You just a black man in this world. You just a barcode" in his much-covered worldwide hit 'This is America.'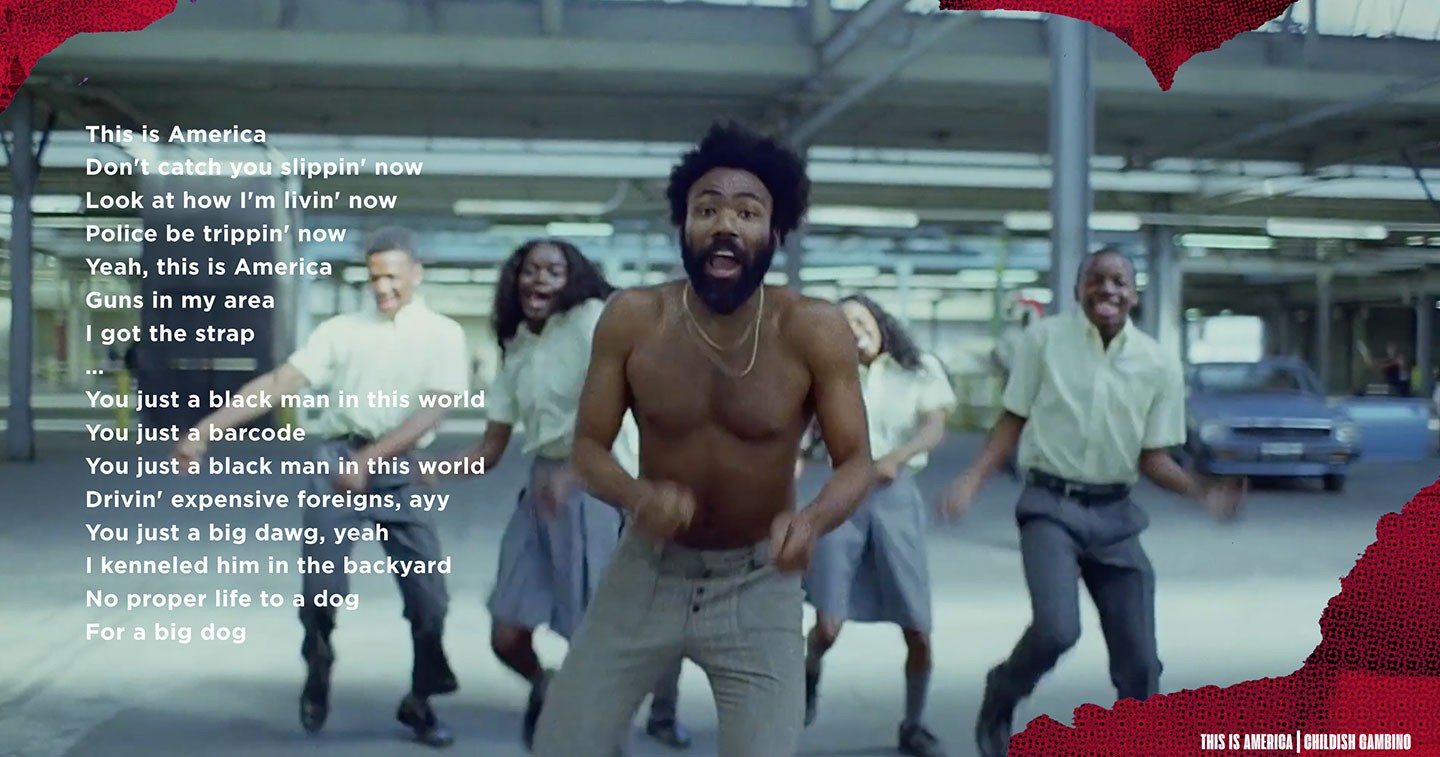 At the same time, as American writer Adam Bradley put it in his book The Poetry of Pop: "Songs are among the most powerful form that words take." Through the years, songs have been used by artists to powerfully express themselves on many issues. But at the same time the relationship of musicians to commercialism has often been strained. Gil Scott Heron for example in "The revolution will not be televised" saying: "You will not have to worry about a dove in your bedroom, a tiger in your tank, or the giant in your toilet bowl."
The power of pop to have a political edge was at its height in the 1970s. One of the most famous such songs was written in response to the killings of four students by troops out to control the anti-war protests in Kent State University, Ohio. In response, Neil Young wrote the following song 'Ohio' which spoke for many in this generation and which The Guardian newspaper has called "the greatest protest record" ever.
Political movements are sometimes accidentally influenced by the most unlikely of songs. The 1973 song 'Tie a Yellow Ribbon Round the Old Oak Tree' by Tony Orlando and Dawn is perhaps the most famous example. The Yellow Ribbon was originally seen as a sign that an absent loved one, either in the military or in jail, would be welcomed home on their return.
But 10 years later, following the assassination of exiled Senator Ninoy Aquino, yellow ribbons, and the color yellow in general, became a symbol of opposition to President Ferdinand Marcos. The streets rained with yellow confetti as a sign of the protests that eventually toppled the regime.The song was also taken up in Hong Kong in 2014 with the Yellow Umbrella movement. More recently the protestors took up the song 'Do You Hear the People Sing' from the movie Les Miserables.
Songs not only play a role in political activism, but in environmental activism, too. After a 1969 trip to Hawaii, Joni Michell wrote 'Big Yellow Taxi' which was apparently inspired by a huge parking lot built in the grounds of the hotel she was staying in.  
They paved paradise
And put up a parking lot
With a pink hotel, a boutique
And a swinging hot spot
Don't it always seem to go
That you don't know what you've got til its gone
They paved paradise
And put up a parking lot
Since then, "Big Yellow Taxi" has, according to Charles Morris writing in the FT,  been recycled over 450 times in various cover versions.  And become a "go-to environmental anthem". Also iconic, and sadly prophetic, is the 1971 Marvin Gaye song "Mercy Mercy Me (The Ecology)," which mentions "poison in the wind" and "fish full of mercury".
Songs have also been used to make gender preferences part of everyday conversation. For example if you were singing along to the Kinks' hit Lola (as I was, innocently) in 1970 you would have sung along with the following lines: 
"Well, I'd left home just a week before
And I'd never ever kissed a woman before
But Lola smiled and took me by the hand
She said, "Little boy, gonna make you a man"
Well, I'm not the world's most masculine man
But I know what I am and I'm glad I'm a man
And so is Lola"
Writing a contemporary review in Creem, critic Dave Marsh recognized it as "the first significantly blatant gay-rock ballad. Decades later, artists such as Lady Gaga followed with 'Born This Way,' a song that Billboard magazine called "a landmark in LGBTQ pop culture, and an absolutely timeless queer anthem — released in a time when not everyone was ready to hear "gay," "bi," "lesbian" and "transgender" on mainstream pop radio."
"No matter gay, straight, or bi
Lesbian, transgendered life
I'm on the right track baby
I was born to survive
No matter black, white or beige
Chola or orient made
I'm on the right track baby
I was born to be brave
I'm beautiful in my way
'Cause God makes no mistakes
I'm on the right track, baby I was born this way"
Today artists such as Lizzo are making empowering songs about body-positivity and confidence. Challenging the gender power balance through the power of music. 
I just took a DNA test, turns out I'm 100% that bitch
Even when I'm crying crazy
Yeah, I got boy problems, that's the human in me
Bling bling, then I solve 'em, that's the goddess in me
You coulda had a bad bitch, non-committal
Help you with your career just a little
You're 'posed to hold me down, but you're holding me back
And that's the sound of me not calling you back
 Finally, the MTV Song of the Year for 2019, 'Old Town Road', is perhaps a sign of how two wildly different strands of American culture – country and hip-hop – can be reconciled through music. In the video, which director Calmatic 'reluctantly' took on according to Billboard, Lil Nas X found a beat and recorded a remix with Billy Ray Cyrus which became the longest-running number one in US chart history. (The video was seen over 300 million times on youtube and the director has just been tapped to make a feature.  
Traditionally, it seemed bands and brands were enemies. Artists were seen as sell-outs if they took ad money. Now, in an era of massive digital disruption, the two are beginning to have common messages they'd like to impart—about equality, environmentalism, justice, and more. Brands are also increasingly interwoven into music culture. In "Old Town Road," alone the artists namecheck brands like Maserati, Fendi, and Wrangler. Others devote songs to "Nike" or even, improbably, the "CR-V."
This should therefore make it a great time for agencies to collaborate with artists. The traditional business model of the music industry has been upended by digital. Now, as Lou Reed put it: "We like advertisers. At least they pay us." At the very least we should think more about the power of music to move people and be open to the opportunities to use lyrics and songs to convey powerful messages that people actually care about.
For a full list of the music discussed, click here.