MANILA, PHILIPPINES – The latest data from data insights and consulting company Kantar has been released covering advertising for the first quarter of 2022. Some trends and insights regarding television, radio, and digital advertising can be seen when going over their data.
A new era in TV viewing
In an age when streaming television is growing worldwide, it would be easy to assume that the Philippines would follow the trend and leave terrestrial and cable TV behind. However, even two years into a pandemic, research conducted by Kantar Media indicates otherwise.
Kantar notes that there are presently 21.7 million households with televisions in the Philippines with 92.9 million individuals watching television. Compared to the first quarter of 2021, the first quarter of 2022 saw positive growth in primetime viewing for the first time since the pandemic started and broadcast giant ABS-CBN was shut down.
When ranking what the top ten channels are, they note that while GMA and its news channel GTV are at the top, a couple of new entries cracked the list. New channel I Heart Movies moved into the sixth spot while Nick Jr. moved up to eighth following Disney Channel's 2021 closure in the Philippines.
It is curious that aside from the upper-middle class, other demographic segments have reduced their TV viewing, an indicator that the latter have increased out-of-home activities. For the former, since they can apparently afford to stay home, their television time has gone up.
In years past, GMA and ABS-CBN were the two giants who ruled primetime. The untimely shutdown of ABS-CBN caused audiences to shift viewership to other channels. New channels have even emerged.
When ABS-CBN partnered with TV 5 to air its flagship weekday primetime programs in early 2021, the move was unprecedented. TV5 gained viewership both during the evening as well as throughout the day.
Advertising expenditure in Q1 2022
From January to March 2022, approximately PHP 128 billion was spent on advertising. That marks an 8% decrease from the fourth quarter of 2021. There were 310,214 television campaign insertions in the first quarter of this year, reflecting a similar 8% drop from the previous quarter.
There were 96,077 minutes of TV advertisements aired from January to March of this year, a 9% decrease from October to December 2021. For these two consecutive quarters, Kantar's TV Ad Intelligence coverage was limited only to GMA, GTV, TV 5, A2Z Channel, Kapamilya Channel, Cinemo, Jeepney TV, and Heart of Asia.
A quick look at current TV advertising shows gainers and losers from the first quarter of 2022 compared to the final quarter of 2021. Government agencies showed a 54% increase followed closely by soups and noodles at 53% and vitamins at 43%. Meanwhile, milk powder was the biggest loser with a 37% decrease with detergent and laundry ads at 35% and shampoo going down 23%.
Two years into the pandemic and vitamins remain the top spender, followed by political advertising. It's important to note that campaign season began on February 8 and spending increased by 85% mainly driven by advocacy and political advertising. This will likely go down next quarter since the elections are over.
On the other hand, Lucky Me!, and Centrum Multivitamins made it to the top ten advertisers for this quarter, advancing to the 2nd and 7th spots respectively.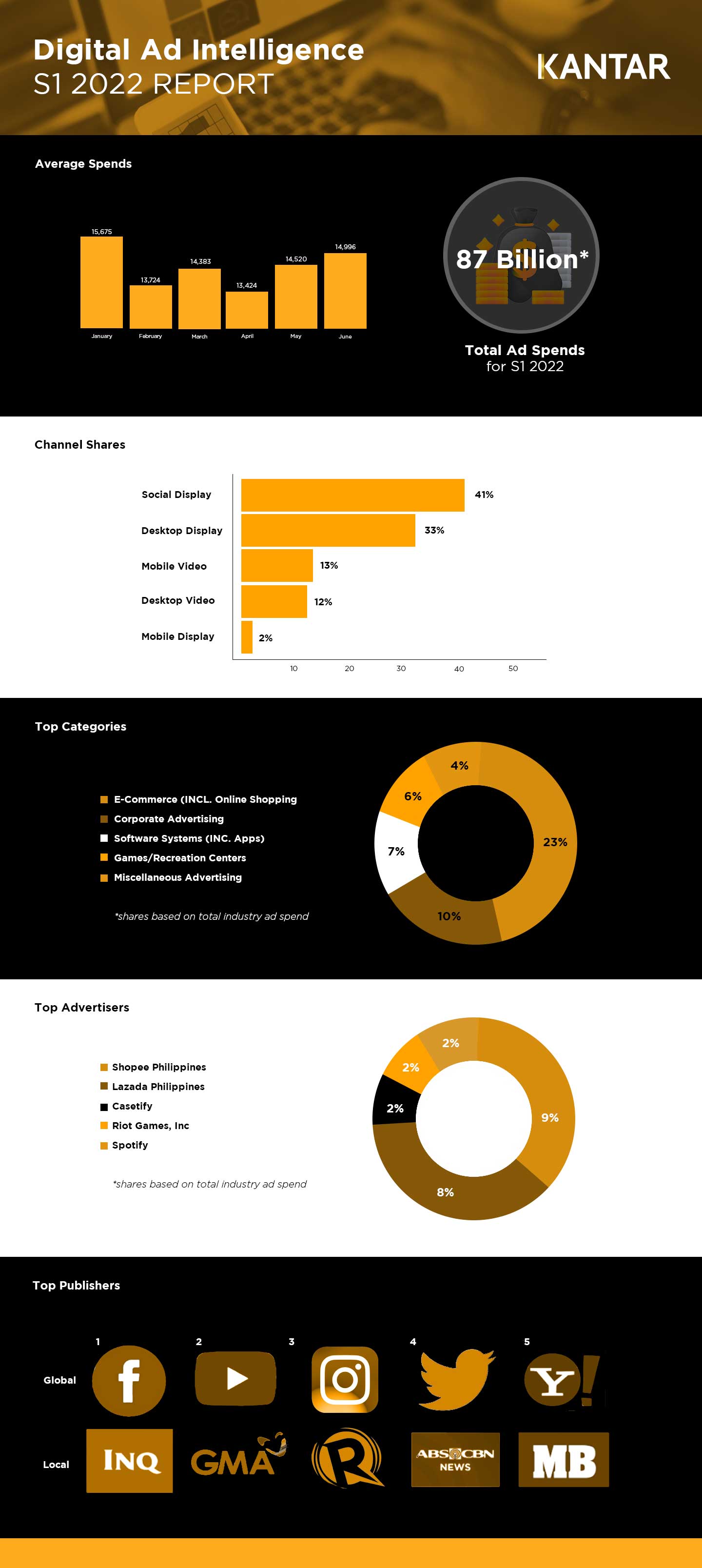 The relevance of radio today
As the oldest form of broadcast media in the country, the death of radio has long been predicted in the Philippines. Even after a pandemic, radio remains standing although it experienced a steep drop in ratings in Mega Manila from four years ago in 2021.
The continuous growth of digital media
The Philippines may still be dependent on traditional broadcast media but it has also been more open to digital media over the past few years. An average monthly spend of PHP 14 billion was spent on digital.
Around PHP 87 billion was spent on digital advertising in S1 of 2022.
The top category that advertised digitally for the first semester of 2022 was led by e-commerce (including online shopping) at 22% ad spend shares. This was followed by corporate advertising at 10%.
By spend, it should come as no surprise that Shopee Philippines, Inc and Lazada E-services Philippines, Inc. outspent all other digital advertisers significantly. As a result, both were also the top brands by spend for this period.
Even as television habits evolve amid a pandemic and the shutdown of a broadcast giant, TV advertising remains strong in the Philippines. Still, digital advertising continues to make inroads with e-commerce pushing forward in lieu of traditional brick-and-mortar shops.