MANILA, PHILIPPINES – Award-winning communications consultancy Vero and behavioral design think tank Decision Lab have released a research paper titled "How Brands can Adapt to Filipinos' Evolving Focus on Health and Wellness."
In the paper, representatives from Vero, Decision Lab, and professionals in the healthcare industry discuss the impact of Covid-19 and rising inflation costs on Filipino's dietary choices.
Nicole Briones, Operations Director at Vero, Philippines, explained that "an increasing number of consumers are taking steps to improve their eating habits and lifestyle in response to current circumstances. With a better understanding of the benefits of healthy living, they are also showing greater openness to brands and products that provide them with holistic health and wellness options."
Vero and Decision Lab conducted research in Metro Manila and further afield, surveying 830 respondents via 31 questions. In parallel, Vero's Data & Insights team also researched Google search data and discussions on social media platforms between 2018 and 2022, with further research in 2023.
Through its white paper, Vero aims to equip brands with accurate insights into the shifts taking place in Filipino culture and lifestyle, and how these changes are reflected in emerging health and food habits. By doing so, Vero seeks to help brands stay up to date with the latest trends and cater to the evolving needs of Filipino consumers.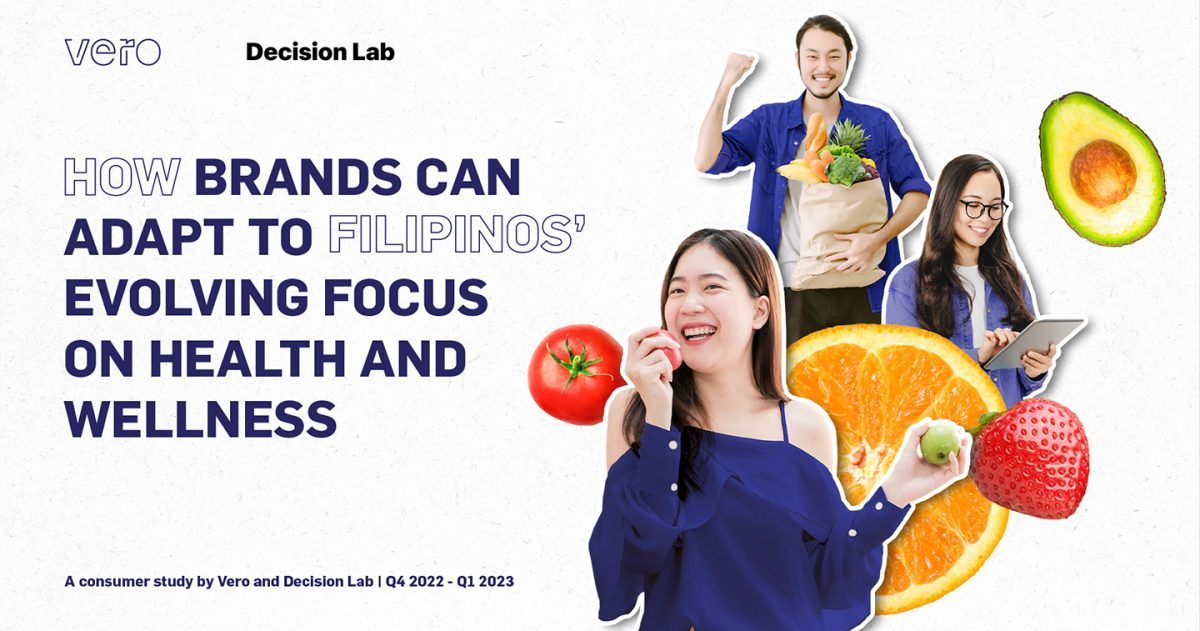 Inflation is Reinvigorating Filipino Recipes with a New Focus – Health and Wellness.
In the Philippines, inflation is at its highest point since 2009, with food inflation reaching 11.2% in January 2023 (source: REUTERS). The cost of essential goods has soared, and prices for rice, sugar, eggs, fruits, and vegetables are high. Despite this, Filipinos are finding creative ways to get their five-a-day. According to Thach Nguyen, Director, Data & IQ, Vero, "consumers in the Philippines are opting to prepare lunch boxes, known as baon, to take to work, rather than frequenting their usual fast-food spots."
Reena Llanillo, Associate PR Director at Vero Philippines, suggested that brands specializing in kitchenware and food consumer products can capitalize on the current hybrid work setup trend in the Philippines. "As Filipinos continue to prepare lunch boxes or meals ahead of time, these brands can showcase their relevance in facilitating healthier and more sustainable eating habits." Additionally, Llanillo recommends collaborating with emerging and established food content creators on TikTok to offer consumers creative cooking ideas.
Online health and wellness influencers are catering to Filipino netizens by offering modified versions of their favorite traditional recipes, while also emphasizing budget-friendly options. One such example is blogger and influencer Ashley, known as Eat Figs, Not Pigs, who strives to transform beloved Filipino dishes into vegan alternatives, while simultaneously educating the public about the health advantages of a vegan lifestyle.
Vero's research shows that consumers take vitamins and supplements in their daily health rituals.
70% of Millennials and 60% of Gen Z say they take vitamins and supplements weekly, with 75.5% of Gen Z and 85% of Millennials using supplements to help boost immunity.
More energy' and 'better mental health' also rank high regarding why Filipinos eat healthily.
Nearly 60% of those surveyed choose to eat healthily as a way of positively impacting their mental health.
"Our brain processes what we think and how we feel, but all too often we separate the notion of our mental health from how healthy we are and how we take care of our bodies," said Julian Luis Agustin, MP, RPsy, Psychologist, In Touch Community Services.
Brands Should Build Messaging Around Affordability, Convenience, and Holistic Healthy Eating
As Filipinos look for cheap, healthy products, brands can help consumers by providing messaging that enables them to understand that healthy options take little time to prepare or are expensive.
"Filipinos are becoming more competent buyers. They have gone beyond concerning themselves with the superficial effects of food consumption. More of us realize the many impacts of our food choices and consumption on our overall well-being. Everyone has their idea of what physical wealth looks like and feels like, and now, they're more empowered to achieve it.
Filipino's needs are becoming more sophisticated, and brands should investigate this deeper as they innovate in offering better and healthier options," remarks Gella Gesultura, Associate Creative Director, Vero, Philippines.
View this post on Instagram
ABOUT VERO
Vero is an award-winning communications consultancy advising some of the world's leading brands, corporations, and non-profit organizations across Southeast Asia.
Vero designs integrated marketing and communications strategies that resonate in the region's digital ecosystems and fast-growing economies.
With offices in Indonesia, Myanmar, the Philippines, Thailand, and Vietnam, Vero is a team of 200 PR, social, digital, influence, and creative professionals.
Winner of PRovoke's 2021 Southeast Asia Consultancy of the Year Award and Marketing Interactive's PR Awards 2022 Best Pharmaceutical and Health campaign for 'Love is Hard, HIV prevention is easy,' Vero has a distinctive approach to earned media, putting digital technology at the core of its business and championing stories of progress.
Vero regularly produces research papers examining relationships between brands and audiences, digital trends, and emerging cultural impact. Vero makes playbooks for brands on topics such as but not limited to, management of disinformation threats and the media ecosystem of esports.
ABOUT DECISION LAB
Decision Lab aims to deliver agile, connected, and decision-focused market research. Brands in Asia are experiencing disruptions as new generations of consumers with enormous commercial potential are coming of age. In contrast, new media & technologies allow consumers to interact with brands innovatively. We work with progressive clients who understand the need for digital fluidity and share our interest in modern consumers in Asia and brands who understand the need to make decisions faster and in a different continuum than before. Decision Lab helps clients by delivering the best possible basis for decision-making within three levels: Consumer understanding, Strategy and planning, and Marketing execution. The services all focus on providing speed and flexibility by connecting brands seamlessly to consumers.