SINGAPORE — Performance-driven content leader Greenpark has launched its latest search-led platform, BeSeenHub. Designed for a legacy dentition brand, BeSeenHub is the first-ever orthodontic lifestyle content hub in APAC.
Greenpark's extensive category assessments in Singapore, Australia, Thailand, and mirror markets revealed a spike in oral and dental interest, with insight into compelling overlaps with self-confidence. BeSeenHub seizes this opportunity to empower its readers to take charge of their orthodontic needs, and by proxy, their bearings in personal and professional spaces. The platform publishes articles on dentition, orthodontia, hygiene, and wellness, setting itself apart through the clear and ever-present touchstone of total self-care.
The launch of BeSeenHub follows the successes of Greenpark's over 70 unbranded content hubs and websites. These include All Things Hair, an audience-led beauty pioneer that currently services 10 markets in six languages, and BeautyHub.PH, a Philippine platform that now houses several brand dotcoms in addition to publishing content.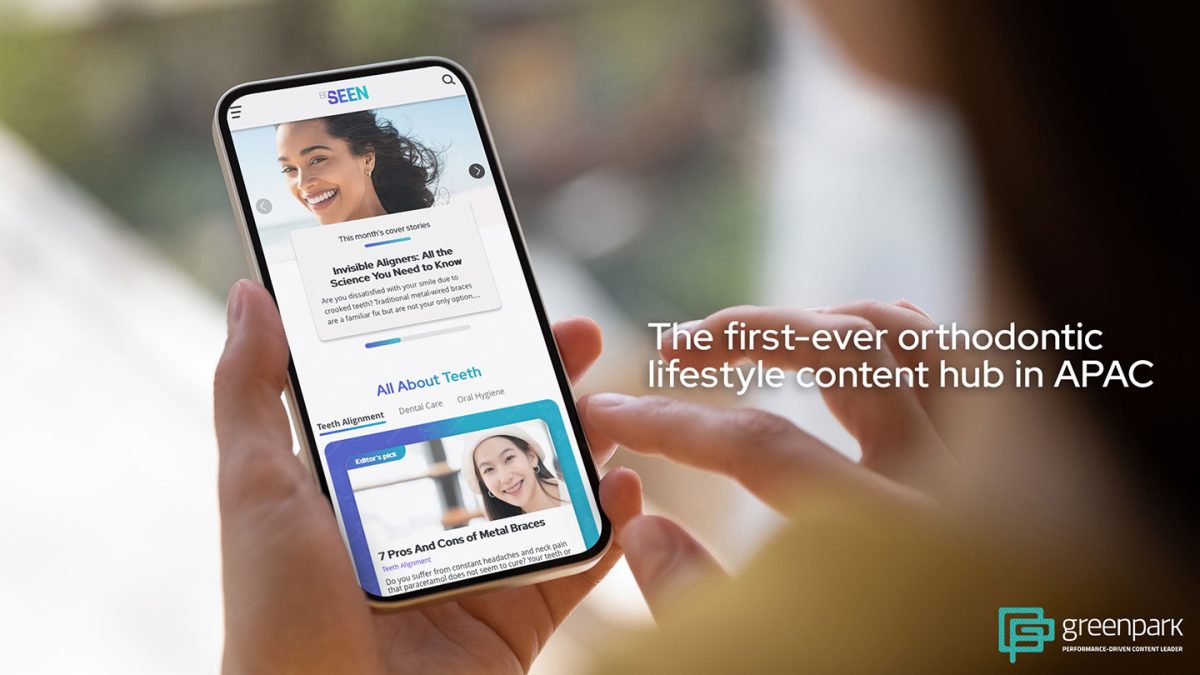 BeSeenHub's unbranded content approach resonates strongly with consumers
Greenpark's search-led content strategy has been proven to connect with its clients' target audiences. This approach addresses specific wants and needs revealed by user search intent, providing relevant information, inspiration, and solutions. An about-face from traditionally overt brand promotion, unbranded content seamlessly captures attention, builds rapport, and secures trust, leading to an increase in brand exposure and brand love.
Case in point: BeSeenHub blends practical education, health motivation, and life inspiration through its content, informed by regional search data. It demystifies orthodontic concerns and leans into universal interests, extending beyond dentistry into relationships, parenting, personal wellness, and social health. This galvanizes individuals to grow their confidence and reveal their unique smiles by cementing the link between orthodontic health and holistic well-being.
In a credible editorial setting such as BeSeenHub, unbranded content is proven to drive better consideration and conversion. A recent Kantar study on a hair care brand within Greenpark's All Things Hair showed double the uplift on spontaneous recall versus its advertising norms and a whopping five times growth in purchase consideration.
Several of Greenpark's managed platforms have also generated 30% to 40% CTR from their search-led content to product links, directly contributing to sales, and to a boost in customer delight.
Greenpark grows its progressive roster of content platforms
Greenpark added this innovative platform to its 150-strong lineup of content spaces in search and social across APAC, EMEA, and LATAM. The firm's client is a Swiss-headquartered dental company with global reach and groundbreaking proprietary technology, the perfect strategic partner for Greenpark's need-led approach to content.
"I'm absolutely delighted to introduce BeSeenHub, a labor of love, creativity, and captivating data, to the region," said Fe Husaint, Managing Director of Greenpark APAC. "Not only is the platform crafted to meet audience needs in the moment, it also cements the fact that oral and dental care is universal. The desire to be more confident, to be seen, is a ubiquitous human experience. And using BeSeenHub as a pathway to confidence benefits both our client and their consumers. This is the consummate representation of being a performance-driven content leader."
"BeSeenHub is living proof that we're in an exciting era of content," shared Stephanie Castillo, Head of Content at Greenpark APAC. "We're arming readers with information about their teeth and how this aspect of their health affects different parts of their lives. Content consumption is an expression of underlying wants and needs, and we hope this helps dental professionals serve their potential patients better, too. This gives both sides the agency to do what works best for their lifestyles and practices."