MANILA, PHILIPPINES — The hybrid workplace can be a double-edged sword for companies embracing this new work style post-pandemic lockdown. While it creates more possibilities for businesses and makes companies more productive and accessible, it also opens doors to digital intruders.
Understanding the uncertainties of organizations in their shift to the future of work, Globe Business has brought together connectivity and cybersecurity expertise to help companies beef up their defenses against today's aggressive cyber threats.
"Globe Business recognizes the need to prioritize cybersecurity, especially with the shift towards remote and hybrid workspaces. We continue to empower companies with secure connectivity, digital solutions, and managed services to ensure that their cybersecurity infrastructure can withstand the demands of a hybrid work environment in the long term," mentioned Cocoy Claravall, Vice President for Product Development & Engineering at Globe Business, Enterprise Group.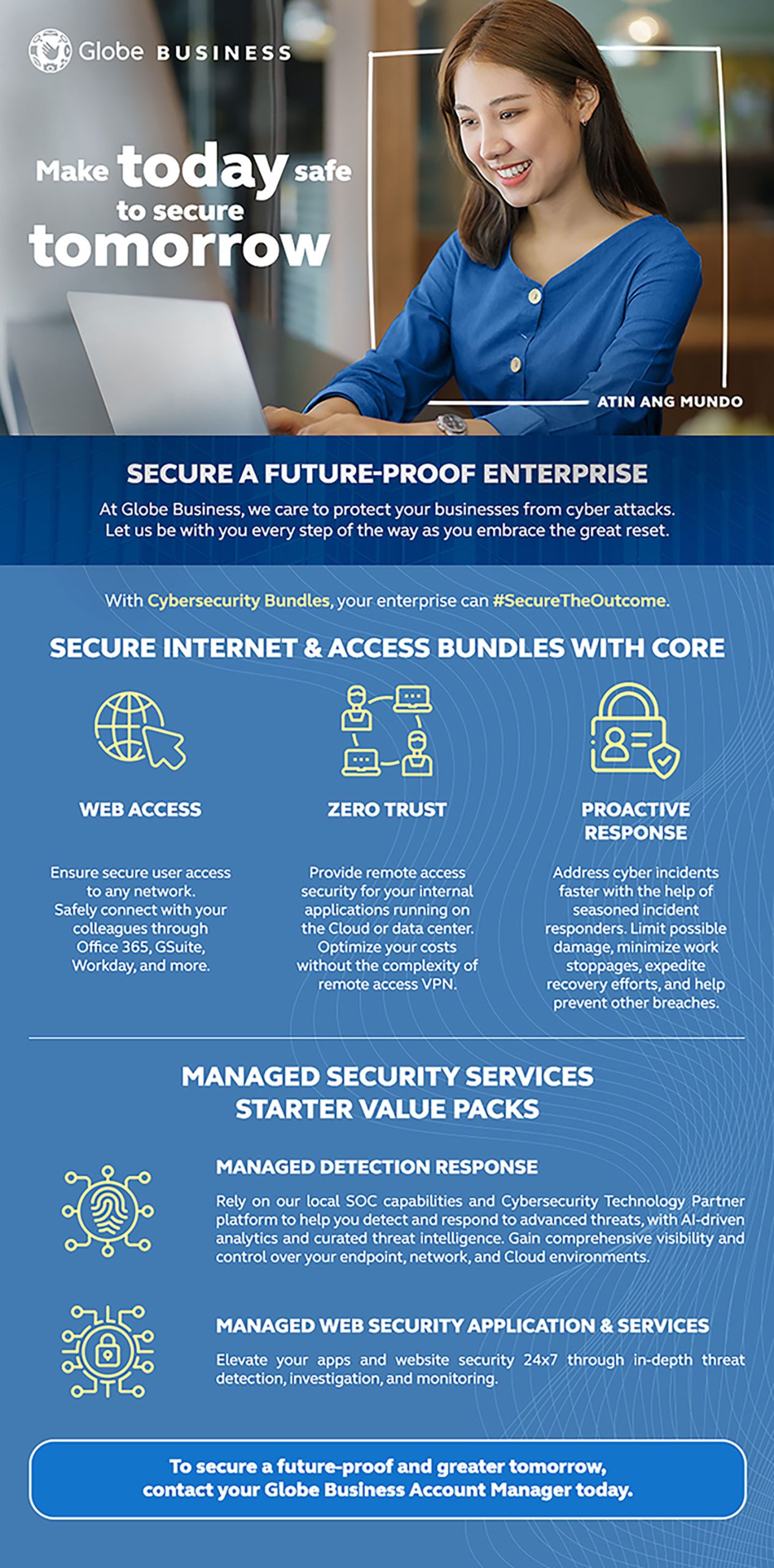 "With our Cybersecurity Solutions, companies can entrust the protection of their data and systems to world-class experts so they can have more time to focus on their core business operations and have the flexibility to implement a remote work arrangement for employees," Claravall added.
Organizations around the world have seen a surge in cyberattacks amid digitalization propelled by the pandemic. According to a report from Check Point Software Technologies, a leading provider of cloud cybersecurity solutions, supply chains were hit the hardest, as threat actors became more confident and sophisticated. Operating systems and software essential for technologies to function were also placed in a state of vulnerability with attacks focusing on mobile devices. The increase in cybersecurity issues prompted governments and businesses to take a pre-emptive, proactive approach to deal with cyber risks. This led to the need for cybersecurity solutions that provide 360-degree visibility, real-time threat intelligence, and security infrastructure that can be mobilized in an effective, joined-up manner.
"Now that companies are transitioning to a hybrid work set up, they also need their assets secured. Globe Business is here to help fortify their first line of defense against cyber threats so that they can recover and reignite business growth with confidence," said Claravall.
Globe Business offers comprehensive cybersecurity solutions and managed services, including a local Managed Security Operations Center (MSOC), that enables organizations to augment their security services and eliminate vulnerabilities in their systems despite a lean team. Through Globe's MSOC, enterprises are given the flexibility to focus on their main initiatives as Globe's cybersecurity experts and partners monitor client assets round-the-clock, detecting and hunting threats while watching out for specific indicators of compromise.
Cybersecurity Bundles: Securing the Hybrid Workforce
More sensitive data is finding its way into the digital sphere as remote employees exchange confidential information through collaboration and communication tools, exposing companies to a multitude of cybersecurity vulnerabilities.
One of Globe's offerings, the Web Access bundle, helps mitigate potential risks as it provides companies safe access to the internet and to SaaS applications, like Office 365, G Suite, Workday and Salesforce, regardless of which network their employees are on.
Companies can also empower their workforce on a remote setup and ensure business continuity with Globe Business' Zero Trust bundle, which makes it easier for employees to securely access essential business resources that they need from wherever they are. The bundle provides and secures remote access to internal applications running on the Cloud or a data center, optimizing costs without the intricacies of remote access VPN.
To build a more resilient business in an evolved work landscape, preventing an attack before it happens allows companies to save time and heavy cost on breaches. With Globe Business' Proactive Response package, companies can cut the time to respond to a host of cybersecurity incidents with incident response experts assisting them to ease damage and work disruptions, expedite recovery efforts, and prevent future cyber threats.
Managed Security Services: A Cost-Effective Option for Cybersecurity
Businesses can also detect and respond to advanced threats with artificial intelligence-driven analytics and curated threat intelligence through Globe Business' Managed Detection Response package. This managed security services starter value pack combines Globe's local MSOC capabilities and a Cybersecurity Technology Partner platform, giving companies comprehensive visibility and control over endpoint, network and cloud environments.
For companies looking to elevate their apps and website security on a daily basis, they can tap into Globe Business' Managed Web Security Applications and Services, which provides customers with in-depth threat detection, investigation and monitoring.
Rethinking the workplace for a hybrid or even a remote set up need not be a cybersecurity nightmare if companies embrace security transformation along with digitalization. Globe Business has the right tools and services to protect and future-proof enterprises.
Make today safe to secure tomorrow. Trust Globe Business to keep you protected. Get in touch with your enterprise Account Manager or visit our website to learn more about our Cybersecurity Solutions.