MANILA, PHILIPPINES — Receiving a handful of coins and bills as change can be pretty inconvenient, especially if you need to carry them around as you go about your day. Sure, you can stuff them neatly in your wallet or coin purse, but as they pile up, there should be another solution to hold your endless barya.
And who hasn't encountered the perennial "meron po ba kayong exact amount" question when paying at the cashier?
The good news now is there is e-sukli! Digital financial services leader PayMaya and the Philippines' largest department store, The SM Store, launched this innovative solution to make receiving change more convenient for shoppers. e-sukli allows customers to receive a change of up to P50 directly to their PayMaya accounts instead of taking bulky coins and bills from the cashier.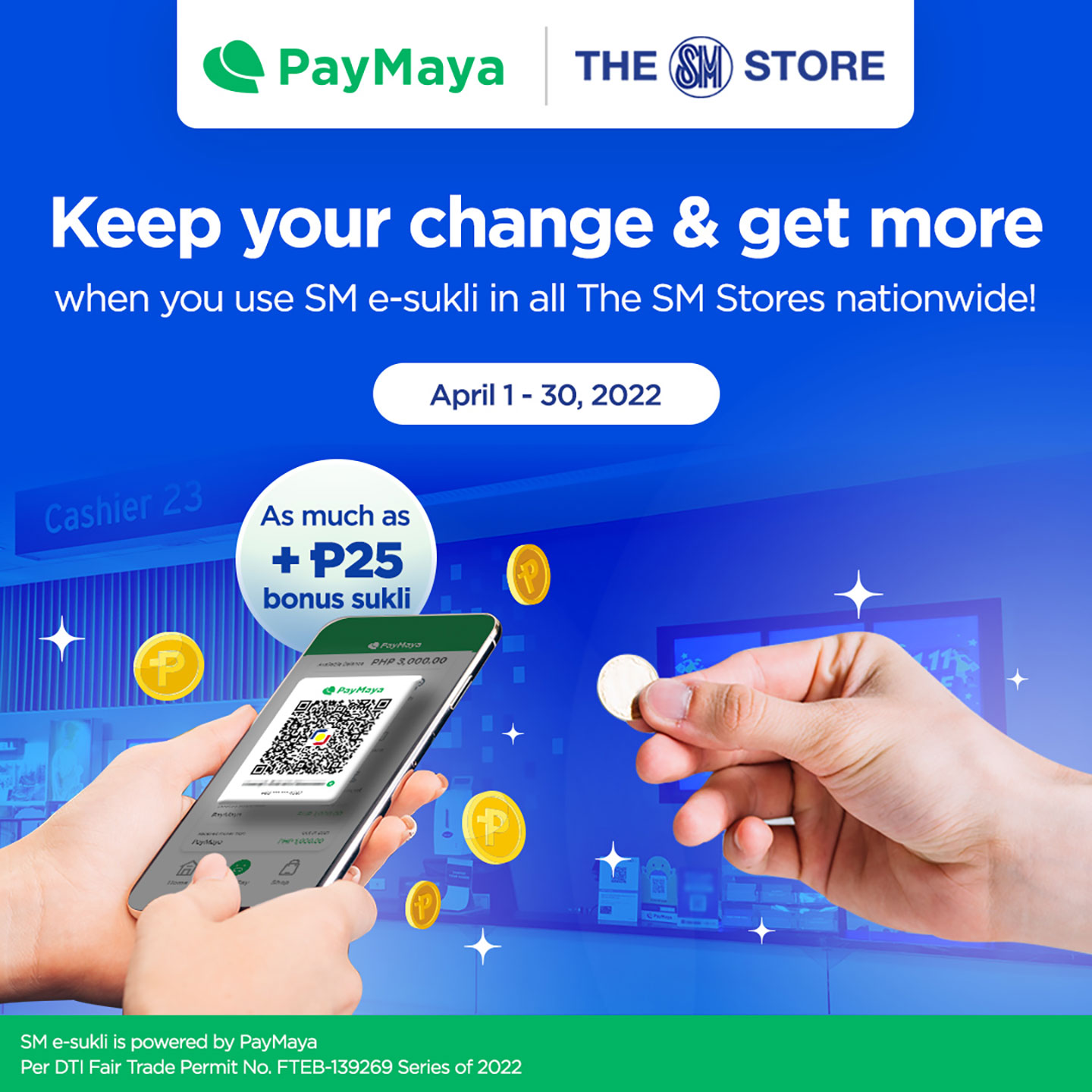 Now available in over 60 The SM Store branches nationwide, E-sukli makes receiving change much easier and eliminates the need to find a smaller bill for your purchases. It is also a great way to accumulate funds in your PayMaya account so you can use it when paying cashless the next time you go shopping, dine at your favorite restaurant, or pay bills.
Not only is using e-sukli easy and convenient, but just like any PayMaya experience, it can also be rewarding. From April 1 to 30, 2022, those who use e-sukli in any of The SM Store branches will get an additional bonus of P5, P10, or P25 on top of their actual change. Be sure to avail yourself of this unique promo by SM and PayMaya for a hassle-free shopping experience that can help you earn a little extra for yourself!
E-sukli can be used at the checkout counter in The SM Store by simply asking the cashier to send your change via PayMaya. On your PayMaya app, tap the icon in the upper-left corner and tap the QR code beside your name. The cashier will then scan your PayMaya account QR code and transfer your change.
The e-sukli initiative with The SM Store is just among the many programs and innovations that PayMaya is rolling out to its enterprise partners to encourage more Filipinos to adopt digital payments for their everyday transactions.
PayMaya is the only end-to-end digital payments ecosystem enabler in the Philippines, with platforms and services that cut across consumers, merchants, communities, and government. As of end-December 2021, PayMaya provides more than 44 million Filipinos access to financial services through its consumer platforms. Its Smart Padala by PayMaya network of over 63,000 partner agent touchpoints serves as last-mile digital financial hubs in communities, providing the unbanked and underserved access to digital services. Through its enterprise business, it is the largest digital payments processor for key industries in the country, including "every day" merchants such as the largest retail, food, gas, and eCommerce merchants, as well as government agencies and units.