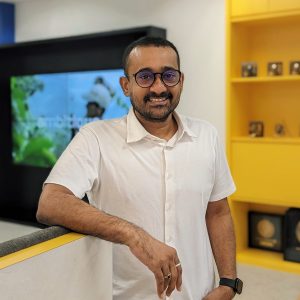 SINGAPORE — Wunderman Thompson Singapore has announced Shailesh Iyer that joins the agency as Chief Strategy Officer. With 18 years of experience, Iyer joins the agency with strong leadership credentials, multi-category experience, and an integration-driven strategic approach across a multitude of categories and clients.
Iyer joins the Singapore operations from Publicis Groupe where he has spent more than 11 years across three markets – Singapore, UAE, and Indonesia – in various regional and local roles.
Most recently as Chief Strategy Officer for Publicis Groupe Indonesia, Iyer led the strategy practice across creative and digital. During his time here, Iyer held a regional strategic lead position for Mondelez SEA and locally for the likes of Coca-Cola, McDonald's, Nestle Nutrition/Coffee, and Philip Morris. Before Publicis, Iyer was based in India working with agencies like Contract, Ogilvy, and Publicis.
Nimesh Desai, Chief Executive Officer of Wunderman Thompson Singapore, said, "We're thrilled to welcome Shailesh into our team. A talented strategist, Shailesh is future-focused, but still brings to our agency a creative and grounded human approach."
Iyer has worked across global brands such as McDonald's, Oreo, Cadbury, KraftHeinz, Samsung, Nestle, Coca-Cola, SK-II, Tide, IKEA, HSBC, Citibank, and many more. Apart from winning effectiveness awards, he has also been a regular jury member judging awards like the WARC Strategy prize and Effie Awards across the Middle East and Asia Pacific.
Shailesh Iyer added, "I am super excited to be a part of the Wunderman Thompson family. The agency has everything it takes for the next phase of how the industry evolves. The right leadership, right skillsets, and the right vision to help us create meaningful work that inspires growth for us and our ambitious clients"
Iyer will be working across the Wunderman Thompson Unilever brands, HSBC, J&J, and more.