MANILA, PHILIPPINES — Adobo Magazine, together with the London International Awards (LIA), has officially launched this year's Young Creative Competition via Facebook Live on April 24, 2023.
With an 11-year partnership, adobo Magazine is the only publication in Asia to be given the opportunity to connect creatives to the London International Awards (LIA) creative programs — allowing them to meet with global creative giants.
This year's creative competition sets the spotlight on young advertising creatives ages 21-30 with a challenging yet impactful theme: "A Spotlight on Philippine Creativity." Participants can submit their entries via the competition's entry form.
The Brief: How to be Asia's Top Creative Economy
The Philippine Creative Industries Development Act was finally passed into law last year, which will give Filipino creatives much-needed attention and support from the government.
However, creativity is under attack. We live in a world where everyone with a smartphone creates content, and influencers are the new celebrities, blurring the standards of excellence. And as if human competition wasn't already fierce enough, now we have to compete with AI, too.
As young advertising creatives, storytellers, and problem-solvers who have been trained with the skills and know-how to help the Philippine creative industry flourish, now is the time to show up.
The Challenge 
Participants must choose a sector within the local creative industry and think of an idea or creative solution that will help elevate it to global standards.
Your brand and advocacy is #CreativePhilippines.
Here are the creative industry sectors participants can choose from:
Advertising

Animation

Architecture

Film

Music

Culinary Arts

Literature

Performing Arts

Visual Arts

Publishing

New Media
"It's a very unique brief for a very unique set of times," commented Joey David-Tiempo, Jury Head and Founder and CEO of Octopus & Whale. "If you are part of a sector that you are very familiar with, I encourage that you bring that up as well."
"It's really a great brief; we're putting a spotlight on Philippine creativity. Young creatives, please use your talent to find a great idea and solution to elevate the Philippines' creative industry to a global standard," said Angel Guerrero, Founder, President, and Editor-in-Chief of adobo Magazine.
To help the participants further understand the brief, Joey presented case studies that provided impactful solutions that effectively uplifted some creative industries. One case study presented is the award-winning campaign from American Express titled "Small Business Saturday," which bagged two Grand Prix Lions at the 2012 Cannes Lions International Festival of Creativity.
Another case study presented was "#NotJustACadburyAd" from Ogilvy India and Cadbury Celebrations. The campaign was created to lend a helping hand to small businesses struggling during the pandemic. Through its creative use of machine learning, the data-driven campaign created advertisements that doubled as ads for Cadbury and thousands of local businesses in India.
The next case study, titled "#GenderSwap," targets the gaming industry. In this campaign created by Women in Games and BETC Paris, it addressed the gender bias in the gaming industry with an idea that flipped everyone's notions on how women were portrayed in games: they modded the male heroes of top games by swapping them with their female counterparts.
Lastly, Joey presented a case study from BBDO Guerrero, where they used the talent of the Philippine performing arts sector in this campaign with DTI called "Our Gift to the World."
The Jury 
As the competition's brief highlights the importance of thriving creative industries, we have invited creative industry leaders and trailblazers in one of our most diverse panels to date. 
Leading this year's panel of jurors is the founder and CEO of Octopus & Whale, Joey David-Tiempo. She will be joined by:
Abi Aquino, Chief Creative Officer, Mullenlowe Treyna;

Ali Silao, Head of Art, Publicis JimenezBasic; and the winner of the 2022 adobo LIA Not-So-Young Creative Competition;

Angie Tijam-Tohid, Executive Creative Director, Havas Ortega Group;

Cj de Silva-Ong, Executive Creative Director, TBWA\SMP – JUICE;

Gary Amante, Executive Creative Director, Dentsu Creative Philippines;

Joe Dy, Chief Creative Officer, Wunderman Thompson;

Mike Constantino, Founder & CEO, Homonym;

Nikki Sunga, Creative Director, BBDO Guerrero;

Oliver Rabatan, Vice President & Chief Marketing Officer, McDonald's Philippines;

Russ Molina, Chief Digital Officer, Seven A.D.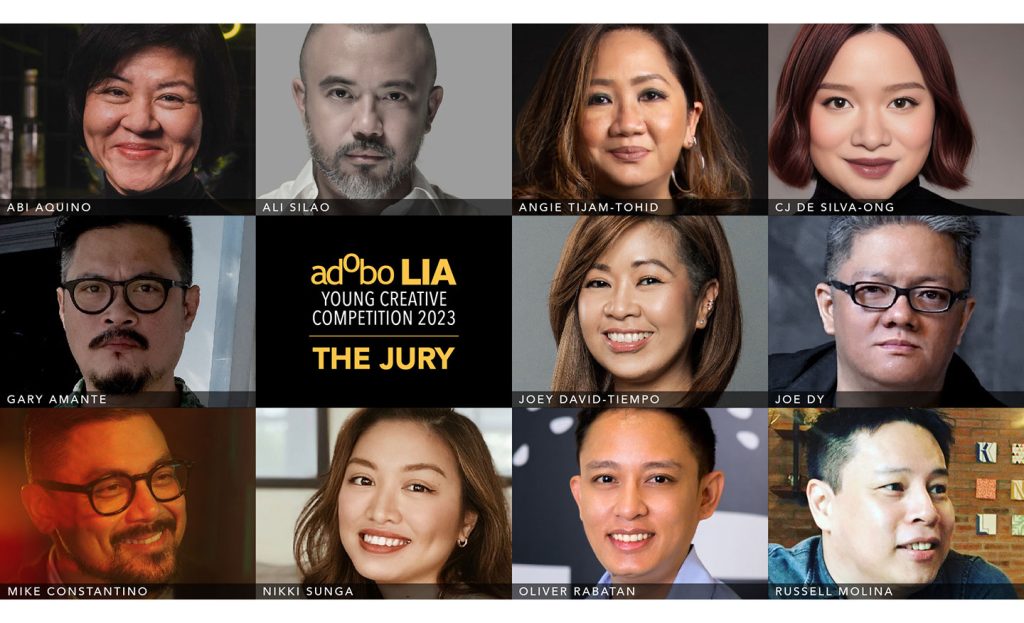 The Prize:
Two (2) winners will each get a slot in the Creative LIAisons Program, which will take place concurrently with the LIA judging in Las Vegas at the Encore Wynn Hotel, one of the top hotels in Las Vegas. LIA will pay for flight and hotel accommodations for the two winners.
Two (2) winners will get to join the LIAisons Virtual Program, a global one-to-one virtual coaching and networking program that allows emerging talent, up to the age of 30, to have access to industry leaders.
Eligibility:
Here are the guidelines for eligibility:
The competition is open to creatives 21-30 years old.

Participants must be employed in 4As Philippines member agency or employed in IMMAP member company.

This will be a solo competition. 

One entry per person.

The output will be an idea presented on a concept board.
The deadline of entries is on Friday, April 28, 2023. You may submit your entries here: http://bit.ly/adoboLIA2023 or you may scan the QR code below:
For regular updates, follow adobo magazine on Facebook and the events page for the competition: https://fb.me/e/SvHYeTAb
Got any questions? Post a comment on our Q&A thread.
The jury will be screening entries on May 03, and the awards night will be held on Friday, May 05, 2023, at the Astbury in Poblacion, Makati.