MANILA, PHILIPPINES — Far Eastern University (FEU) has been recognized by the Philippine Quill Awards for its efforts to address the learning challenges brought about by the global pandemic, bagging six awards and a nomination for School of the Year.
FEU has long pioneered adaptive learning in the Philippines and is known as one of the first institutions to adopt Canvas, a premiere Learning Management System used by Yale, Stanford, and Harvard. As a result, FEU was well-equipped to deal with the challenges brought about by distance learning, as evidenced by the award-winning FEU Learning Journey, along with award-winning student-led projects and initiatives.
Professional Quills:
Merit Award for FEU Learning Journey
FEU won a merit award for its response to the educational challenges brought by lockdowns across the country. The FEU Learning Journey was designed to provide a more holistic online learning environment by focusing on a student's purpose, capability, resourcefulness, connectedness, and culture and takes into account each individual student's learning capacity and resources.
Professional and Student Category: Excellence and Merit Awards for Tatak Tamaraw
FEU also won an award for its annual Tatak Tamaraw program. Designed to welcome freshmen and instill pride in the Tamaraw spirit and promote safe and inclusive learning spaces, Tatak Tamaraw was fully experienced online in 2020. FEU student Thomas Jefferson Cauzon also won a Merit Award for his role as project coordinator.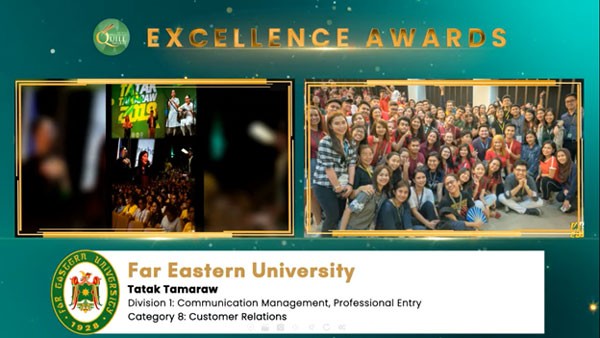 Student Quills:
Excellence Award for CovidComms2020 – MULAT 2.0: Visual Communication Exhibit 2020
Theme: Visual Expressions of Quarantine
FEU student Airam Tanparia won for his entry to the Visual Communication Exhibit of the FEU Department of Communication. The exhibition was an initiative that encouraged students to create visual art projects and expand their artistic endeavors while tackling the nation's struggles in a pandemic.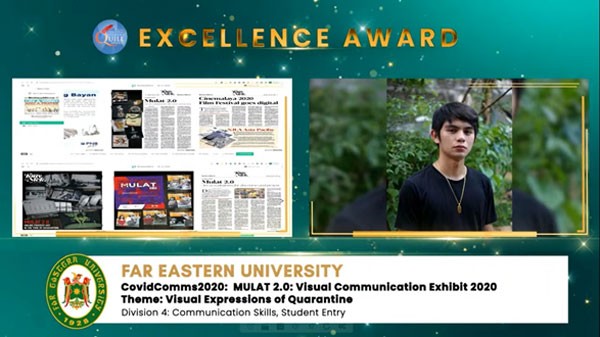 Merit Award for Fact Check 101: A Video Campaign to Combat Fake News
FEU students John Vernard DM Valiente, Steven Kyle Bilgera Poblete, Nickey Zacate, Juan Pablo Parian, Lovely Joy Baylosis, Angela Busayong, and Shane Trisha Tan won for their video campaign to combat fake news. Fact Check 101 aimed to educate students on how to evaluate news stories.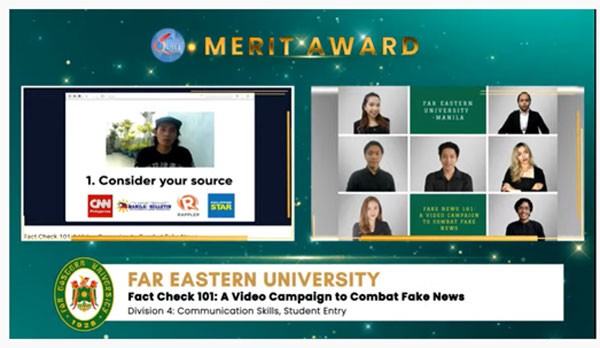 Merit Award for CovidComms2020 – 'Proyekto Para sa Bata: Laro't Kaalaman sa Panahon ng Epidemya
FEU students Mariel Neral, Ira Teresa Bautista, Irra Bulalacao, Jeannine De Polonia, and Vincent Umali won for their social media campaign, which highlights students' dedication to help out and speak up on the pressing issues of the country.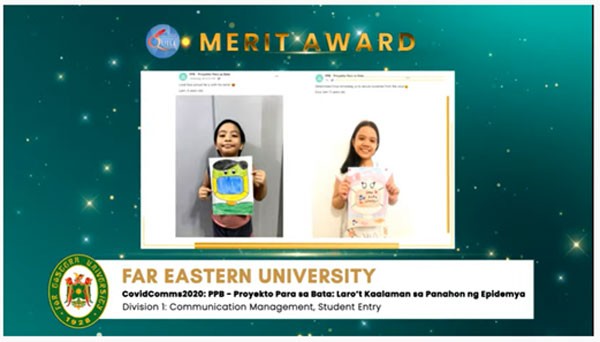 To view the full list of winners in this year's Philippine Quill Awards, you may visit philquill.com. To know more about the different initiatives of FEU, check out their official Facebook page.