NEW YORK, USA — The One Club for Creativity announced the latest group of Portfolio Night All-Stars, the top young creatives as selected by industry professionals from each of the city hosts around the world who participated in its Portfolio Night 2023, held earlier this month.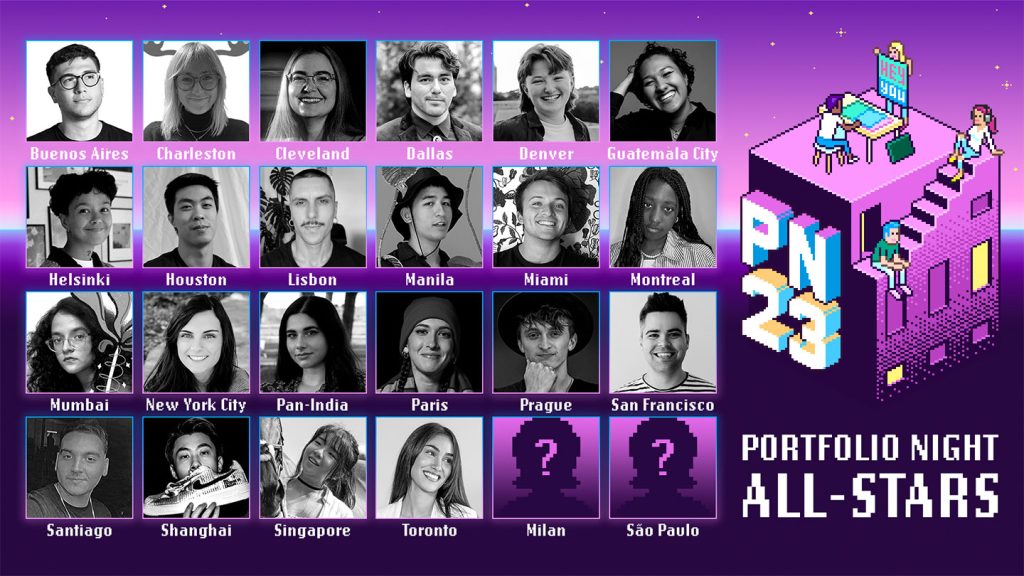 Long recognized as the world's largest advertising portfolio review program, Portfolio Night is a fast-paced evening of advice, networking and recruitment that takes place in dozens of cities across the globe to help the next generation of creative talent enter the industry.
A highlight of this one-of-a-kind program is Portfolio Night All-Stars, where industry professionals from each host city select young creatives in their market with the best portfolios.
The Portfolio Night All-Stars for 2023, listed by city, are as follows:
Buenos Aires: Facundo Rodrigo López Flores
Charleston: Macy Gonzalez
Cleveland: Sophia Fugate
Dallas: Carlos Luna
Denver: Grace Sather
Guatemala City: Natalia Rodríguez
Helsinki: Ayan Aden
Houston: Regan Truong
Lisbon: Gil Santos
Manila: Jacob B. Banog
Miami: Javier Forero
Montréal: Audrey Bardail
Mumbai: Pallavi
New York: Mason Joiner
Pan-India: Ilu Shilpakar
Paris: Salome Bequard
Prague: Simon Zlejsi
Santiago: Joaquin Sepulveda
San Francisco: Jimmy Marcheso
Shanghai: JiaJun Hu
Singapore: Jodi Ong
Toronto: Qudsiya Jabeen
The All-Star from Portfolio Night Milan, co-hosted by Accademia di Comunicazione and IED Milano Communication School, will be announced after their night is held on July 11. Portfolio Night São Paul, hosted by Africa Creative, will also take place in July.
This year's Portfolio Night All-Stars will participate in teams in a week-long virtual program in July on a brief from Uber, and attend seminars and recruiting sessions. Teams will present their pitch at the end of the week, and the winning team will be flown to New York in September courtesy of The One Club for a week of events and networking opportunities.
City hosts for Portfolio Night 2023 were many of the world leading agencies and ad organizations: Buenos Aires – Círculo de Creatividad Argentina; Charleston – book180; Cleveland – Brokaw; Dallas – Dieste; Denver – Motive; Guatemala City – EstoEsMarte and Good Mood; Helsinki – Bob the Robot / NoA; Houston – Adcetera; Lisbon – Clube da Criatividade de Portugal; Manila – adobo Magazine; Miami – Alma; Montréal and Toronto – Tank WW; Mumbai and Pan-India – BBDO India, DDB Mudra Group, and TBWA\India; New York – Havas New York; Paris – DDB Paris; Santiago – Inbrax; San Francisco – Odysseus Arms; São Paulo – Africa Creative; Shanghai – BBH China; and Singapore – BBDO Singapore and TBWA\Singapore.
Since starting in 2003, Portfolio Night has taken place in 70 cities across 45 countries, with more than 11,000 portfolios reviewed.
"Portfolio Night is a gateway for young talent to enter the industry, enabling the best of the present — hundreds of renowned international creative directors — to meet and mentor the leaders of the future in industry hubs around the world," said Kevin Swanepoel, CEO of The One Club for Creativity. "These All-Stars represent the best of this year's participants, and we're excited to see what creative ideas they come up with."
Branding for Portfolio Night 2023 was created by Nana Rausch at Quick Honey, based in New York and Berlin.
The One Club is a non-profit organization that puts revenue generated from awards entries back into the industry in the form of dozens of results-oriented programs under its four pillars: Education, Inclusion & Diversity, Gender Equality and Professional Development.