BANGKOK, THAILAND — OPPO, a leading global technology brand, recently concluded its 2023 OPPO Inspiration Challenge Regional Demo Event in Bangkok at Chulalongkorn University which had five teams advancing to the Global Final Demo Event in Singapore next year.
"We are delighted to see the enthusiasm and dedication of teams from across the world, presenting their innovative proposals for the 2023 OPPO Inspiration Challenge," said Jason Liao, Head of OPPO Research Institute. "Having seen so many fascinating ideas this year, we are excited to witness and help kickstart some truly innovative inventions, thereby positively impacting the lives of people through virtuous innovation."
The 2023 OPPO Inspiration Challenge received 687 innovative proposals from 66 different countries. OPPO continues to invest in technology for social good and has allocated a substantial amount of $ 440,000 to support and incubate the innovative technological solutions submitted. Each was judged by a jury that included distinguished representatives from various industries and institutions, including OPPO, Amazon Web Services, Chulalongkorn University, and Deloitte. The diverse expertise and perspectives of the jury ensured a fair and rigorous evaluation of the proposals.
Winners of the 2023 OPPO Inspiration Challenge stand to receive a $ 50,000 grant, further incubation support from OPPO and its partners, empowering them to bring their innovations and ideas to life, and partnership opportunities such as production and commercialization of the winning proposal, an incubation fund totaling $ 190,000 (tax included), strategic partnership and investment opportunities, a chance to participate in global technology events, and to receive cloud service and technical support from Amazon Web Services.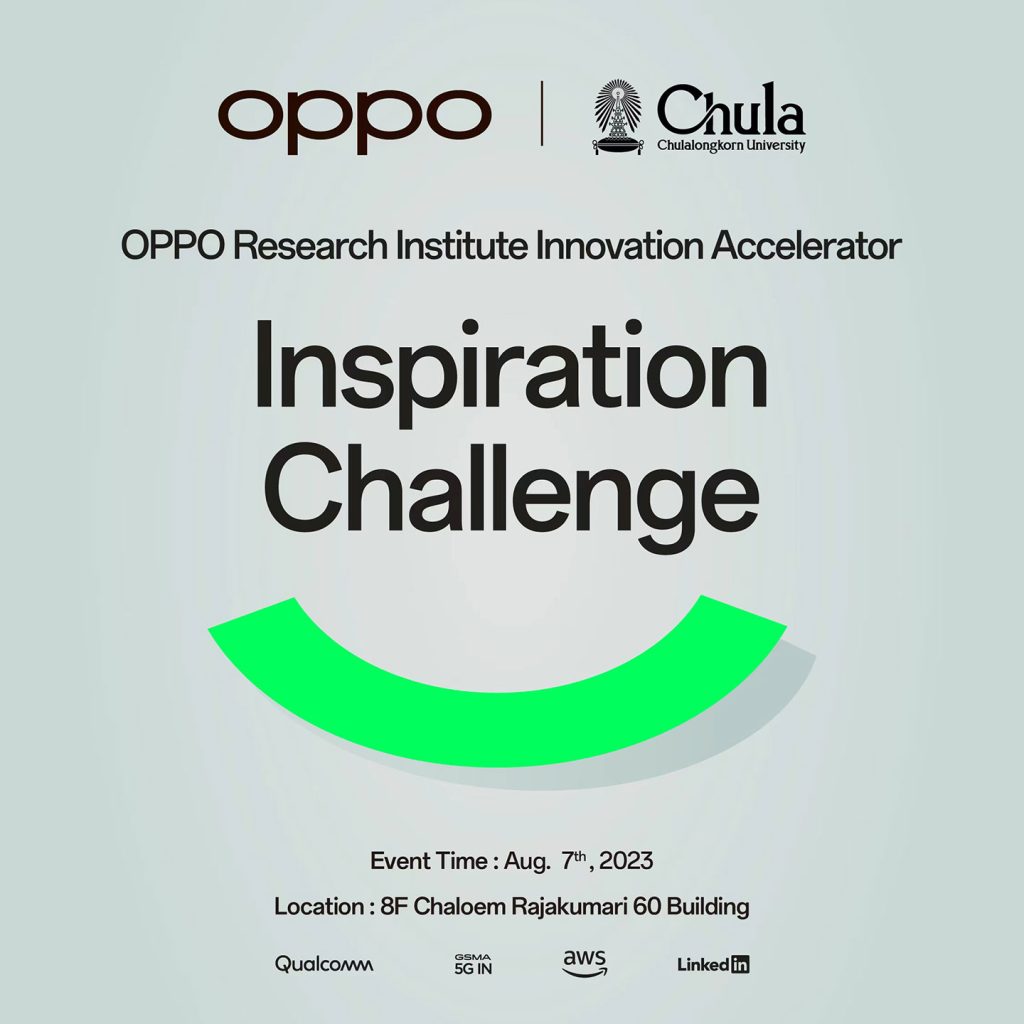 Aligned with OPPO's mission "Technology for Mankind, Kindness for the World," the 2023 OPPO Inspiration Challenge focuses on supporting innovators, entrepreneurs, and technology professionals around the world to develop innovative solutions in two main categories: Inspiration for People, which focuses on making technology accessible and beneficial to everyone, and Inspiration for the Planet, which focuses on technological innovation in environmental protection and carbon neutrality that can be applied to consumer electronics products.
Professor Kaywalee Chatdarong, Vice President of Chulalongkorn University, expressed her heartfelt appreciation to all esteemed participants, judges, and OPPO for making the event a success. "This partnership highlights our commitment to the engagement to the industrial sector that should, in turn, enable Chula students to have real-world experiences. Together, we envision a future full of possibilities and innovations for our nations and the global society."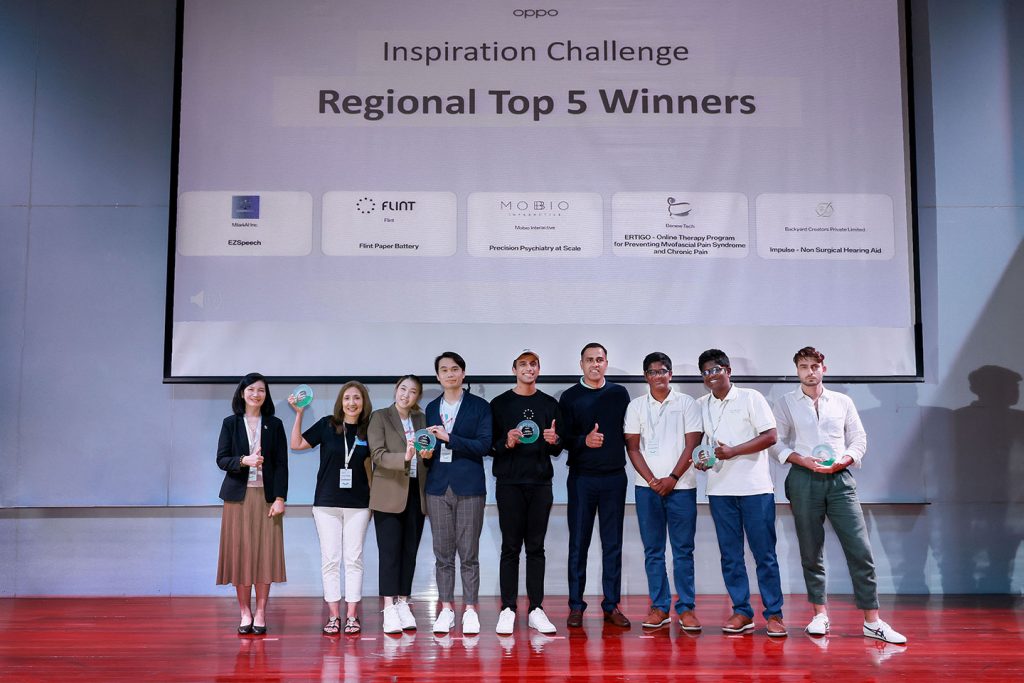 The five winning projects presented at the 2023 OPPO Inspiration Challenge Regional Demo Event in Bangkok were:
From the Inspiration for the People category:
ERTIGO, Online Therapy Program for Preventing Myofascial Pain Syndrome And Chronic Pain, by Benew Tech, from Thailand
ERTIGO is a mobile application solution for myofascial pain syndrome and chronic pain, offering ergonomic interactive self-care animations, muscle and posture check-up with AI, gamification, and connection to physiotherapy clinics for personalised self-care plans.
EZSpeech, by Mila4AI Inc., from Uzbekistan
A software that helps people with speech disorders improve their speech without the physical presence of a therapist during treatment.
Impulse – Non-Surgical Hearing Aid, by Backyard Creators Private Limited, from India.
An externally wearable ear-device that helps those with congenital hearing loss regain the ability to hear without surgery.
Precision Psychiatry at Scale, by Mobio Interactive, from Singapore
AmDTx is an AI-powered digital therapeutic platform that provides objective data on mental wellness, which physicians use to prescribe clinically validated interventions and improve health equity, without requiring wearables or constant connectivity.
From the Inspiration for the Planet category:
Flint Paper Battery, by Flint, from Singapore.
Flint's paper batteries offer a sustainable and safe energy storage solution to the lithium-ion battery industry, with the benefit of being compostable, versatile, and thus addressing critical issues within the industry.
The Flint Paper Battery and Impulse – Non-Surgical Hearing Aid proposals were also selected as the Media Choice Award.
OPPO looks to continue collaborating with global partners such as Qualcomm, GSMA 5G IN, Amazon Web Services, and LinkedIn to provide the winning teams with additional resources to see their ideas through, allowing the virtuous innovations to positively impact the world.