HONG KONG — KFC Hong Kong has launched "Bucketverse VR," a fun gaming experience designed to offer people in Hong Kong a brief escape from their everyday stress, as part of its new "Indulge in a Krispy Break" campaign launching throughout the busy city this month.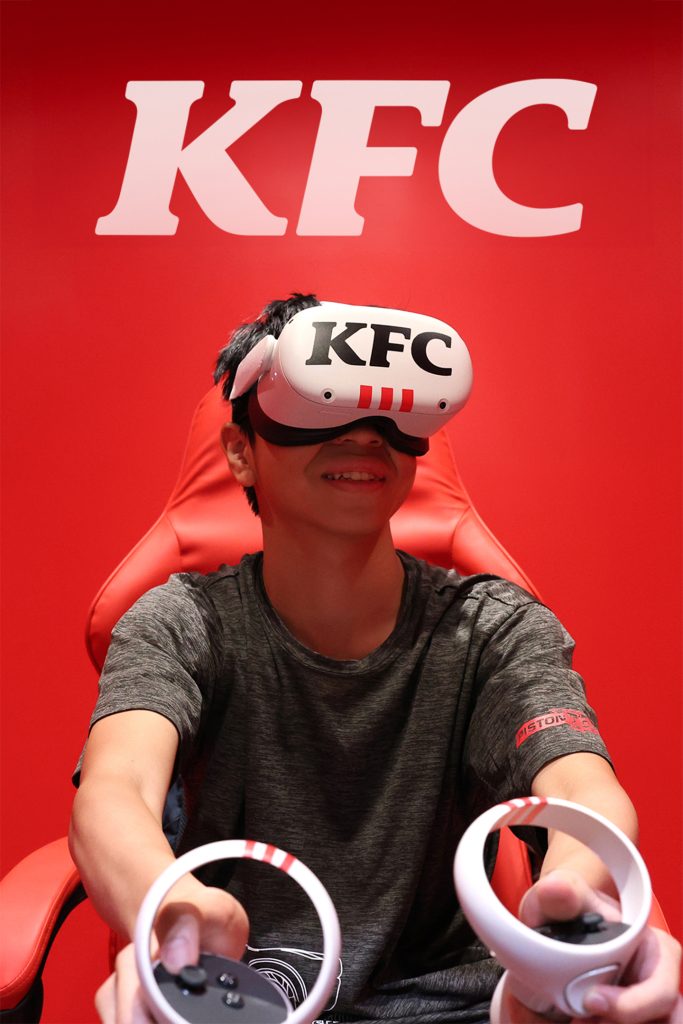 People in Hong Kong are always looking for ways to catch a little break from the mayhem of work, family and life and KFC's latest campaign is offering them exactly that.
The Bucketverse VR campaign is an immersive activation located at the atrium of Hysan Place, situated in one of the most populated and busiest districts in the city, Causeway Bay. The game is housed inside a KFC Bucket-esque booth and transports chicken lovers, overworked office workers, anxious students, stressed new parents and overwhelmed citizens to another dimension where they can travel through a fun Hong Kong-inspired virtual world and relieve their stress by catching as much fried chicken as they can. The more chicken people catch, the more points they get, and the greater their reward of real-world fried chicken to indulge in a Krispy Break at KFC.
"We want to invite Hong Kongers into another dimension to take a brief break from hectic city life and embrace a world of creativity and fun" said Janet Lau, Marketing Director for KFC Hong Kong. "Everyone deserves a Krispy Break, and through this campaign we hope to show how the KFC brand is here to provide exactly that."
"The game is designed to be fun-filled and slightly addictive – much like KFC's delicious fried chicken" adds Amy Cheng, Edelman's Creative Director. "It's great when a brand actively asks for innovative ideas outside of traditional communications, and the Bucketverse is a demonstration of this… Our partnership with KFC keeps welcoming different ideas and we hope this new form of Finger Lickin' Goodness amplifies their brand promise to more fried chicken lovers around the city."
CREDITS:
Agency: Edelman Hong Kong
Regional Executive Creative Director: John Koay
Creative Director: Amy Cheng
Design Director: Andy Chan
Art Director: Carson Ho
Production Manager: Richard Poon
Head of Strategy: Phyllis Yip
Digital Senior Manager: Logan Cheng
Digital Associate Manager: Sammie Wong
PR Brand Manager: Mona Tin
PR Brand Assistant Executive: Suki Chu
Client: KFC Hong Kong Marketing Team
Production: IOIO Creative