MANILA, PHILIPPINES — Since 2011, coffeehouse company Starbucks and its partners (employees) around the world have been dedicated to improving their local communities by celebrating the month of April as a time for community service and implementing a range of initiatives that positively impact the planet.
With over 400 stores across the market, Starbucks Philippines has used its scale to address important issues such as hunger relief, reusability, and access to clean drinking water. To welcome the month of June, it highlighted the efforts of its partners who volunteered their time and resources that create a meaningful difference in the lives of Filipinos.
Starbucks Philippines strengthens its partnership with Gawad Kalinga to fight hunger
Starbucks Philippines' ongoing partnership with Gawad Kalinga's Kusina ng Kalinga program provides nutritious meals to children over a 120-day program. Last month, partner volunteers prepared meals for over 350 children from Catmon, Cebu, the company's first community supported through Kusina ng Kalinga outside of Metro Manila.
In addition, a new Global Community Impact Grant awarded in April from The Starbucks Foundation will enable Gawad Kalinga to provide nutritious meals to an additional 1,200 children, host family health and nutrition educational workshops, and train 30 Community Food Farmers to build vegetable gardens in the Visayas region.
Expanding Starbucks FoodShare
In partnership with Grab and the Philippine FoodBank Foundation, the company expanded Starbucks FoodShare from Metro Manila to 13 additional stores in Cebu this month. Since the program launched in March 2022, partners connect with Grab drivers daily to deliver rescuable food from their stores to the Philippine FoodBank Foundation, which then distributes donations to communities in need of food assistance. Beneficiaries in Cebu include Balay Samaritano sa Sugbo Shelter, Don Bosco Provincial House, and Our Lady of Lourdes Feeding Center.
The company also had its second "Fill It Forward" Starbucks Venti Van stop at Alabang Town Center, Muntinlupa on April 29. The initiative encouraged customers to participate in Starbucks FoodShare by purchasing a cookie for PHP50, which was then donated to various beneficiaries through the Philippine FoodBank Foundation.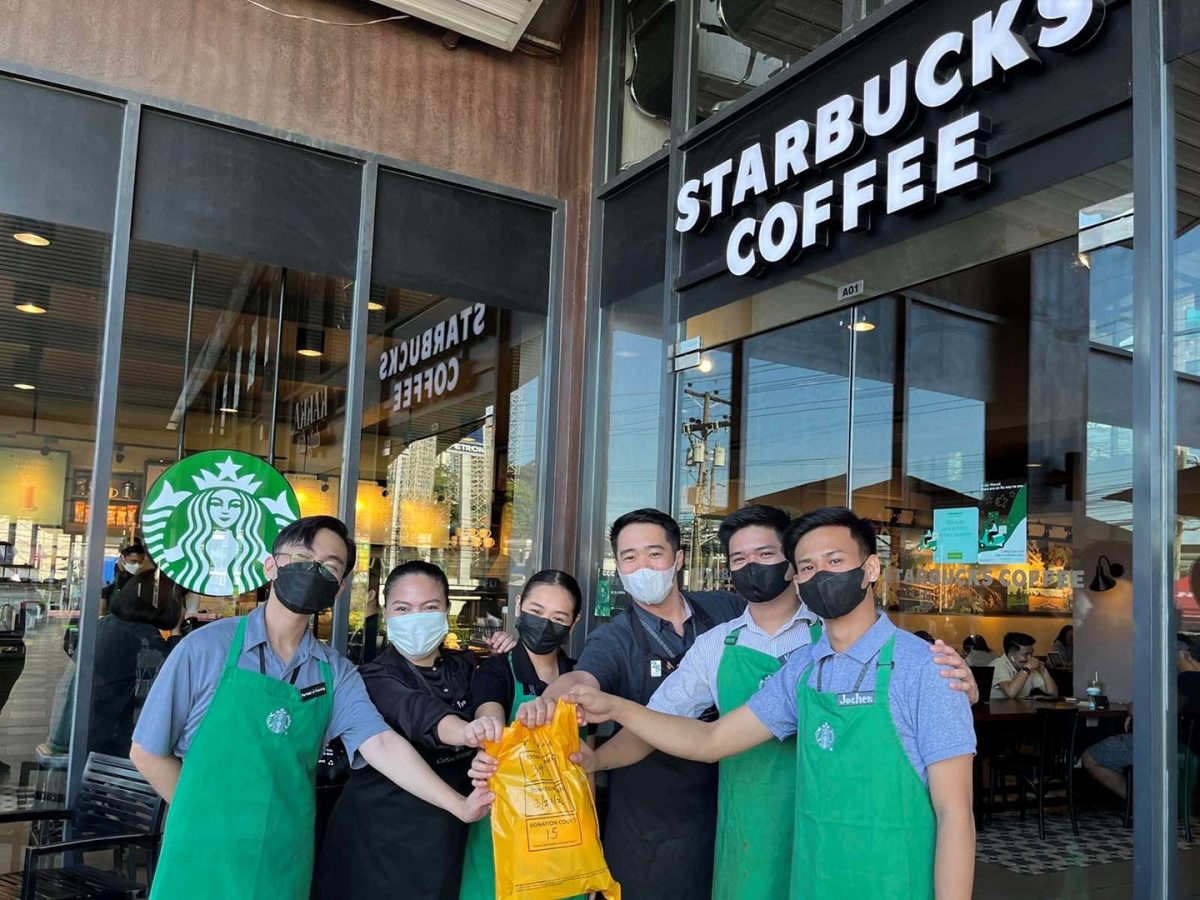 Building a fourth AquaTower in San Antonio, Quezon
Joining hands with Planet Water Foundation, a non-profit organization that focuses on alleviating the global water crisis, partner volunteers successfully built Starbucks Philippines' fourth AquaTower at San Antonio Central School in San Antonio, Quezon on April 04. Through this long-standing partnership, 1,800 community residents are able to easily access safe drinking water and handwashing stations through an AquaTower. The partners also led hygiene education activities with local students.
Starbucks Rewards members earn Stars on Reusables
Starbucks Philippines has been incentivizing customers to bring their own reusable cups through the Bring Your Own Reusable Cup program. Customers receive PHP10 off their order when they bring any personal reusable cups from all stores nationwide. In celebration of Global Month of Good, Starbucks Philippines added five Bonus Stars on top of the PHP10 discount for Starbucks Rewards Members. Customers enjoyed this additional promo for every transaction throughout the whole month of April.