TOKYO, JAPAN — Global apparel retailer UNIQLO opened the UNIQLO Maebashi Minami IC Store on Friday, April 21, at Maebashi (Gunma Prefecture, Japan). This new store represents a prototype for global roadside UNIQLO stores going forward, and features innovative design elements that are a first-of-its-kind for the company.
For the new Maebashi store, Kashiwa Sato, Creative Director and CEO of SAMURAI Inc. and Chief Creative Director for the project, developed a new roadside store concept that both appeals to customers and embodies the UNIQLO philosophy of contributing to the development of a prosperous society and realization of a better world. To achieve these aims, the store has been designed with range of energy-saving features, as well as an expanded suite of lifestyle services. Going forward, the company intends for the store to serve as a prototype for new roadside stores globally.
Group Executive Officer Masahiro Endo said, "With the new Maebashi Minami IC Store, we have created a new type of UNIQLO, where customers can both shop for our clothing, as well as gather and connect with each other. Reducing our energy consumption was also at the front of mind when developing the store, and the various technical and design features utilized represent meaningful steps towards meeting our 2030 greenhouse gas reduction targets. Going forward, we look forward to using this store as a prototype for our new roadside stores globally."
Energy-saving features and new lifestyle experiences for customers
In line with the company's target to reduce its greenhouse gas emissions in its own store and office operations by 90% by 2030 (compared to 2019 levels), the new Maebashi store incorporates a number of features designed to help minimize energy usage. In addition, the store also brings together a range of the newest UNIQLO lifestyle services, including the UNIQLO FLOWER florist shop, UNIQLO COFFEE cafe, and Japan's first permanent RE.UNIQLO STUDIO – the company's repair, reuse, recycle and remake service.
Expanded customer lifestyle services
In addition to these technological and design innovations, the store also brings together five elements to offer a true lifestyle destination for customers, including: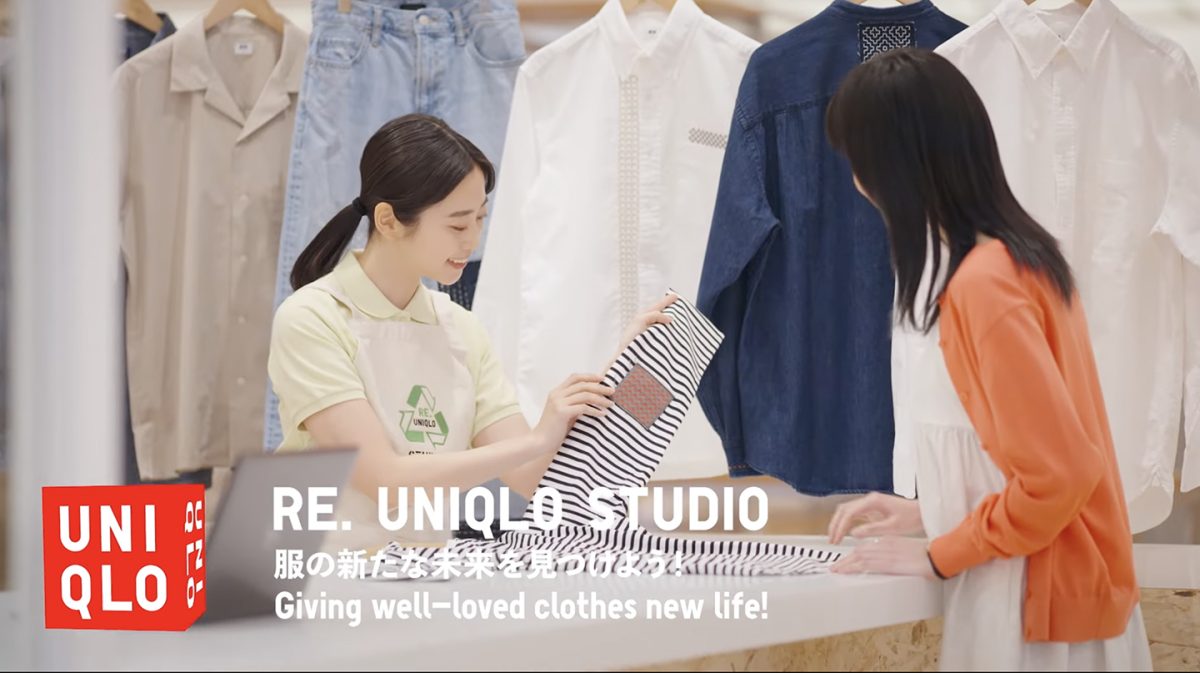 Japan's first permanent RE.UNIQLO STUDIO
The RE.UNIQLO STUDIO clothing reuse, recycle, repair, and remake service was first opened in Japan on a trial basis in October 2022, and is now being expanded for the first time into a permanent service at the Maebashi store. Alongside repairing clothes, customers can also request remodeling to give new life to their favorite jeans, denim jackets, or shirts, as well as sashiko embroidery or prints. An overview of the service is available here.
Seasonal flowers from UNIQLO FLOWER
UNIQLO FLOWER first started in April 2020 at UNIQLO PARK Yokohama Bayside, and now operates in 15 locations in Japan, mainly in the central Tokyo area, and through the UNIQLO online store. The UNIQLO Maebashi Minami IC Store will have an area called "FLOWER BOX" inside the UNIQLO logo on the right-hand side of the front entrance, offering around 30 varieties of fresh flowers to add color to the everyday lives of customers.
Relax at UNIQLO COFFEE BOX
Customers can enjoy select, specialty coffee at the "UNIQLO COFFEE BOX" area at the right-hand side inside of the front entrance. The first UNIQLO COFFEE was opened in the UNIQLO Ginza Global Flagship Store in 2021, and together with UNIQLO Tokyo Global Flagship Store, this will be the third location. The UNIQLO COFFEE at the UNIQLO Maebashi Minami IC Store will be the largest so far, where customers can spend a relaxed moment enjoying a drink, listening to music, and sampling local delicacies such as Anpotan Cookies and Maebashi Dorayaki.
Fun for kids at UNIQLO KIDS BOX
The "KIDS BOX" area inside the UNIQLO logo on the left-hand side of the front entrance has a slide and kid-sized bench cushions where children can play in between shopping. The playfully-designed cushions are shaped like letters that spell out "UNIQLO." This area also features displays that present UNIQLO's environmental conservation activities in a kid-friendly way.
After shopping, enjoy a coffee and chat in UNIQLO GARDEN
UNIQLO GARDEN is a green space surrounding the approximately 2,500m2 UNIQLO Maebashi Minami IC Store, with uniquely-designed benches, desks, and parasols. The free and open space can be used to take a break from shopping, or have a family picnic. (The color of the grass will vary by season and growing conditions.)