MANILA, PHILIPPINES – The Philippine island of Siargao is one of Asia's leading surf destinations and was also voted the Best Island in Asia in the 2021 Conde Nast Travelers Readers awards. A little over a year after super typhoon Rai made landfall in Siargao – whose main livelihood derived from surf tourism and fishing, is still struggling from the aftermath after its community boats were destroyed by the typhoon.
To aid in the island's recovery, 'art+design' by Gavel&Block, a subsidiary of Salcedo Auctions, will be auctioning off five scrapboards from RISE Siargao and ReMaker Space with support from creative agency, BBDO Guerrero.
"Project Re-Dew" is an initiative that transformed broken typhoon wreckage into symbols of hope and recovery designed and created by BBDO Guerreo Creative Directors Andi Olbés and Nikki Sunga. Used PET soda bottles were pulverized to make neon green resin. The neon resin then acts as a binding agent for the wooden wreckage from the typhoon to form the five unique "Scrapboards," each representing an iconic location on the island Siargao. The five scrapboards weigh approximately 40 kg each and are about 7 ft tall with details as follows: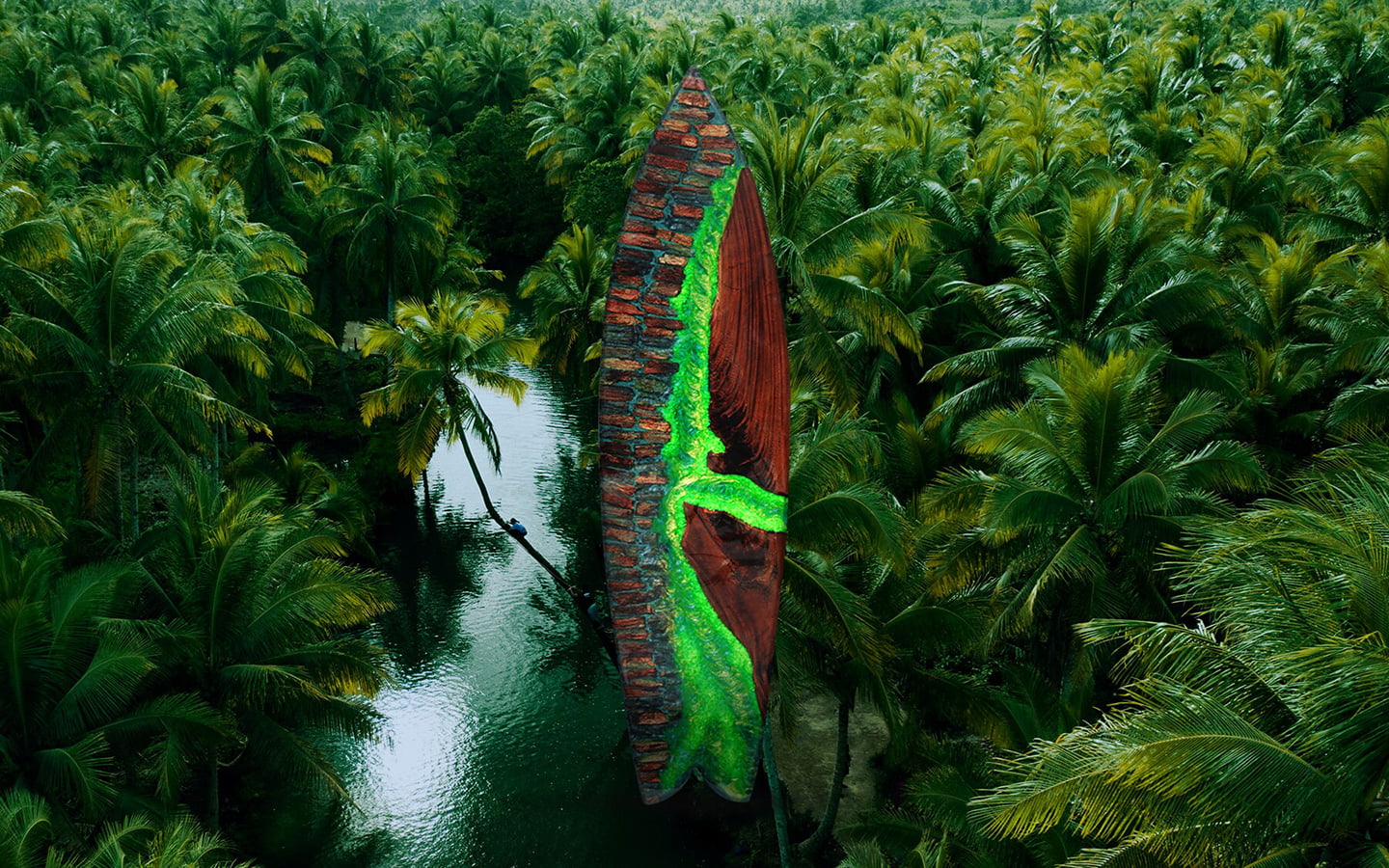 Maasin Scrapboard
The Maasin Scrapboard is inspired by Siargao's famous "Maasin River." Snaking through the island and hidden amongst lush coconut trees, the river provides a treasured playground for visitors looking to float down the placid waters or swing from the coconut trees.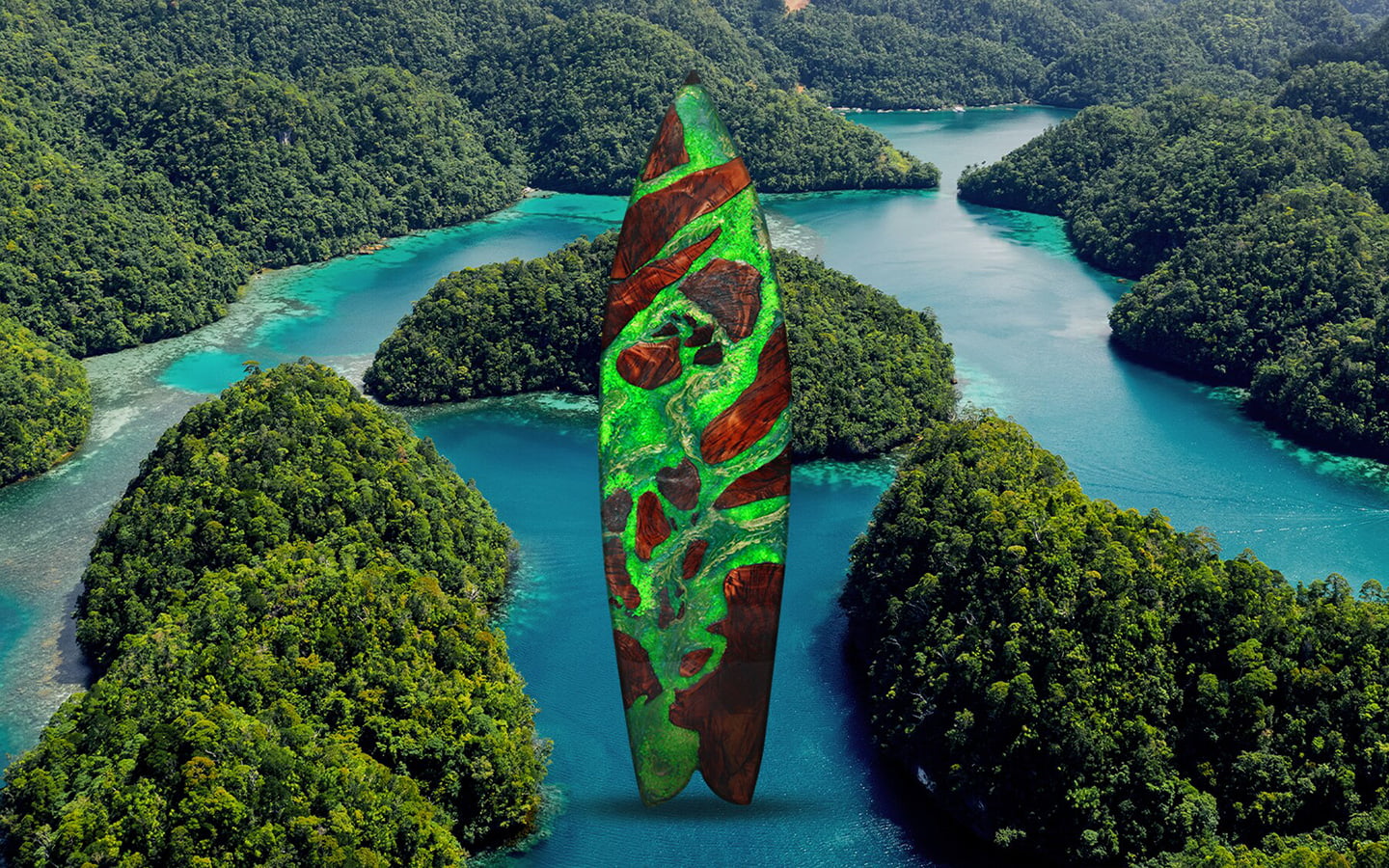 Sugba Scrapboard
Inspired by Siargao's breathtaking "Sugba Lagoon." Visitors flock to the lagoon to dive into and explore its emerald-blue waters, peppered with thick green islets and surrounded by the Del Carmen Mangrove Reserve.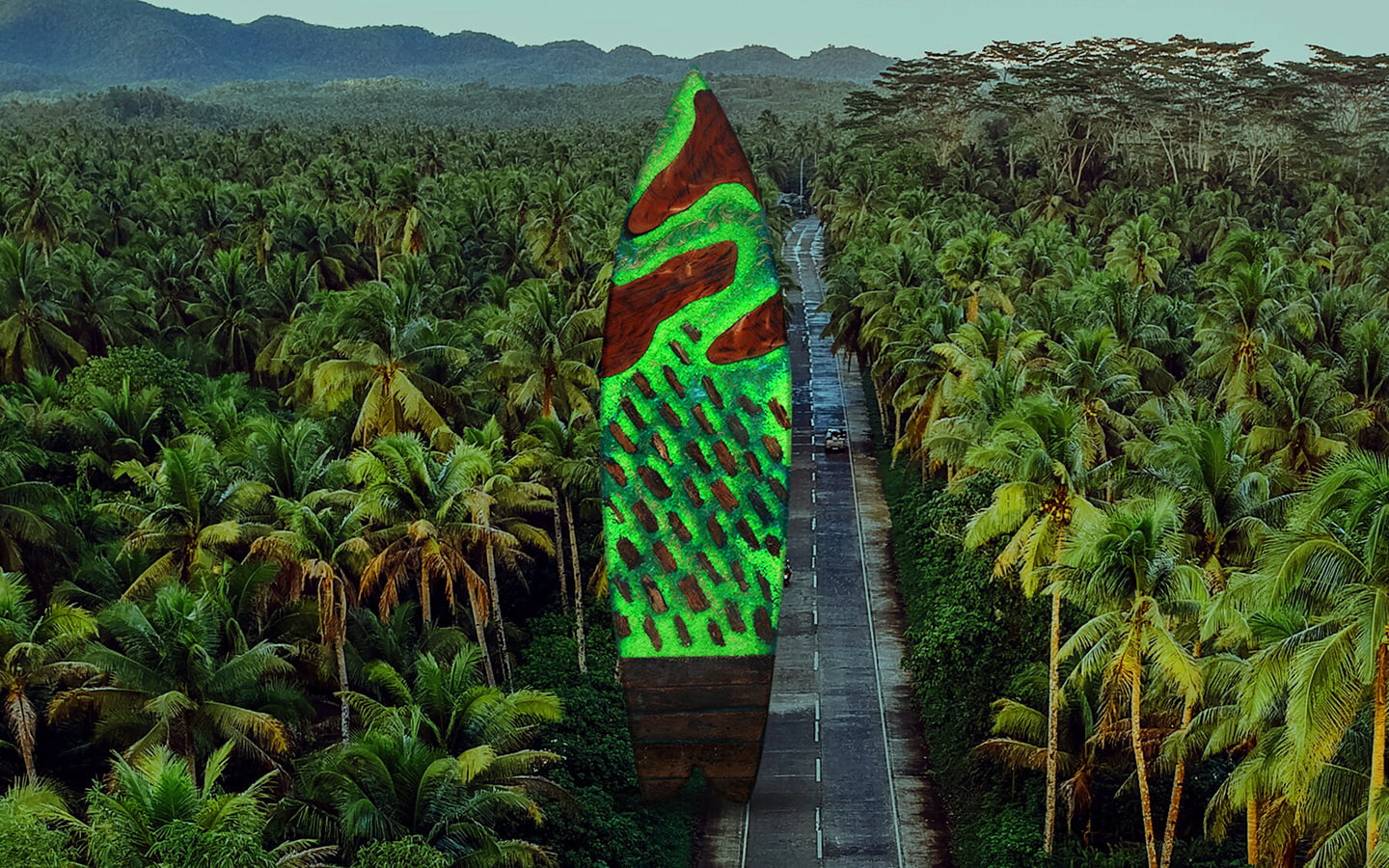 Sea of Coco Scrapboard
This Scrapboard is inspired by Siargao's iconic "Sea of Coconuts" viewpoint. A popular rest stop for road-tripping visitors of the island to take a break and witness a truly spectacular, bird's-eye-view of the lush foliage below made up of thousands of coconut trees.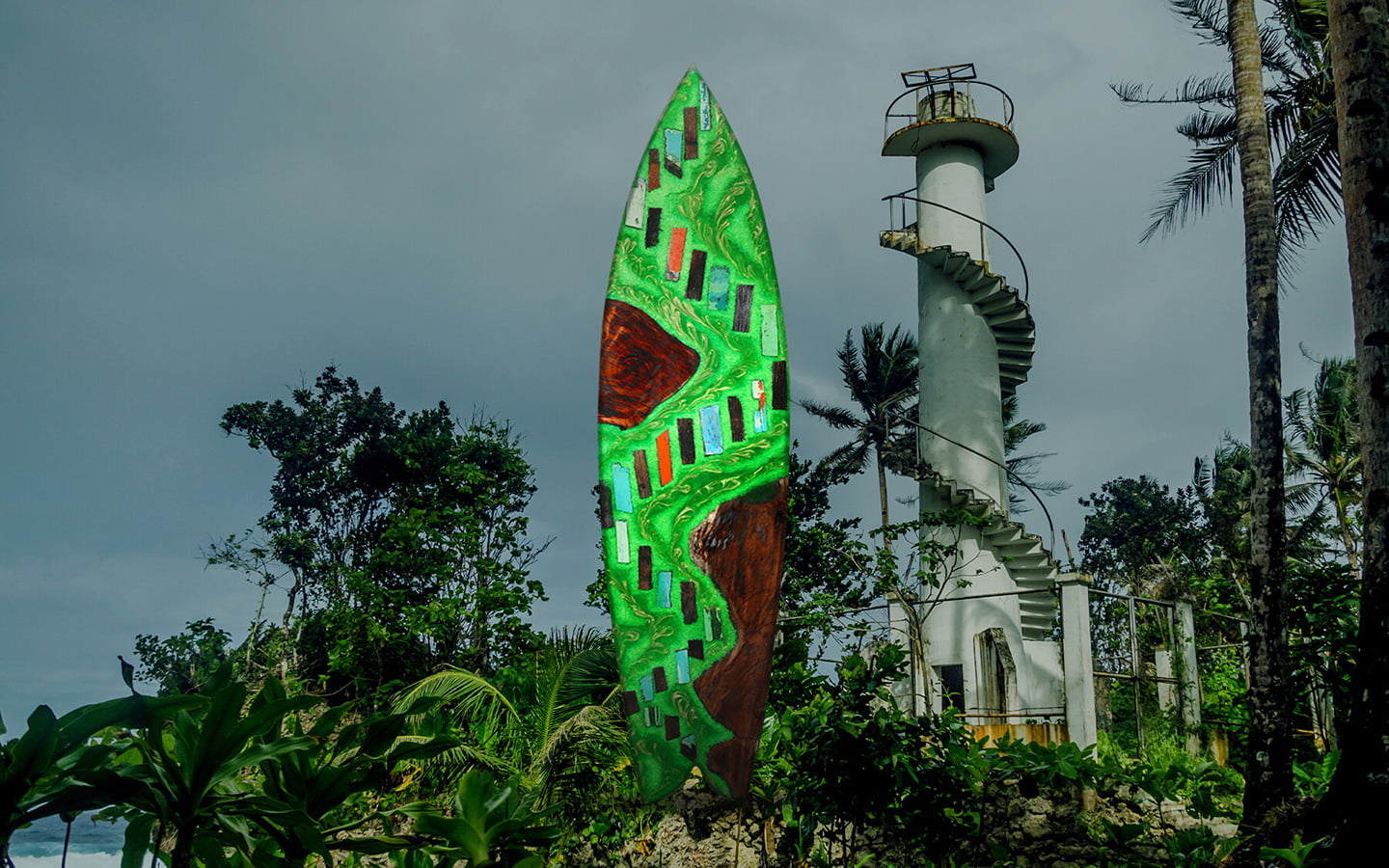 Pacifico Scrapboard
Inspired by Siargao Island's abandoned but not forgotten, "Pacifico Lighthouse." The lighthouse stands tall on the Northernmost edge of the island. Its characteristic sweeping spiral staircase leads one to unmatched, unrestricted views of the Pacific Ocean.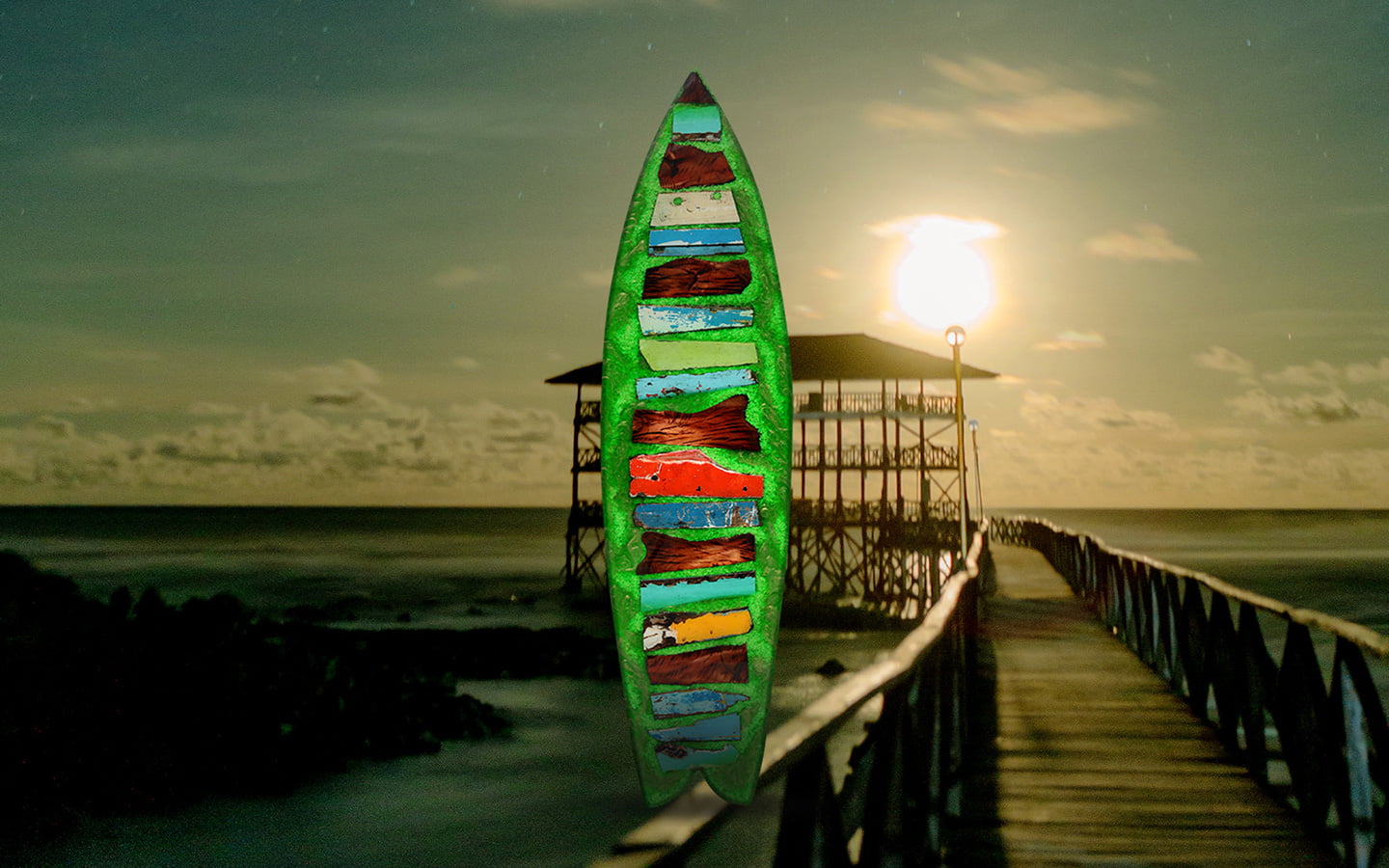 Cloud 9 Scrapboard
The Cloud 9 Scrapboard got its inspiration from the most recognizable symbol of Siargao, a beacon of its resilient surfing community — the "Cloud 9" boardwalk. Nobody comes to the island without stopping by and marveling at the pro surfers hitting the waves. The boardwalk & tower were destroyed by the typhoon and are only now on the way to being fully rebuilt.
The Scrapboards are now included in the online catalogue of 'art+design' accessible via Salcedo Auction's website. The virtual auction will happen online on February 04, 2023 and will be open to international bidders under the Philippine Peso currency. Absentee bidders may also place their bids online starting January 20 after registering on the website. Each Scrapboard has a starting bid of PHP 55,000 (USD 1,000). 100% of the proceeds from the auction will be turned over to RISE Siargao and ReMaker Space, which will be used to fund in rebuilding community boats that can sustain livelihood such as fishing and tourism.
"Each Scrapboard is inspired by Siargao's beauty and its surfers' unbreakable spirit of adventure," said creators Nikki and Andi of BBDO Guerrero. "All throughout the campaign, we are reminded of how creativity can be used as a force for good, a catalyst to improving lives."
"Project Re-Dew is a unique and inspiring way to aid in Siargao's recovery, and we are humbled to be a part of their mission to support livelihood initiatives on the island," added Richie Lerma, Salcedo Auction's Chairman and Chief Specialist.
BBDO Guerrero first commissioned Project Re-Dew with Mountain Dew Philippines' support back in October 2022 where smaller versions of the Scrapboards were given away as the official trophies to the winners of Siargao's International Surfing Cup, after the island re-opened to tourists. These five additional Scrapboards and other surf-inspired pieces were turned over to RISE Siargao and ReMaker Space last December 2022.