MANILA, PHILIPPINES — The Philippines is a basketball nation, and the population lives and breathes the game. In order to hype the upcoming 2023 FIBA World Cup, the world's biggest basketball games that will be held in the Philippines, SMART — the official partner of FIBA — decided to collaborate with indie agency GIGIL Philippines to mount the biggest basketball installation.
The biggest round sculpture in the Philippines, the MOA Ball has been transformed into a giant basketball by adding an equally colossal ring and net around it. With the help of Up Rising Media Marketing Corporation, the 100-foot, 450-ton monument became a basketball fan's spectacle. And the huge collaborative effort has made waves on social media.
Leading up to its launch, people were speculating about what was happening to the giant outdoor sculpture.

And upon its unveiling, the Ball of Asia easily became viral…and Filipino fans loved it.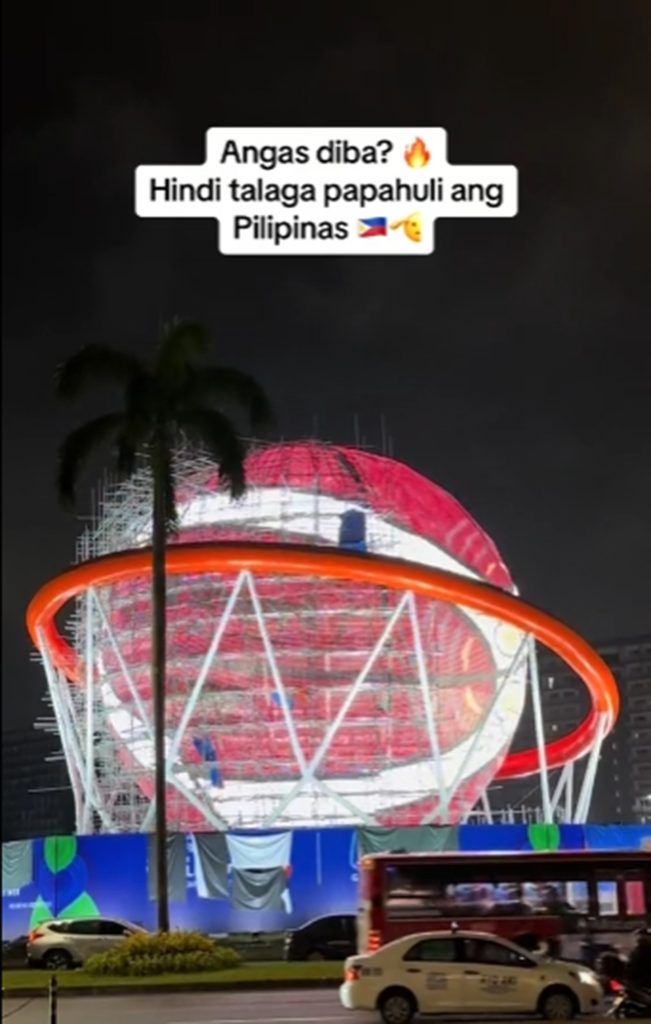 To date, the installation has garnered 2.7M views, 554.7K engagements, and 27.2K shares.
"Bringing to life GIGIL Philippines' larger-than-life idea required teamwork and close collaboration among all stakeholders," said Edward Martinez, SMART AVP, Brand Equity Management. "Everyone — from our top leadership and Internal Media team in Smart to FIBA — was truly committed to dressing up the town for the games like never before. Like the Gilas team's battlecry, 'PUSO' talaga ang kinailangan.
"We would also like to give special thanks to our OOH vendor, Up Rising, for really rising to the challenge and finishing the MOA Ball in time for the games despite weeks of heavy rains. We feel very proud to be part of such a historic event for Filipinos. It all really goes beyond our love for basketball because ultimately, it is about bringing pride and recognition to our country," said Martinez.
CREDITS:
Client: SMART
Francis Flores (Head – Consumer Wireless Individual)
Lloyd Manaloto (FVP – Corporate Brand)
Edward Martinez (AVP – Corporate Brand)
Lorenzo Torres (Brand Equity Manager)
Mei Orcena (Media Manager)
Kaye Evangelista (Media Junior Manager)
Jane Angeles (AVP, Media Hub)
Mon Samarista (Dept Head/VP, Marketing Services Operations)
Jude Turcuato (FVP – Sports)
Paolo Zulaybar (Creative Design Manager)
Kristoffer Calubad (Creative Design Motion Artist)
Agency: GIGIL Group
Founding Partner: Herbert Hernandez
Founding Partner: Badong Abesamis
Managing Partner: Jake Yrastorza
Group Account Director: Micco Balana
Group Account Director: Bev Lubid
Associate Account Director: Adel Clemente
Account Manager: Jus Patacsil
Account Manager: Pata Delos Reyes
Account Executive: Ralph Samson
Creative Director: Dionie Tanada
Creative Director: Jordan Constantino
Associate Creative Director: Hope Reyes
Associate Creative Director: Dana De Leon
Associate Creative Director: Sajid Guerrero
Associate Creative Director: JR Bumanglag
Senior Copywriter: Greggy Gregorio
Senior Copywriter: Samuel Mateo
Senior Art Director: Ronchris Cosme
Senior Art Director: Samantha Padua
Senior Art Director: Seph Asentista
Senior Art Director Ricia Deguito
Copywriter: Joaquin Diaz
Art Director: Doms De Luna
Art Director: Rain Landingin
Art Director Joaquin Diaz
METROPOLIS
Andre Abad (General Manager) Mark Ibardaloza (Senior OOH Manager)
UPRISING
John Andes (CMO)
Onet Diño (COO)