MANILA, PHILIPPINES — "Maraming salamat. Ayaw na namin gawin 'to uli. It's the first and the last. Bye!" ("Thank you so much. We don't want to do this again. It's the first and the last. Bye!")
Perplexed, few in the lingering audience could decode if this curt closing statement by Dan Matutina at the wildly successful Manila Illustration Fair 2023 was tongue-in-cheek or a reflection of how arduous this event was to pull off on June 24-25. 
The collaboration with Comuna, the fair's venue, almost seemed predestined. Dan — the illustrator and artist fabled for scoring Fortune 500 accounts — had recently forged an alliance with Maya Colayco, the like-minded developer of what is quickly becoming the hottest creative-hub compound in Makati.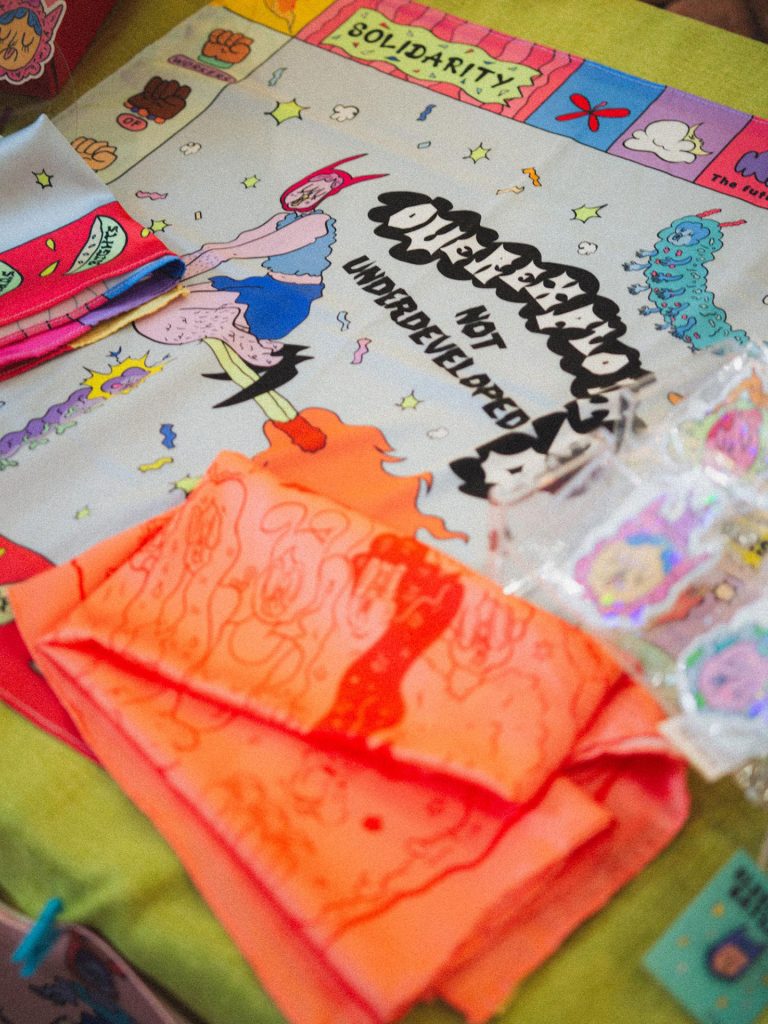 Plus, the crowd, comprised of casually curious visitors and hardcore fans of illustration, steadily rolled into Comuna in unexpected numbers. Dan, just weeks before, had assembled Filipino and other jurors based in Singapore, Thailand, and Japan to shortlist the deluge of applicants down to 20.
"However, if other groups or individuals want to organize it in the future, we would be happy to assist and support them," said Dan. "Our only condition is that the tables and booth for the exhibitors, and the event tickets, remain free."
Perhaps the momentousness of being the firstborn exhibitors, and maybe last of the lineage, has not yet sunk in for the chosen exhibitors. So for now, here are their reflections:
ELLE SHIVERS | 25 | exhibited in Ireland, Japan, US, and the Philippines
Inspired by literary fiction, internet and pop culture, food politics, and her own lived experiences as a queer person, she believes in the narrative quality of life.
"Everybody in MIF seemed to have less than three degrees of separation from each other, like a giant reunion, so it was really energizing to see how close-knit the scene here is," Elle shared.
The Philippines has an extremely rich and textured visual culture, she mused, but there is an undercurrent of frustration, as well, when trying to carve out a space for yourself. "That frustration makes for honest art, I think."
Strangers told her they specifically dropped by to buy her art. "It's always surprising to hear people say they're a fan because I keep my head down a lot. I rediscovered a new side of myself that's been dormant over the pandemic: someone who's more open, outgoing, ready to make plans, connect."
KARINA MARGA CUIZON | 29 | vocalist, guitarist, and book illustrator from Cebu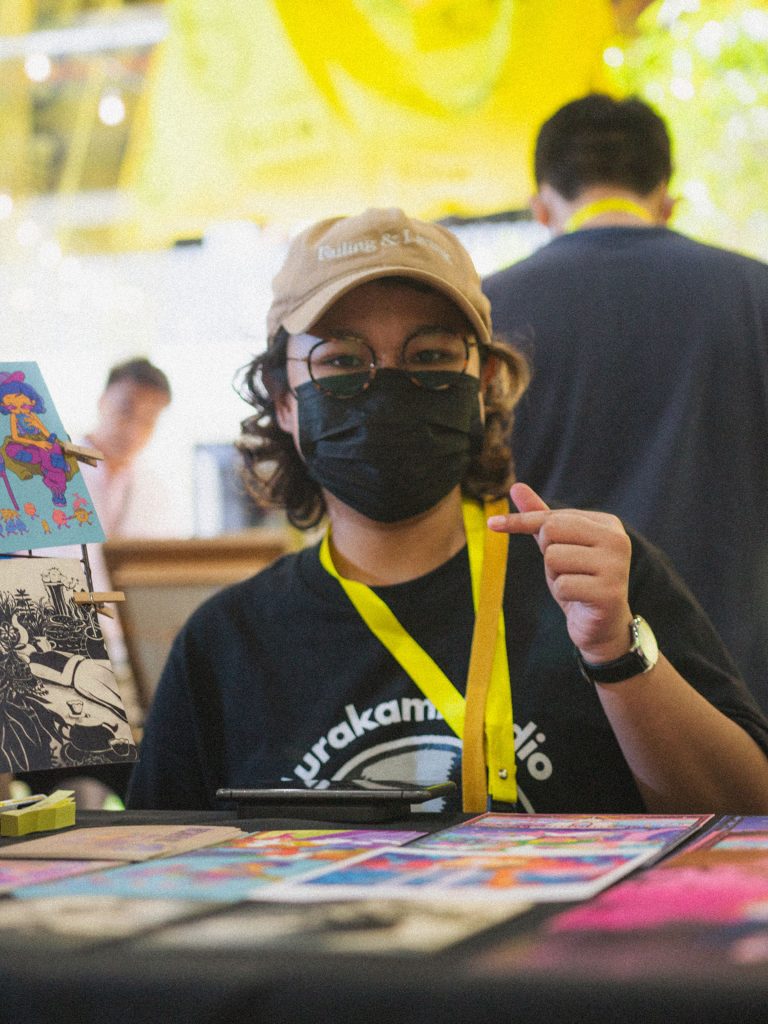 "It was my first time traveling somewhere to set up my own exhibit booth. It was scary, but I got to meet a lot of cool humans!" Karina excitably shared.
Those who live in parts of the Philippines outside Metro Manila can sometimes feel out of the loop, she expressed: "MIF can serve as a good opportunity to connect with artists for possible collaborations. The MIF volunteers came over to my booth and expressed their love for my works. The next day, they brought their friends or their sister over to my table with them, as well. I found it really touching. One person even said that if she ever tried to make art, she would want it to have the same 'feeling' as mine."
"Make good art," Neil Gaiman once said somewhat simplistically. Her adaptation of this? "Whatever happens in life, all the good and the bad and the in-betweens, I know I'll always have art to come back to."
MIGGIE BACUNGAN | 19 | magical realities from both organized and unorganized visual clutter
"I wanted those two days to last forever," Miggie opened up.
Comuna, he said, was the perfect venue. "The liveliness of the crowd, the interactions with your fellow illustrators, and the pop-ups with amazing food and drinks all felt so homey."
He shared that whenever he starts an illustration, he bases it on a prompt from his Notes app: "I always focus on the details, embellishing them to create a final image that looks visually appealing to me. Given that I work with vectors, I like to think of it as making your video game assets and rearranging them to create a variety of worlds!"
When he saw his name on the roster weeks before, he noted that "It felt surreal to be part of a group of illustrators I had idolized when I was still a high school student. I think most of the illustrators here in the lineup influenced the way I approach my illustration practice up to this day."
VILLA RICA | 31 | art competitor since she was 12
Despite the awards and a flourishing advertising career under her belt, she said this about being chosen as one of the 20 finalists in MIF 2023: "I must say, I was completely surprised. I know my drawings are not technically good, but I took the chance to enter. Now I feel like a legit illustrator!" 
Villa Rica shared that she once wrapped books with pages from phone directories and calendar pages (back then, considered commissioned art). "As a child, I was left with so much things to see. I even felt so happy just looking at grocery packaging." 
A seasoned attendee of competitions, she said, "I must say this one in Comuna was the most intimate. No extreme exhaustion or required extroversion!" She tweeted, in so many words, that as first-time seller of her art, she shed some happy tears.
"Sometimes, I tell people that my drawings are my emotional vomit. But execution is as equally important as ideas. So, craft. Obsess. And ultimately, have fun," she expressed.