Facebook's Spark AR Studio has been around for months, but it was only recently that they opened up the platform for all users, enabling anyone to download and use the suite to create their own AR filters, share them on Spark, and upload them on Instagram and Facebook so their own friends can use them.
Hopping on the bandwagon, the team behind the adobo Festival of Ideas with the help of Wunderman Thompson Philippines, Acid House, and Facebook has created its very own Spark AR-powered filter as an enjoyable way of getting to know #TheConnectivityEconomy and how it works.
The base visuals for the filter were created by the Wunderman Thompson Philippines team, featuring iconographies that represent the fifteen different main sectors that the adobo magazine team believes make up the Connectivity Economy, namely Data & Technology, Sustainability, Education, Entertainment, Infrastructure, Food, Business, Science, Health, People, Mobile, Makers, Arts & Culture, Sound, and Media & Communications.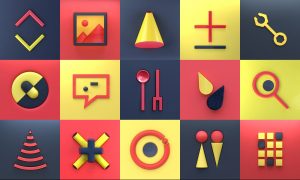 "It was such an exciting and refreshing thought. When you connect things that may or not be related to each other, the outcome is always surprising. Inspired by mathematical equations, we came up with the design concept of endless probability. It felt like an incredibly vast idea so it needed a design language to make it tangible and grounded. We created an icon to represent each industry, and pin down an illustration style that can live on its own. The icons needed to be simple, recognisable, but still playful. " shares Villarica Manuel, Art Director from Wunderman Thompson Philippines.
These visuals were then turned into an AR filter used on either Facebook Camera or Instagram stories by Acid House. "Spark AR provides a powerful way to set up original AR filters, and with the fact that it's accessible via the FB & IG apps, it's very convenient to publish these creations to the world," says Acid House Founder and Art Director Ivan Despi.
You can try out the adobo Festival of Ideas filter yourself! Simply click here for Facebook, or here for Instagram.
If you find yourself in Resorts World this coming Thursday for #adoboFOI2019, drop by the Facebook Spark AR booth. There will be 50 lucky winners receiving limited edition prizes from Facebook Philippines!
About adobo Festival of Ideas
The adobo Festival of Ideas is happening at Resorts World Manila this coming December 5, with highly-acclaimed speakers flying in to explore #TheConnectivityEconomy — the worlds created when industries and sectors intersect, converge, and collaborate, and how these can potentially change the way we live.
Tickets are available through our website  www.adobofestivalofideas.com/tickets/ or ticket2me.net/e/4067/tickets at PHP 5,000 at regular price and PHP 2,000 for students, inclusive of coffee and lunch. There's also a group package of 10+1 tickets for PHP 50,000. For further inquiries, reach out to the adobo FOI team through our website at www.adobofestivalofideas.com or shoot an email to events@adobomagazine.com, or call up (+632) 884 50218.