MANILA, PHILIPPINES– Facebook, in partnership with Child Rights Network and Stairway Foundation launched the GIF Learning Library—a series of GIF-animated stories on online safety. The GIF storybooks, developed in partnership with BBDO Guerrero, are available on the Child Rights Network's Facebook and Instagram Pages for free.
The GIF Learning Library is part of Facebook's collaboration with child safety and creative partners to promote child online safety and positive parenting—both underscored by the changes brought by the pandemic, and kids spending more time online.
The storybooks in the GIF Learning Library combine cute and colorful animation with short, easy-to-read text that can help parents talk to their children about staying safe in the time of physical distancing. The two GIF books released are available in Filipino (" Sarado ang Mahiwagang Kaharian " and " Pwede Ba I-click Ito? ") and English ("Stuck in the Castle" and "Can I Click This?"). They tell tales of why young children must stay home for the meantime to stay safe and how to stay safe online. In the coming weeks, Facebook and its partners will be coming out with more stories about online safety and activities for parents and kids to bond over such as GIF coloring books and quizzes.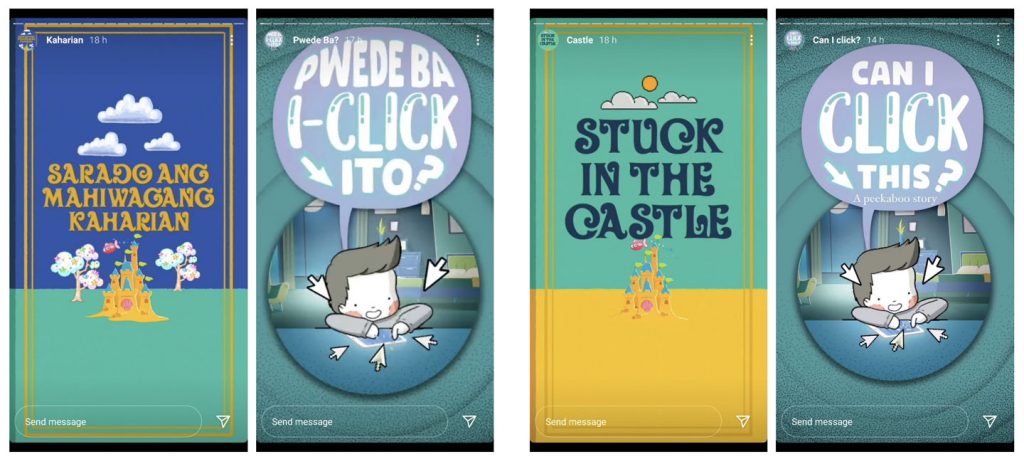 In a panel discussion live streamed on the Child Rights Network and FHMoms Facebook Pages during the launch, experts on child safety and development talked about the importance of keeping lines of communication with children honest, positive, and empowering.
"We recognize that not only are we in this unique situation where parents are finding it challenging to speak with their kids about the COVID-19 pandemic, the new reality is that kids need to stay home and they're online more often—whether for education or entertainment. At Facebook, we understand that we have a responsibility to do what we can to keep the teens that are on our platforms safe, and to provide tools and resources that can help parents engage in conversations about online safety with their kids," said Amber Hawkes, Facebook Head of Safety for APAC.
The panelists also weighed in on one of the top parenting concerns in this hyperdigital age: screen time. As noted by Professor of Psychology and Philippines Principal Investigator from Parenting for Lifelong Health Project, Dr. Liane Alampay, research has veered away from worrying solely about screen time. What matters more is ensuring that kids are consuming high-quality content that helps them learn new things and keeps them socially engaged.
Stairway Foundation Senior Advocacy Officer Ysrael "Ace" Diloy also emphasized that children need leisure time online. He explained that as children spend more time online for learning, a fixed screen time is likely to be taken up by schooltime alone. There needs to be a balance between developmentally appropriate educational screen time and time to go have fun and just check out stuff that they do enjoy online, he added.
Founders of Filipino parenting Facebook Groups FHMoms and Pinoy Homebased (PHDads), MK and Jim Bertulfo also shared some measures they've taken to help their own son cope with being cooped up at home. They found that setting up game nights and taking the time to play together as a family helps them bond. They also arrange virtual playdates with other members of their Facebook Groups to teach their kids to play well with each other.
While this has been a truly challenging time for everyone, the panel agreed that more time at home together as a family also opened up opportunities for parents to develop and nurture open lines of communication with their children, and for parents to take time to learn more about available parental tools in apps and devices that their kids use, to help keep their children safe online and offline.
Those who wish to access the GIF Learning Library can visit the Child Rights Network on Facebook or Instagram.