MANILA, PHILIPPINES — PDAX, one of the Philippines' leading regulated and licensed digital asset exchanges, proudly launches today, PAX Prime, a new exclusive service dedicated to sophisticated Filipino crypto investors and their growing needs in the dawn of digital assets. This new move is part of the company's broader effort to enable and empower crypto holders in the Philippines and bring more Filipinos into the crypto economy.
PDAX Prime provides three main benefits to its customers:
Direct Access to the Crypto Market
PDAX Prime customers have access to the over-the-counter (OTC) service where they can trade more tokens faster and with competitive pricing. Using their preferred chat application, PRIME clients will also have direct access to the PDAX Treasury Team to trade digital assets.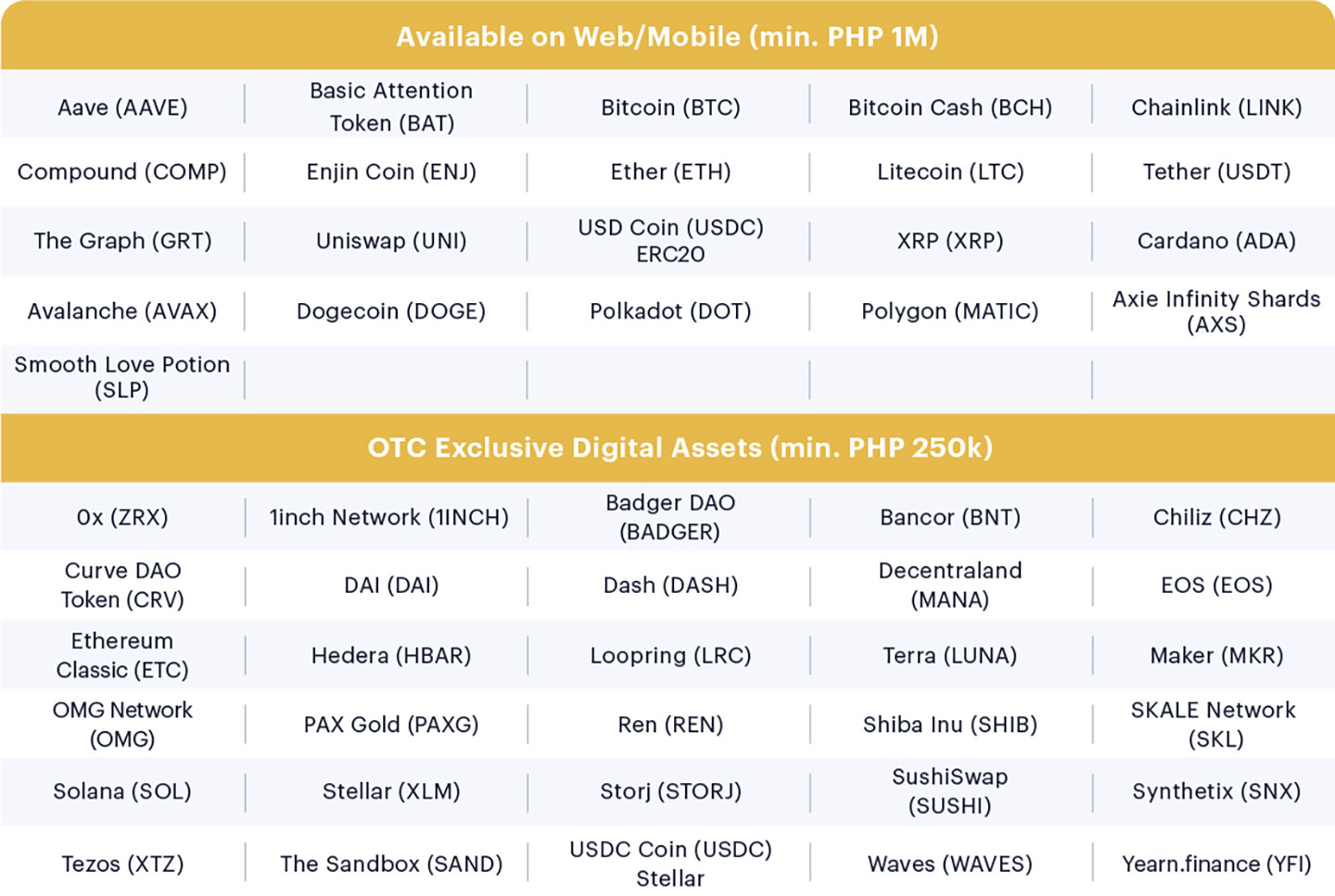 PDAX Prime clients can access 21 in-demand digital assets on TAXes Website, Mobile App, and through Treasury OTC. These are Bitcoin (BTC), Ether (ETH), Tether (USDT), US Dollar Coin (USDC), Bitcoin Cash (BCH), Litecoin (LTC), Ripple (XRP), The Graph (GRT), Chainlink (LINK), Basic Attention Token (BAT), Enjin (ENJ), Uniswap (UNI), Aave (AAVE), Compound (COMP), Polkadot (DOT), Cardano (ADA), Avalanche (AVAX), Polygon (MATIC), Axie Infinity Shards (AXS), Smooth Love Potion (SLP) and Dogecoin (DOGE). The minimum trade amount for these digital assets on Treasury OTC is P1,000,000 per transaction.
The PDAX Prime membership, meanwhile, grants clients access to 30 additional OTC-exclusive digital assets namely Ox (ZRX), 1 inch Network (1INCH), Badger DAO (BADGER), Bancor (BNT), Chiliz (CHZ), Curve DAO (CRV), DAI (DAI), Dash (DASH), Decentraland (MANA), EOS (EOS), Ethereum Classic (ETC), Hedera (HBAR), Loopring (LRC), Terra (LUNA), Maker DAO (MKR), OMG Network (OMG), PAX Gold (PAXG), Ren (REN), Shiba Inu (SHIB), SKALE Network (SKL), Solana (SOL), Storj (STORJ), Sushi Swap (SUSHI), Synthetic (SNX), Stellar (XLM), Tezos (XTZ), The Sandbox (SAND), USD Coin (Stellar), Waves (WAVES), and Yearn.Finance (YFI). The minimum trade amount for these digital assets in the Treasury OTC is P250,000 per transaction.
Guidance on your Crypto Journey
PDAX has a dedicated team that is passionate about crypto and all other solutions to help PAX Prime clients make the most out of their crypto journey. The team's mission is to guide the customers through the fast-paced world of crypto and share solutions that will allow them to maximize their crypto investments. The PDAX prime team can be reached at prime@pdax.ph.
Early Access to Crypto Learning Content
Additionally, as part of its mission of promoting financial inclusion and education in the Philippines, PDAX provides PDAX Prime members priority access to different educational materials in order for them to stay ahead of the curve.
These educational activities include a basic overview of digital assets, an in-depth discussion on trading and staking (such as getting crypto yield), and roundtables with crypto personalities who can provide their unique insights on different crypto or digital asset opportunities, among other things. PAX Prime members can participate in these events via Zoom or watch the recorded versions exclusively on the PDAX Prime Youtube channel.
According to Nichel Gaba, Founder and CEO of PDAX, this new service strengthens the company's position as one of the leading digital asset exchanges in the country.
"We believe crypto investors in the country deserve to maximize their crypto investments and discover more opportunities to build their wealth, especially at the age of economic recovery. With PAX Prime, they can do just that," he said. "Our current users have the option of upgrading their accounts to enjoy the perks of PDAX Prime. We see this as an improvement to what we offer today and a benchmark for other, more innovative solutions we may come up with in the future."
How to avail of PDAX Prime membership
Those interested can visit https://prime.pdax.ph to learn more about PAX Prime. They can also get in touch with the PDAX Prime team via prime@pdax.ph.
ABOUT PDAX
PDAX is the leading digital asset exchange in the Philippines, a safe, easy-to-use, platform for Filipinos to buy and sell virtual currencies and assets. The company received its license from the BSP in 2018 and was officially launched in the Philippine market in 2019. PDAX believes that blockchain technology and digital assets are the key to financial inclusion in the Philippines and can create a level playing field that can empower Filipinos.
For more information about PDAX, visit our official website at https://pdax.ph/ or download our mobile app at http://bit.ly/PDAX_MobileAppDownload to start trading today!