MANILA, PHILIPPINES– As the country remains in community quarantine, the purchasing journey is increasingly becoming an omnichannel experience for consumers who look for convenient and frictionless shopping. The in-store experience will not be the same, especially with the fast approaching holiday season.
This trend presents a challenge for brands that do not have their own e-commerce sites. Brands selling through online retailer partners often face difficulties in targeting the right consumers timely with relevant and personalized ads that aim to drive them to complete the purchase on another retailer's site or app.
Analytics company DAVI CEO Jojo Malolos and Facebook's Country Lead for Retail Vertical Chay Saputil talk about their partnership to launch the first omnichannel play in the Philippines and what brands should be focused on:
Can you share more about your partnership with Facebook and why it came about?
Malolos: Clients have been investing in advertising with the assumptions (or hypothesis) that this drives growth for their business and advertisers are looking for options to make their spend more efficient.
With our partnership with Facebook, we're able to help advertisers make their investment more pointed by specifically targeting and driving their customers to where they can buy their products with less spillage. An online ad driving to an offline sale— with 90 percent of their business still in offline stores—becomes a beneficial option to them.
What is Collaborative Ads for Store Sales (CASS)?
Mondejar-Saputil: Collaborative Ads for Store Sales provide a new way for brick and mortar retailers and brands to partner simply and safely to drive more sales. They are set up for brands to drive store traffic to their retail partner's store location. So, when retailers share a segment of their product catalogue, brands can reach shoppers who are physically close to the relevant store locations, direct them to these stores, and optimize the campaign for store sales.
This can only be done through retailers who have Collaborative Ads for Store Sales. This solution enables brands to run ads directly on Facebook for their products using retailers' catalogues without exchanging any customer information. The only data brands will see is the number of purchases of their advertised items.
Who should be using collaborative ads at this time? Do you recommend this for small businesses or specific industries?
Mondejar-Saputil: As of today, brands within Robinsons Supermarket are eligible to do CASS. If there are retailers who want to be a "Collaborative Ads Merchant / Retailer", they can reach out directly to us at Facebook.
Malolos: Companies who wish to lean heavier into data, understanding customer conversions better and measure the impact of online campaigns in driving offline sales. It's an amazing way to increase awareness about brands and most importantly provide new and relevant ways for customers to discover new products that are designed around their interests and their convenience.
Is it counterintuitive to expect that people would want to go in-store these days? And what significance would collaborative ads have in a pandemic for both brands and consumers?
Malolos: While we see several online platforms growing, offline will be a staple in this market as can be attested in recovering countries. Collaborative ads provide the opportunity to bridge the gap of online to offline attribution, allowing customers to discover relevant products that can also be conveniently purchased in a store near them.
What should the retail industry be prioritizing at this time, when in-store experiences are just not quite the same, and may be this way for an uncertain period of time?
Malolos: New shopper habits and product pairing are emerging and this is driven by consumers wanting to make the most of their shopping trips. In store experiences provide opportunities for consumers to discover new products that they can include in their baskets, new brands that they may not have considered in the past but can now be paired with new experiences that they have or could be craving in this new normal. This is a period of discovery, particularly for products and brands that provide added value and can be paired with a good deal.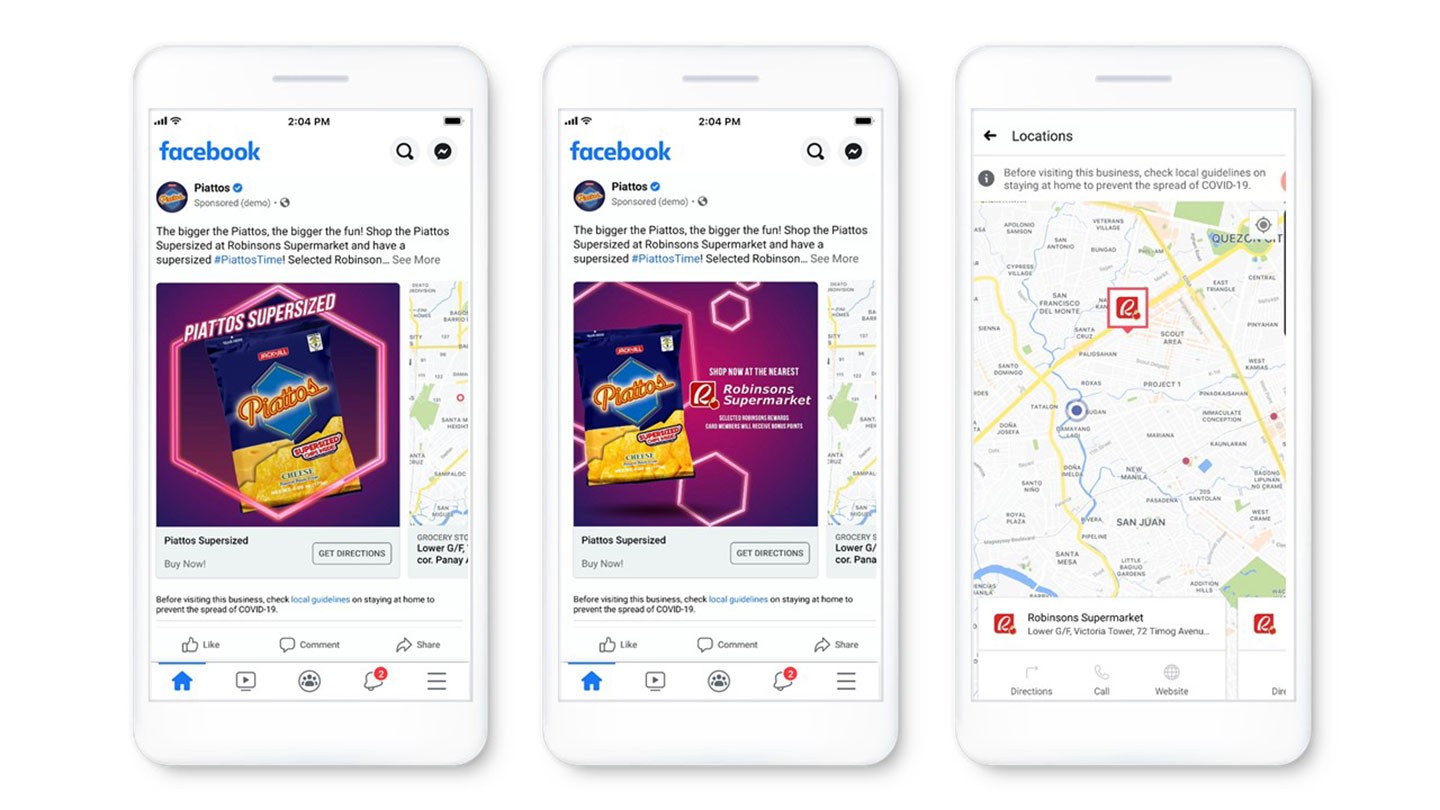 Which Filipino brands are already using CASS?
Malolos: Brands under personal care, home care, food are actively using cass, not just in driving store sales but also as a way to learn more about new shopper habits and preferences. Understanding the online to offline customer journey leads to new insights and opportunities.
Mondejar-Saputil: Piattos under Universal Robina Corporation is one of the first brands to run CASS with Robinsons Supermarket.
How do you measure the effectivity of CASS is for specific brands?
Malolos: Store conversions, shopper segment analysis, understanding which type of shopper will be buying more or less of a certain product.
How can brands and companies get started with collaborative ads?
Mondejar-Saputil: When a brand has a specific ad in mind that's available in Robinsons Supermarket, they can reach out to Facebook to setup a campaign. In turn, we will provide analytics on the performance of their campaign that will help them understand more deeply the impact of their investment.