SINGAPORE – With the emergence of Covid-19 in 2020, came a significant shift in consumer attitudes towards health and wellness. Consumers have taken it upon themselves to combat Covid-19 fears proactively through preventative health and wellness practices.
The pandemic has hastened the case for a fit and active lifestyle to build immunity against the novel coronavirus. In 2017, a survey​1​ found that nearly seven in ten surveyed were "very interested in nutrition and healthy eating, twice that of their western counterparts. Today, practices like mindful eating, workouts, taking health supplements, adopting health technology, and boosting mental health are top priorities for consumers.
The opportunities for growth in the health and wellness industry are tremendous. But what strategies should brands take to build their reputation with consumer well-being at the heart of their operations, and trendspot preferences and concerns to capture market share?
A new report from D​igimind​, the most trusted AI-powered social listening and market intelligence software, analyzed key trends in over 657, 000 mentions around health concerns in relation to Covid-19, as well as additional data on fitness, healthy living, diets, health supplements, and wearable health technology. The report highlights trends, preferences, and consumer behaviors of health-conscious consumers, and identifies social listening and marketing strategies for resonating and engaging in a pandemic-ridden era.
Brands studied include: ​Abbott, GNC, Herbalife Nutrition, Adidas, Lululemon, Under Armour, ​and more.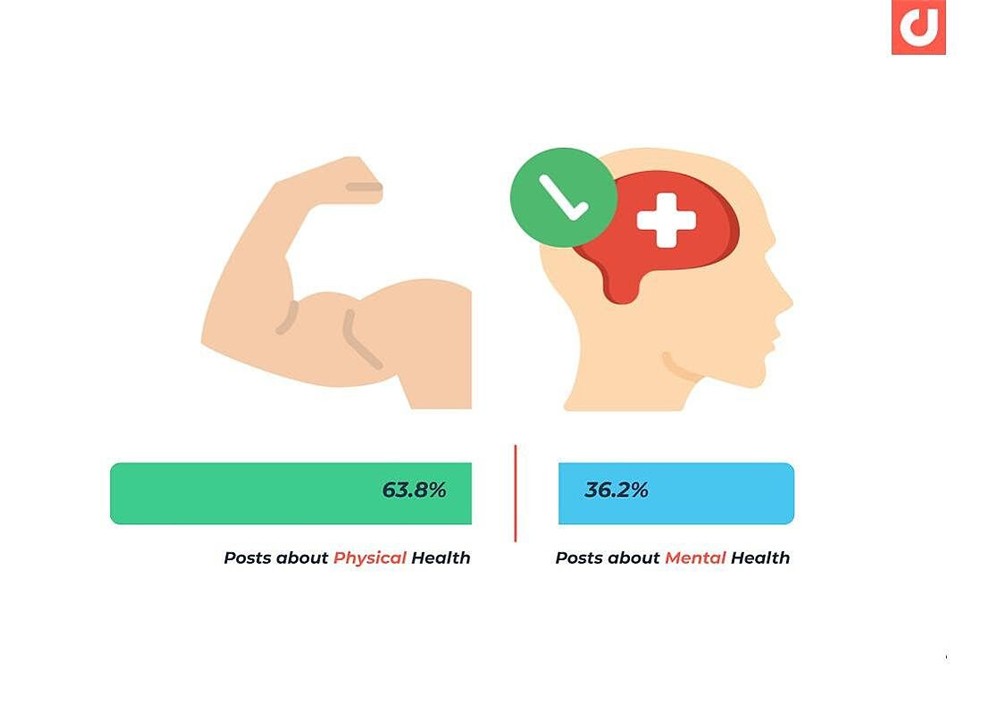 Physical Wellness still tops health-related discussions… but Mental Health Talk is gaining momentum on social media
Consumers in Asia Pacific are taking a more holistic approach to health on social media, with both endemic and non-endemic brands following suit.
While discussions about physical health still trump mental health, with twice as many posts on the former. Analysis of mentions around mental health indicates there is increasing awareness and acknowledgement of the importance of looking after one's mental and emotional wellbeing, a concern that has emerged among working adults as a result of work and home boundaries blurring from pandemic-mandated work from home arrangements.
Health practitioners and experts, particularly those in yoga, expound mental health as a key benefit of adopting healthy practices.
Blackmores and Herbalife resonate with followers through content promoting mental wellness. Feel-good content​ with ​simple, clean visuals​ earned top engagement from Blackmore's social media followers. Indicating that consumers are looking out for companies that embody the principles of holistic wellness in their products and marketing. Similarly, posts with the highest engagement for Herbalife endorsed mental wellbeing. A​ Facebook post announcing the addition of Ayurvedic Nutrition, with an emphasis on its mental health benefits earned the most engagements for Herbalife.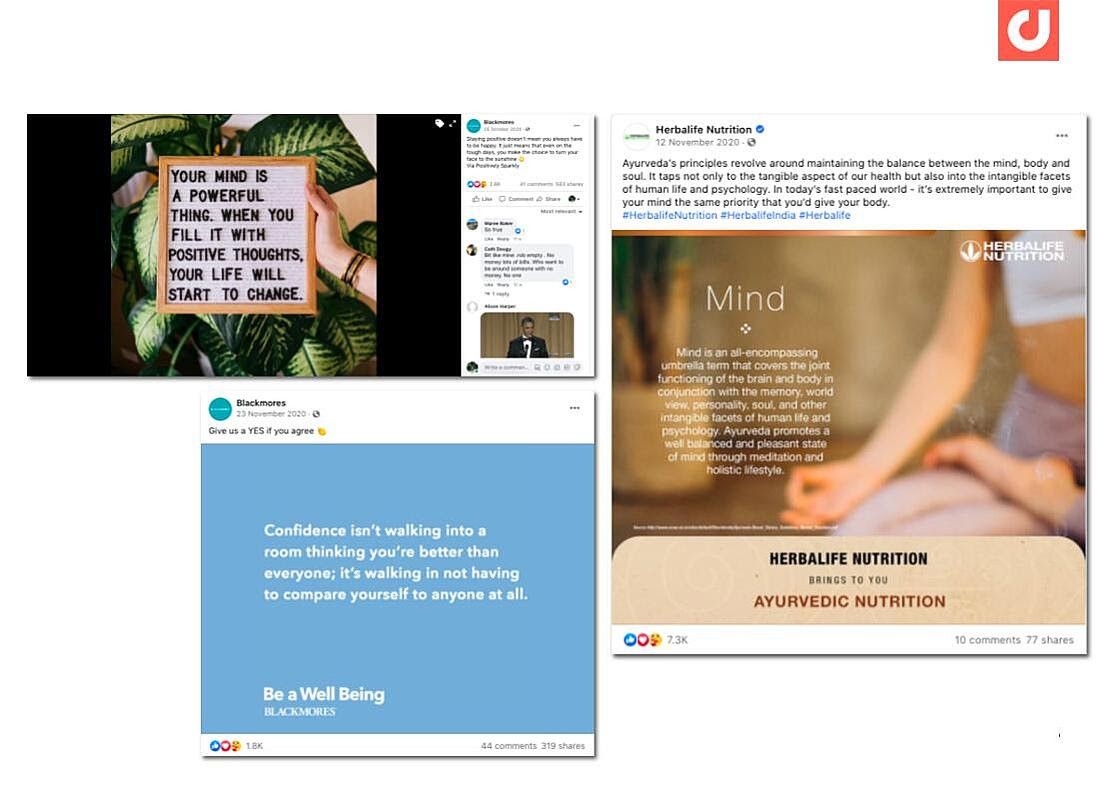 Non-endemic brands jump on the health and wellness bandwagon
Analysis of branded content posted around health shows non-endemic brands are also moving to roll out campaigns centred around wellness to appeal to and engage with health-conscious consumers. Knowledge sharing and brand collaborations around physical fitness is a key strategy for aligning themselves with audiences who have a vested interest in fitness, such as workout livestreams and yoga.
In the realm of mental wellness, brands sought to build solidarity with their audience, and demonstrate their inclusiveness as a company that is invested in mental wellbeing. Notable campaigns during the period studied include:
Covid-19 accelerating the digital health boom?
The persistence of Covid-19 will likely speed up the adoption of telemedicine in consumer healthcare routines. That said, content posted around such services still veer toward the promotional side, with healthcare providers seeking to heighten awareness about its availability and benefits to the masses. Convenience is the main selling point for patients who don't want to risk going out.
"Real-time", "fitness tracker", "telemedicine", and "telehealth" were among the top trending topics of discussion around fitness and wearable technology.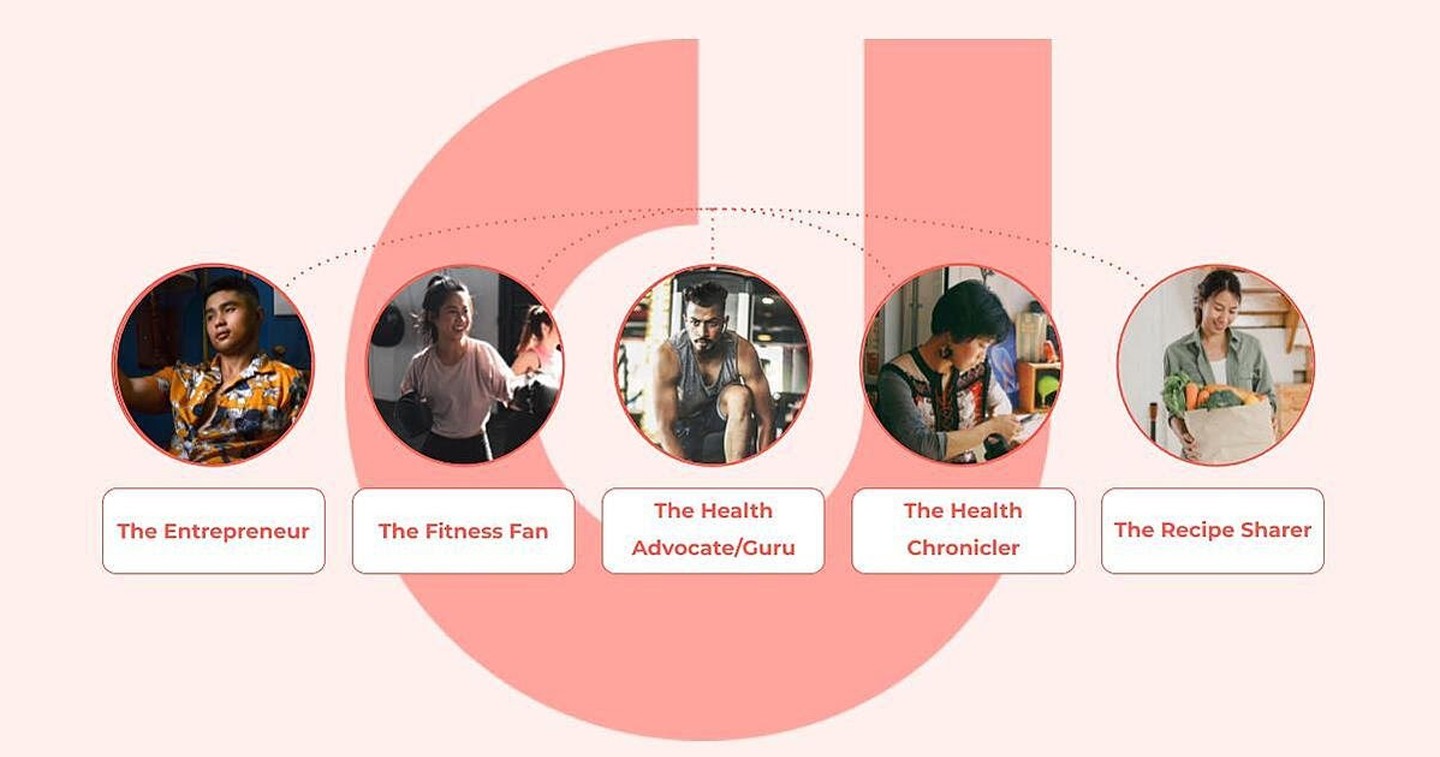 Five health-conscious personas on social media
An analysis of key content trends posted around healthy living, healthy eating and diets, fitness activities, and health supplements, unveiled five key personas in the health and fitness arena on social media:
| | |
| --- | --- |
| | |
| | Often are on diet or exercise regimes for the purpose of losing weight and achieving a fitter physique. May dedicate a specific social media handle to chronicle their journey, treating their platform of choice as a public, digital diary where they can chart their progress and share updates with their online network of fellow chroniclers. |
| | Regardless of their experience in the health and wellness sector, they often post about the benefits of incorporating health practices and activities in one's lifestyle. Their efforts are spent debunking myths and bringing awareness to followers through their content, sharing personal testimonies, hosting workout sessions, and facilitating open conversations about life's journeys and struggles. |
| | Either independent resellers of health supplements, or self-styled health coaches. There is an aspirational angle to their content which is used to entice followers to buy from them, or join their selling network by showcasing the positive effects of using their products. |
| | An ardent believer of physical activity as the path to fitness, the fitness fan almost exclusively posts updates about their exercise regime, with a regularity similar to the health chronicler. Common themes include post-workout selfies, and photos depicting fitness poses. Athleisure brands can potentially collaborate with personalities with higher engagements on social as ambassadors. |
| | Strive to put their best Martha Stewart forward on social media. They are bent on sharing revolutionary alternatives to common ingredients. Overall, recipe sharers are dedicated to producing, promoting, and delivering healthy food to the table by appealing as a challenge to #eatwellbewell. |
"Effectively, the pandemic accelerated an already growing inclination among consumers in Asia Pacific towards a healthier lifestyle. Health and wellness is longer just a movement backed by governments; it is the "new lifestyle status symbol" for millennials with higher disposable income and longer life expectancies." said Olivier Girard, Head of APAC, Digimind. "There are tremendous opportunities for capturing new market share in the health and wellness industry, as well as engaging with a targeted audience that is passionate about putting health first. That said, it will be important for brands to build a reputation that puts consumer well-being at the heart of their operations, as consumers are prioritizing products and services that embody the principles of holistic living."
"AI-driven social listening can lend greater manoeuvrability to decision makers when gathering an overview of popular topics to identify upcoming and current trends in consumer interests, concerns, and behavior which can and should be leveraged to attract and engage health-conscious customers."
For more information on the report visit digimind.com/en/resources/a-social-check-up-of-asia-pacifics-healthy-living-industry
Learn more at www.digimind.com.