MANILA, PHILIPPINES – Talkwalker, the leading social listening and analytics company, and HubSpot, a leading growth platform, has published their latest Social Media Trends Report in 6  languages, tailored for markets in the US, Europe, Asia, and across the globe.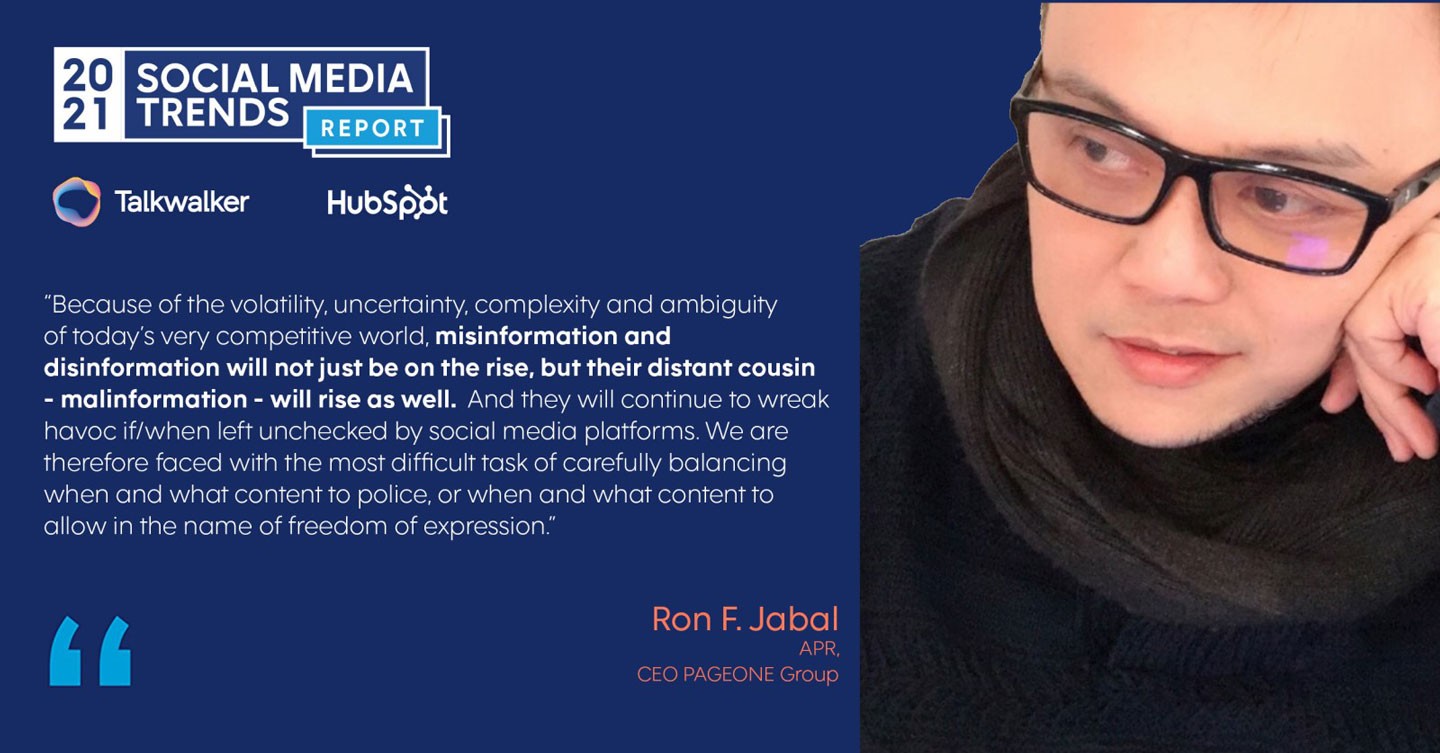 PAGEONE Group CEO Ron F. Jabal, APR is included as one of the  industry experts, PR professionals, social media gurus, from the US, Europe, MEA, India, APAC who provided insights to the global report.  He raised that in 2021, due to the worsening VUCA environment, misinformation and disinformation will continue to rise. Worse, mal-information will increase as well.
"This is the 6th consecutive year Talkwalker has unveiled the insights every marketing professional should know to stay on top next year," said Elena Melnikova, Talkwalker CMO. "Each year, we've strengthened our position as a thought leader in consumer insights. Bringing together analysis from millions of social data points, and industry experts, to pinpoint the trends that will matter most. Our partnership with HubSpot helps us create greater impact, sharing these valuable insights with even more marketing and PR professionals." 
You may download the report here: talkwalker.com/social-media-trends
This year, Talkwalker included survey data for the first time after gathering exclusive input from their database of 2,000+ global brands & agency clients. Using conversational intelligence, this added perspective helps marketers hear from peers to identify the trends that frontline industry professionals are focused on. 
It will be followed by the first-ever Social Media Trends 2021 Expert Series — a virtual conference digging deeper into the trends, headlined by experts and global brands. 
The events of 2020 have created widespread uncertainty for companies in almost every industry.  Knowing the trends most likely to define the coming year is one of the best ways marketing leaders can combat the ongoing unpredictability and set their teams up for success in 2021," said  Meghan Keaney Anderson, VP of marketing at HubSpot. "We hope that marketers find the deep  insights available in the Social Media Trends Report helpful as they map out their strategies for the  year ahead."