MANILA, PHILIPPINES — Advertising is a fast-paced, limitless, and ever-changing field. It played a significant role especially when the pandemic forced brands and agencies to re-assess the role they play in consumers' lives. As the world recovers, brands and businesses are called to have a deeper understanding of what truly matters to customers, bringing this study to life.
With that, 4As Philippines invites everyone to tune in to its ARAL Session this year called "Ads That Matter: Learning from what customers expect from brands in 2023" on March 29, 2023, 3:00 pm, to be streamed live on Facebook.
The 4As ARAL program is a learning platform for its members to come up with topics that create value for people, brands, and communities. In this "Ads that Matter" ARAL session, 4As brings together the 15th Kidlat Awards metal-winners to unpack today's important missions or "purposes" of brands to the Millennials, GenZs, and more senior market.
The study and our recent winners' works align as practical case ideas. These embody some of the purposes mentioned in the study such as diversity and inclusion, environment, and safe spaces among others.
"In 4As, creativity is our business. Our creative excellence comes from our resources and talents that we utilize for the interest of our industry and society," said Golda Roldan, 4As Philippines Chairperson.
4As Philippines President Norman Agatep emphasized, "It is equally important that as forerunners of the industry, we continue to champion insights, values, and purpose in creating experiences for our clients when doing marketing campaigns."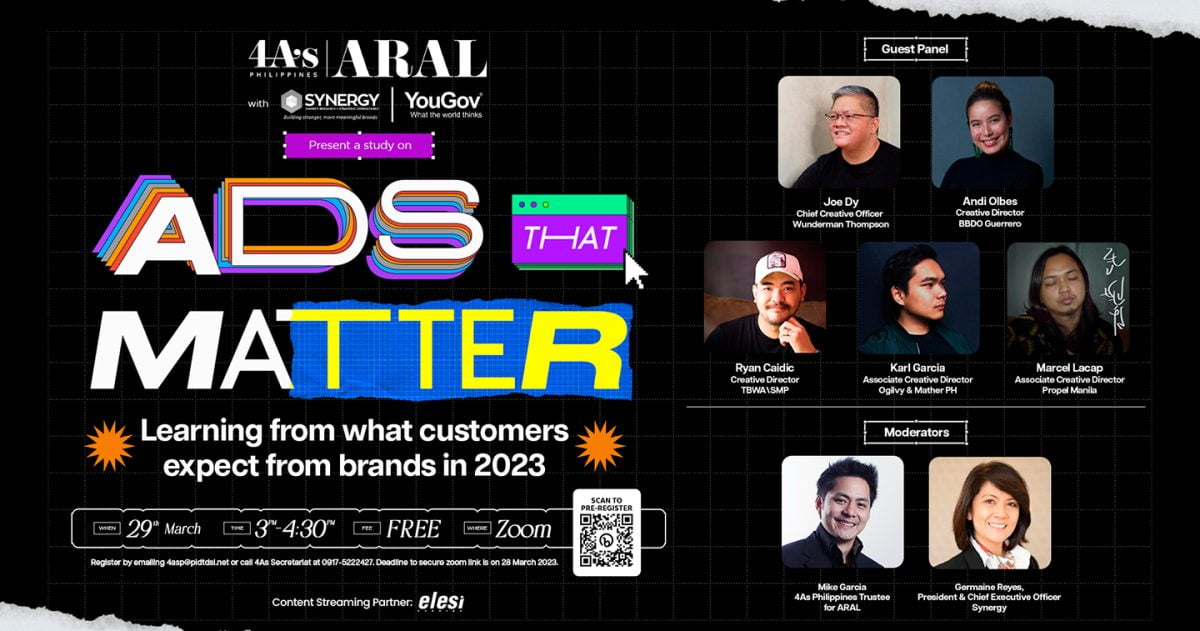 Moderated by Synergy President and CEO Germaine Reyes and Ogilvy & Mather PH Managing Director Mike Garcia, along with its esteemed virtual panel: Ogilvy & Mather PH Associate Creative Director Karl Garcia, BBDO Guerrero Creative Director Andi Olbes, Propel Manila Associate Creative Director Marcel Lacap, Wunderman Thompson Chief Creative Officer Joe Dy, and TBWA\SMP Creative Director Ryan Caidic.
"The study we collaborated with our partner Synergy-YouGov is just one of the many tools we try to create in order for ARAL to continue to bring value to creativity and business. Really excited to moderate this alongside the 15th Kidlat metal winners whose work align with the study," said 4As Philippines Trustee for ARAL Mike Garcia.
According to co-moderator Germaine Reyes, "This partnership gave us a chance to connect again with the consumers after the pandemic changed the way we see brands and ads. Our expertise in market research elevated our findings and shared how ads that matter will prosper in 2023 and beyond."
Catch the 4As ARAL Session: Ads That Matter: Learning from what customers expect from brands in 2023 on March 29, 2023, at 3:00 pm for absolutely free. Register here or catch the livestream on the 4As Facebook Page!
Ads that Matter is organized by 4As Philippines, Synergy-YouGov, Creative Partner Propel Manila, and powered by its content streaming partner, Elesi Studios.