SINGAPORE — All That Matters, the gateway to Asia's Music, Sports, Gaming, Digital, Marketing, Web3, and Entertainment industries, returned for its 18th edition from September 11 to 13 at Hilton Singapore Orchard. Conference by day and music festival by night, attendees from major labels to sports leaders, distributors, publishers, and more had the opportunity to rub shoulders with global brands and
engage in discussions about the industry's hottest topics across three days of nonstop networking.
Attendees were immersed in an exciting whirlwind of conversations on the most pressing issues of our time and all things that matter to industry leaders, from AI, Sustainability, New Technologies, Web3, to the unparalleled rise of women's sports and developments in the creator economy.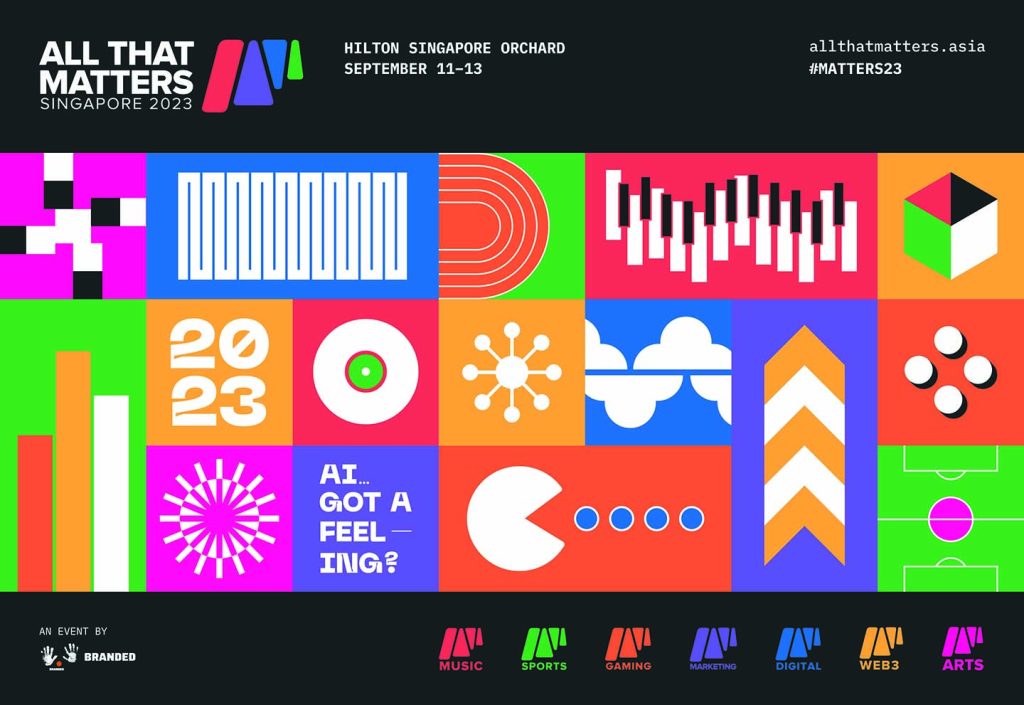 All That Matters 2023 Programming Highlights
Conference
The conference segment of All That Matters 2023 comprised of six tracks – Music, Gaming, Sports, Digital, Marketing, and Web3 – featuring industry leaders across more than 60 keynote sessions and panel discussions, as well as the Learning Matters Academy. Key sessions include:
MUSIC | Hip Hop at 50 with Russell Simmons & Cordell Broadus:
Wednesday, September 13, 5:30 pm – 6:00 pm
Cordell Broadus (son of Snoop Dogg) hosted a conversation on the Past, Present, and Future of Hip Hop. Listen to the ups and downs of his career and how the world of culture is evolving.
Jasper Donat, Co-founder and CEO of Branded, producer of the event, said: "This year, All That Matters is coming of age with a spectacular speaker lineup. Committed to our six conference tracks, we continue to delve deep into each industry's core and what truly matters within it. It is hard to overlook the riveting impact of AI, brand partnerships, the online creator economy, Web3, and many more transformative forces that are shaping our industry faster than ever. Our goal is to connect, inform, inspire, and spark vital conversations among industry leaders, empowering them to shape the future of their industries and the world at large."
Over 100 Speakers
All That Matters brought the brightest minds from each industry, coming together to debate, celebrate, and exchange valuable insights over three days of captivating content and networking and six nights of live music. This includes more than 100 speakers from 90 companies – an impressive lineup that features:
Jane Fernandez – Chief Operating Officer Australia, FIFA Women's World Cup
2023
Adele Lim – Writer-Director, 100 Tigers Productions, best known for co-writing
Crazy Rich Asians
Yat Siu – Co-founder and Executive Chairman, Animoca Brands
Alexis Crowell – Vice President, Intel Technology Asia
Danny Tang – Co-Founder, CFO and Head of Global Strategy Office, VSPO
Paul Smith – Managing Director, YouTube Music, APAC, Google
Megan West – Director, Music Label Partnerships, Meta
Sylvain Delange – Managing Director APAC, Believe Music SEA
Deborah Mei – Co-Founder & Partner, The Raine Group
Eliah Seton – Chief Executive Officer, SoundCloud
Troy Carter – CEO and Founder, Venice Music
Paul J. Foster – CEO, Global Esports Federation
Jonathan Dworkin – EVP, Digital Business Development & Strategy, Universal Music Group
Cordell Broadus – Founder, Champ Medici Group (Snoop Dogg's son) with Russell Simmons, Co-founder, Def Jam
Dennis Perez – Digital Marketing, Media and Commerce (DMC) Lead, Unilever Beauty & Wellbeing Southeast Asia
Nichol David – Founder, Nichol David Organization, and the longest reigning World No. 1 squash player
Bing Chen – Founder & CEO, Gold House, AU Holdings
Alisha Outridge – Chief Technology & Product Officer, TuneCore
Joseph Hadley – Global Head of Artist Partnerships and Audience, Spotify
Kevin Foo – Managing Director, RCA Greater China & Sony Music Taiwan
Arica Ng – President, Asia Pacific, Warner Chappell Music
Mark Chay – Executive Director, Community and Administration, Global Esports Federation
Akshat Rathee – Co-Founder and Managing Director, NODWIN Gaming
Prakash Somosundram – Co-Founder & CEO, Enjinstarter
David Nivelle – Managing Director, Infront Pan-Asia
…and many more. The full speaker list can be found here.
Music Matters Live
Showcasing some of the best emerging acts from Asia Pacific and around the world, Music Matters Live brought Singapore nights alive over six electrifying nights from Friday, September 08, to Wednesday September 13, featuring 30 artists from 15 countries. Music Matters Live serves as a global platform representing the APAC music industry and opening doors for talented artists seeking to make a mark in the world's most populated region.
The festival kicked off on September 08 with Music Matters Live GPSS Weekender at Clarke Quay; a weekend of free and exhilarating live music open to the public.
When the All That Matters conference started on September 11, Music Matters Live also featured industry nights showcasing exciting new artists from around the region, including "Warner Music Presents" on September 12 at the Ground Theatre at *Scape.
Learning Matters
Fostering the next generation of Music and Sport industry leaders, Learning Matters returned with two tracks – Music Matters Academy and Sport Matters Academy, which happened on September 12-13, respectively.
All That Matters' experienced speakers and industry leaders took part in educational and inspiring sessions, which were free to attend for students and those aspiring to enter the music and sport industries.
Attending All That Matters 2023
Attendees can check out www.allthatmatters.asia for the full agenda and ticketing information. More details including assets and visuals can be found in this link.
Event Sponsors
All That Matters would not be possible without our event sponsors. This year, sponsors include Track and Presenting Partners YouTube, Believe/Tunecore, Enjinstarter, Octagon, Great Entertainment Group, Singapore Tourism Board and Warner Music; Official Partners AEG, BeatdApp, Bureau Of Audiovisual And Music Industry Development, MOC, Click Music Co., Ltd., CSM, Distilleri, FUGA, Global Esports
Federation, Google Ads, Heineken, Infront, Luminate Data, Meta, NBA, ONErpm, Orfium, ReedSmith and Soundcloud.