MANILA, PHILIPPINES — Design, engineering, and management consulting company Arcadis has announced its participation as a silver sponsor at the Net Zero Building & Net Zero City Summit Philippines 2023, to be held at Dusit Thani Hotel Manila on January 10. The flagship event, with the theme "Building Resilient Cities: Addressing Climate Risk and Reaching Net Zero," brings together various stakeholders to discuss topics such as net zero pathways, energy efficiency, smart cities/buildings, sustainable urban development, and ESG, among others.
The Philippines is one of the signatories of the Paris Agreement on climate change and has committed to reducing carbon emissions by 75% by 2030. Arcadis leaders from the Philippines and the Netherlands will join colleagues from the built environment to share their collective knowledge to help advance conversations around decarbonization as the country moves toward sustainable and net zero practices.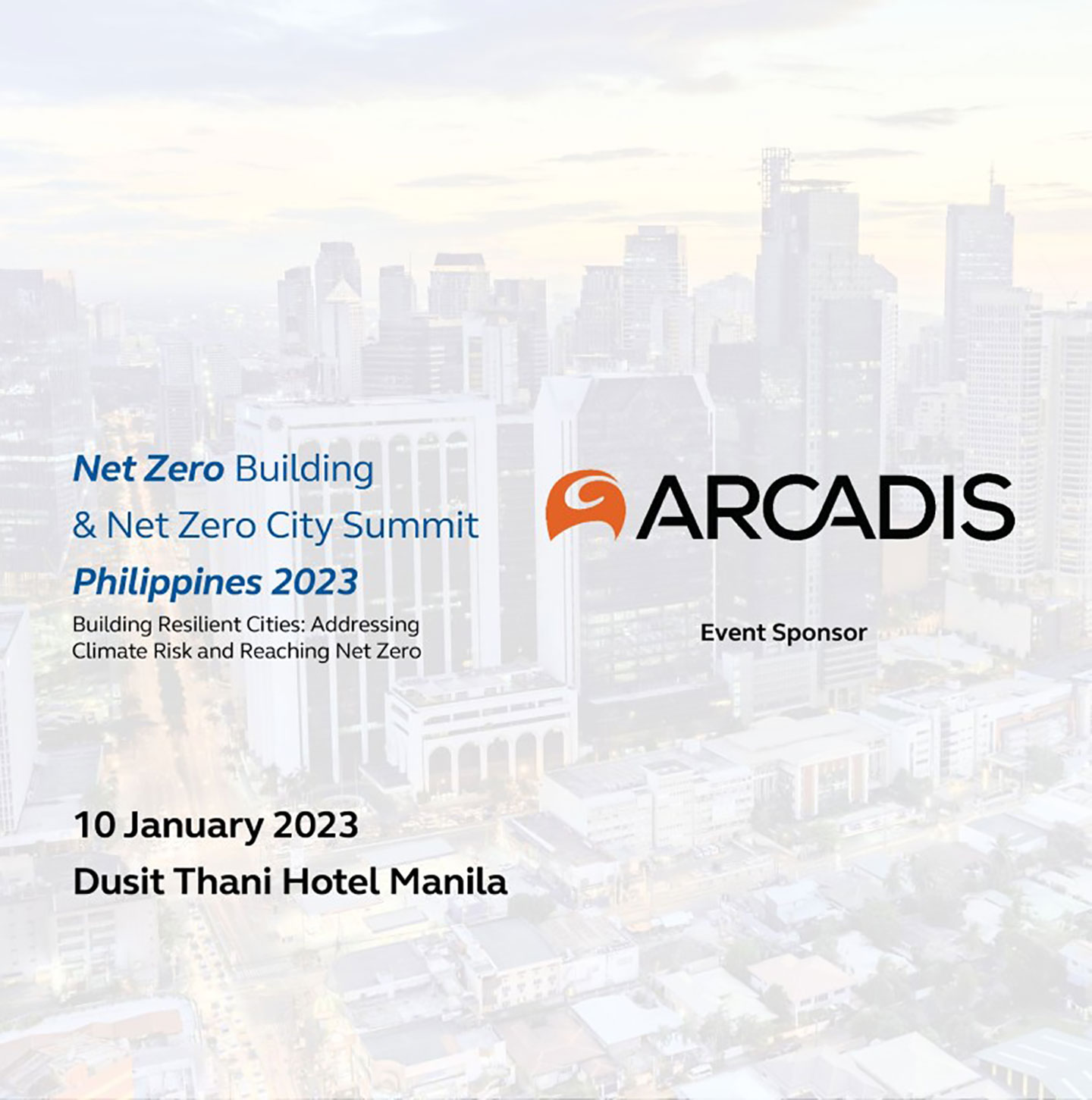 Arcadis will present at morning session topics that touch upon critical areas that cities should focus on in pursuit of decarbonization, as mentioned in the Arcadis Sustainable Cities Index 2022. Environmental Sustainability Associate Director Katherine Ann Resurreccion will discuss two of tools and guides developed to assist large organizations in measuring and reducing their overall greenhouse gas (GHG) emissions in line with the goals set in the Paris Agreement. The presentation will cover the Science Based Targets initiative (SBTi) and LEED Zero and how they can help organizations reduce GHG emissions.
Executive Director Paul Magbanua will talk about Greenhouse Gas Abatement Selection Procedure (GRASP), a model to support the management decision process for a transparent and informed action plan to reduce a company's carbon footprint. Sasha will discuss how GRASP has helped companies in the drinking water and wastewater sector to map, select, prioritize and plan carbon reduction opportunities in the future.
"I am very excited and honored to have Arcadis at our biggest and flagship Net Zero Building / City Summit in Manila," shared Escom Events Strategic Partnership & Conference Production Director C Jhay Azores. "The conference unites the property developers and city development value chains to discuss how organizations, asset owners, and communities reach their net zero goals, delivering a sustainable future to improve quality of life for all."
Net Zero Building & Net Zero City Summit Philippines 2023 is the biggest and most inclusive conference in the Philippines' building design, construction, and city planning sectors. It is designed to keep participants at the forefront of the industry by covering sustainability, resilience, health, and wellness in the spaces where we live, work, learn and play. The event also includes an exhibition of the world's leading technological innovations in urban planning, carbon management, and building solutions.