MANILA, PHILIPPINES — When the pandemic struck, on-ground events like concerts temporarily stopped. At present, however, concerts, festivals, or live events, in general, are here once more. Massive festivals signal a broader trend that concert-goers are ready to party, and millennials and Gen-Z want to experience live events again. In addition, brands will finally invest and give strategic importance to Music Marketing. In line with this, PraXis foresees that different media will converge with Music Marketing at the Center, the Live Events providing the content and experience, and conversation for the earned media it can generate.
Thus, this is the time …
Organized by PraXis, the festival's goal is to unite the nation to play as one. "We believe that music has the power to break down barriers and bring people together," said Gladys Basinillo, brains behind Fusion and, at the same time, the CEO and Founder of media agency Intersections and experiential agency Praxis " and that's precisely what Fusion aims to do."
Since 2022, the synergy of PraXis and Intersections has been preparing to create a more robust Fusion as it is set to make an epic comeback on May 27 at the SMDC Festival Grounds. The original team of Fusion in 2015-2017 is back, with Synchronize 11 Events and Talent Management as producer, FOH, Prophets as a security partner, top network Manila Broadcasting Company as activation and media partner, and award-winning concert director Paul Basinillo.
In addition to the music, Fusion will also feature a wide range of food and beverage options, merchandise booths, and activities. The concert program is curated to feature different segments with a fresh concept and performance interaction to deliver an immersive and enjoyable experience for all attendees.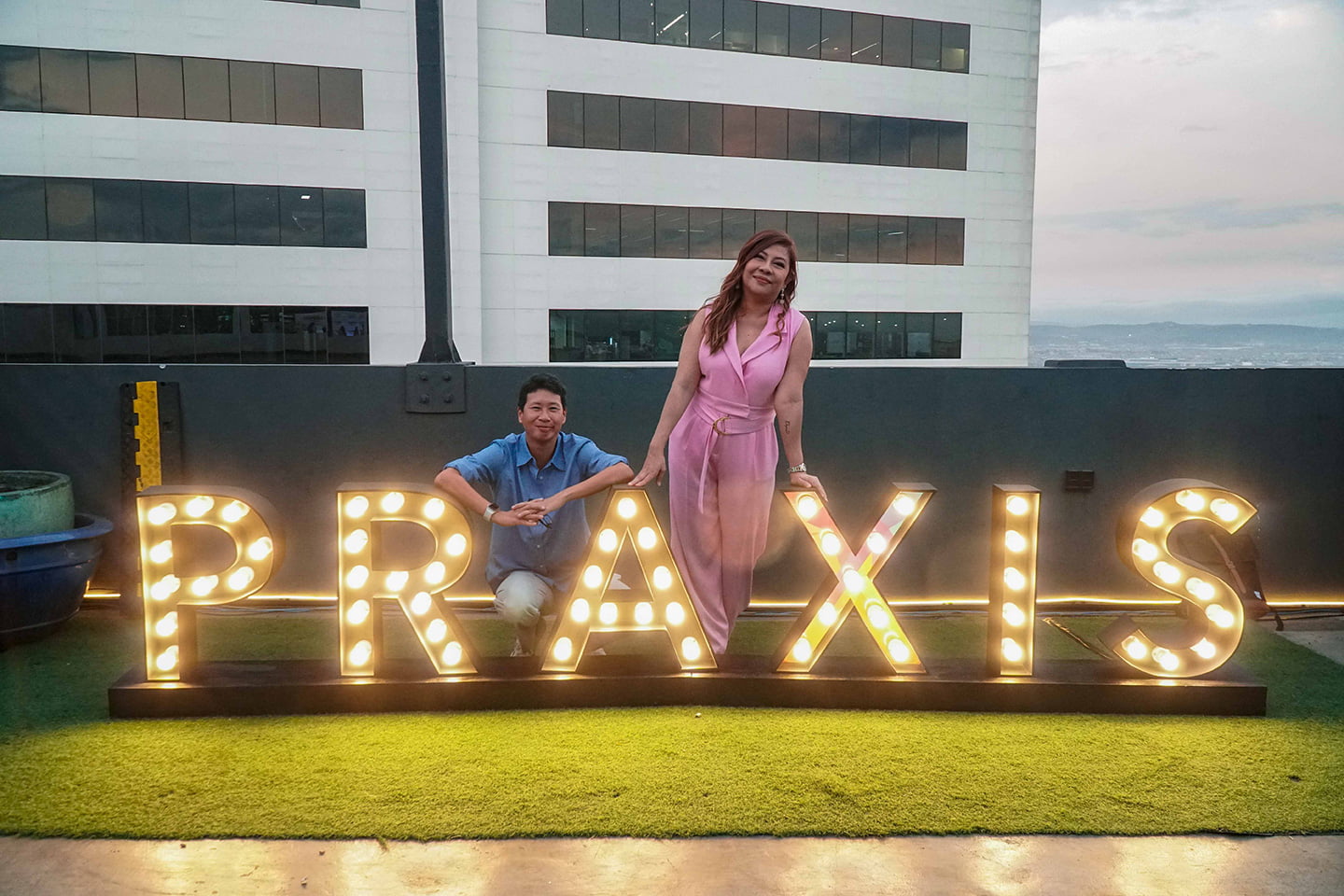 This year, the festival aims to unite the nation to play as one in the belief that music has the power to break down barriers and bring people together. Fusion 2023, however, is more than just a music festival; it celebrates freedom. The Philippines is a very rich and diverse country. We have more than 7,000 islands and 82 provinces, all with different cultures and beliefs.
Media Amplification. As early as now, the road to Fusion 2023 has started its journey, as PraXis, the main producer agency of Fusion has already partnered with the giant TV, radio, print, out-of-home, and online platforms. In this way, Fusion 2023 will be amplified strongly with the support of the media and blogging community.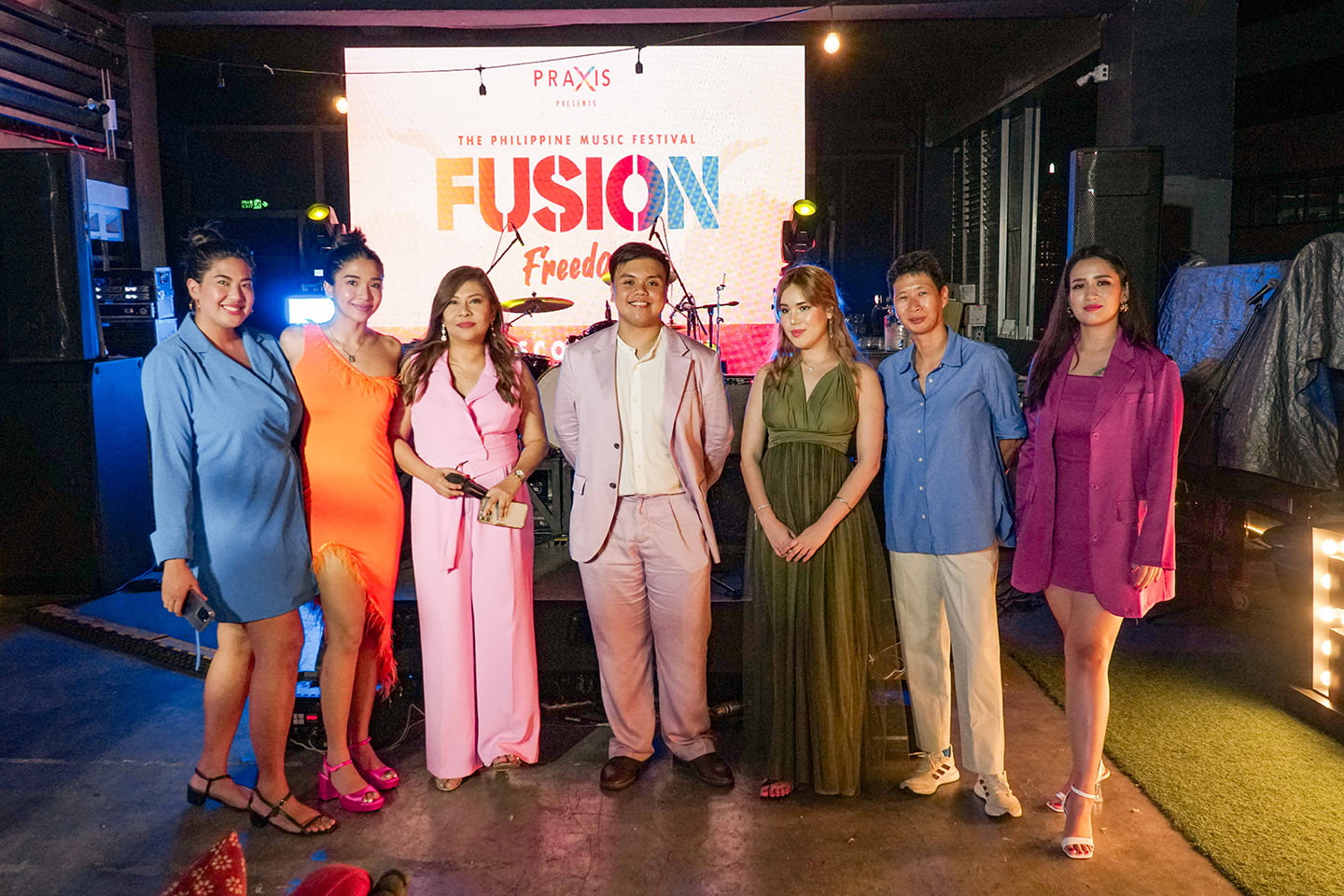 Fusion School Tour and Inter-University Band Competition. Fusion 2023 will also be in great partnership with school organizations to connect with the youth and various campuses around Mega Manila. These partner school organizations will form a student unit called the Fusion Squad to help run the music festival. A competition amongst college bands will be announced where shortlisted bands will perform in the pre-show on May 27 and the winning band to serve in the main concert.
Road to Fusion Concert Tour. Fusion vibe is more than just an event in Metro Manila. as the experience goes regional across key Luzon, Visayas, and Mindanao cities. To do this, a Fusion talent will perform with regional musicians to give audiences a sneak peek of the Fusion experience: the University of Baguio on April 14, SM Cebu on April 28, and SM Davao on May 12.
Fusion Event Day. Expect the biggest names in OPM to conquer the concert stage. "The program is curated to feature different segments, each with a fresh approach and performance interaction, to deliver an immersive and enjoyable experience for all," said Jake Habitan, Business Development Executive of PraXis.
Slated for the event are 6Cyclemind, Adie, Al James, Arthur Nery, Bamboo, Ben&Ben, Gloc-9, Gracenote, Hey June!, Lola Amour, Morissette Amon, Shanti Dope, and many more surprise top-caliber OPM artists. Aside from this, there will also be a Wildcard Performance with a surprise artist.
The Filipino Society of Composers, Authors and Publishers – FILSCAP, Organisasyon ng mga Pilipinong Mang-aawit – OPM, and Kapisanan ng mga Brodkaster ng Pilipinas – KBP support fusion. University organizations, PUP Advertising and Public Relations Organization of Students, Archers Networks, DLSU-D Green FM, and DLSU-D Communication Program Council are some of the school organizations partnering with Fusion.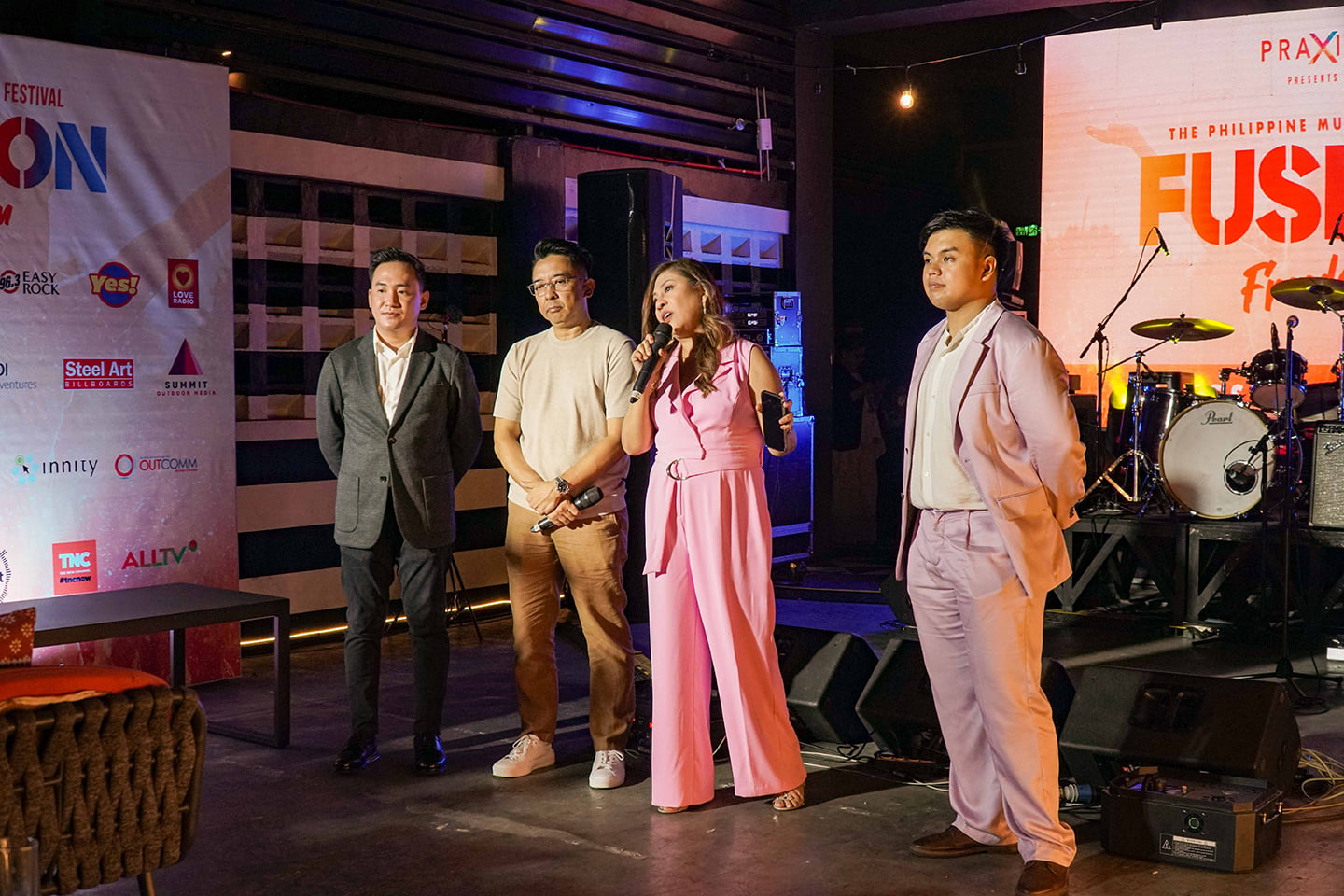 The country's most prominent media institutions share the same thrust in promoting OPM. Myx, Manila Broadcasting Company, and the Philippine Star joined as the major media partners. Innity, Digital Turbine, What's New Philippines, Manila Concert Scene, and The New Channel also partnered as digital collaborators. Additional media partners are Solar Sports, Solar Flix, ALLTV, DZRH, Easy Rock, K-Lite Radio, Home Radio, Yes! FM, Love Radio, Win Radio, Steel Art Billboards, Nyxsys, Summit Outdoor Media, Malaya Business Insight, HDI Adventures, VLink Interactive, and Outcomm.
Tickets for Fusion: The Philippine Music Festival will be available on March 27 at SM Tickets.