MANILA, PHILIPPINES — METACON PH 2022, the first metaverse conference in the Philippines made for brands, presented by SVEN – The Digital 1st Agency, is going live online this July 28 & 29, 2022. The conference aims to explore and bring the future of digital closer to Filipinos! Split into four universes, this conference will give brand decision makers, business owners, and metaverse enthusiasts a good look into the next frontier of the internet.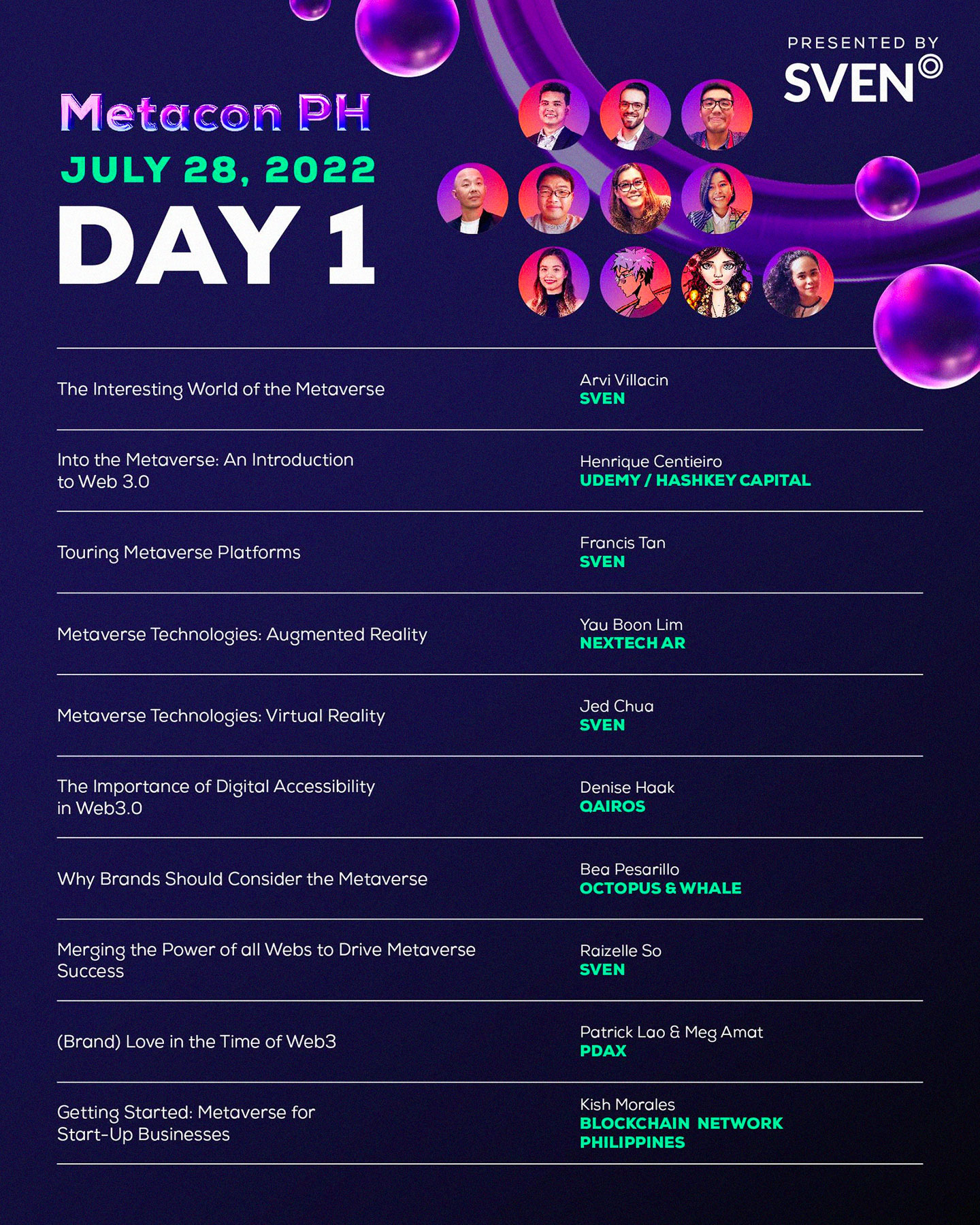 The 1st Universe – Metaverse: The Basics
Get firsthand knowledge about what the metaverse really is and the exciting opportunities it offers from metaverse professionals themselves:
The Interesting World of the Metaverse – Arvi Villacin (SVEN)
Into the Metaverse: An Introduction to Web 3.0 – Henrique Centierio (Hashkey Capital & Udemy)
Touring Metaverse Platforms – Francis Tan (SVEN)
Metaverse Technologies: Augmented Reality – Yau Boon Lim (Nextech AR)
Metaverse Technologies: Virtual Reality – Jed Chua (SVEN)
The Importance of Digital Accessibility in Web3.0 – Denise Haak (QAIROS)
At the same time, Metacon PH also aims to bridge brand decision makers to the future of digital. While the concept of the metaverse is new to the country, Filipinos have already taken up space in Web 3.0, but many PH brands have yet to grab this opportunity.
This is where Metacon PH comes in with its 2nd Universe – Brandverse: Brands in the Metaverse! Find out what global and local brands are doing to make their presence known in the metaverse and what other brand-building and brand experience-enhancing opportunities can be explored in the metaverse from the pros themselves:
Why Brands Should Consider the Metaverse – Bea Pesarillo (Octopus & Whale)
Merging the Power of all Webs to Drive Metaverse Success Today – Raizelle So (SVEN)
(Brand) Love in the Time of Web3 – Meg Amat and Patrick Lao (PDAX)
(BONUS) Getting Started: Metaverse for Start-up Businesses – Jemimah Morales (Blockchain Network Philippines)
Follow @metacon.ph on Facebook and Instagram for the latest news and updates.