MANILA, PHILIPPINES – For three consecutive Tuesdays in March, Branding Nerd and adobo magazine held private webinars on foundational branding with actual case studies to learn foundational lessons on the essence of branding, how to build a brand, and how to sustain a profitable brand.
Titled #TheBrandArchitecture — What it takes to build and sustain a brand that lasts, the webinar used case studies of real businesses to give body to its three modules:
MODULE 1: What is branding and why is it important for business or organizations?
In this module, you will learn the real meaning of branding. It's not just a name, nor just a logo or slogan. It's much much more than that. You will also learn the meaning of brand positioning and the principles behind this. Finally, you will gain a better appreciation on the importance of branding to your business or organization.
MODULE 2: What does it take to build a strong brand?
After going through Module 1, you're now ready to learn how to build a strong brand. You will learn the correct approach and sequence in building an overall brand architecture by going through the three key stages including brand strategy, brand identity, and brand marketing. Yes, there's a difference between branding and marketing.
MODULE 3: What does it take to sustain a profitable brand?
All brands, with no exception, go through cycles – including the dreaded decline stage. In this module, you will understand the various cycles in the life of a brand. You will also gain an understanding on how a brand is able to sustain itself for decades, even centuries, by digging deeper into how the brand architecture is managed and kept strong throughout a brand's life.
The modules were taught by Bingo Soriano, an expert of branding with over decades of experience in the field who opened with this statement: "The principles and lessons that you will pick up from this course are not just for the Philippines and Asian context."
Apart from the business case studies, Soriano imparted branding knowledge from key figures in marketing such as authors Philip Kotler, Al Ries, and Michael Porter. He also debunked misconceptions on the topic.
"One of the things I strongly believe in is that branding applies to any form of occupation," Soriano shared.
The participants had nothing but praises for the three-part webinar.
"Very insightful session. The Q&A part really leaned on practical applications of the topic which made it very relevant to today's practice of branding," said one student who attended.
"The way my question was answered made great sense on how to deal with a multinational brand," shared one marketing professional.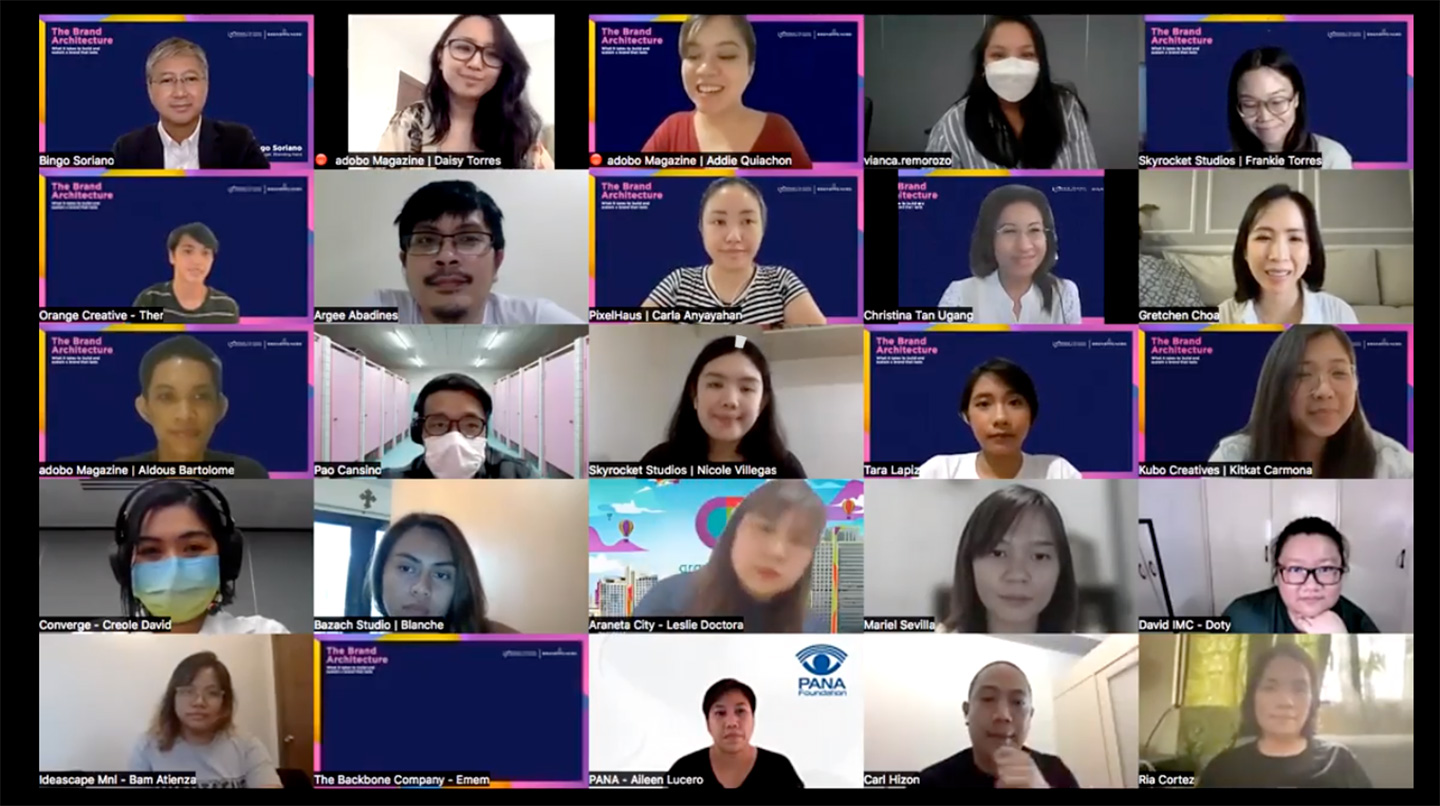 "The webinar entitled "The Brand Architecture: What it takes to build and sustain a brand that lasts" by the Branding Nerd himself Mr. Bingo Soriano is an opportunity you wouldn't want to miss! It provides a clear direction for business owners and those in the creative industry to identify where and how they can position better their brand according to the need of their current market segment. I invite everyone to join and listen in on the next series of adobo Talks x Branding Nerd," said one participant.
From students, educators, freelancers, agency and marketing professionals from different industries, the course helped its attendees in understanding, building, and sustaining brands that last.