MANILA, PHILIPPINES — Known for its massive use of water, energy, and chemicals – the fashion industry is overdue to undergo a major transformation. The exhibit Fashion Forever provides an overview of the emerging fashion industry in Sweden and novel approaches in fashion design, production, and distribution.
In Sweden, the goal of responsible development is well established, with involvement from the government, academia, and private companies.
The Swedish government has put textiles high on its agenda. Becoming a world leader in sustainable fashion production and consumption is an integral part of the national drive to achieve the global sustainable development goals of Agenda 2030 and the Paris Agreement on climate change.
One example from the exhibit is Textile & Fashion 2030, a government-supported initiative led by the University of Borås, in collaboration with the Swedish School of Textiles, SmartTextiles, Science Park Borås, and Research Institute of Sweden. This initiative aims to test and study different techniques of sustainable fashion advancements in small-scale settings and identify how brands can bring these to the world stage. 
Circularity is a key focus of Fashion Forever. In a circular economy, garment producers are responsible for resource efficiency and finding new ways to maximize value from products, residues, dead-stock, or textile waste. The exhibit gave examples of advancements in circularity, led by Siptex and Renewcell.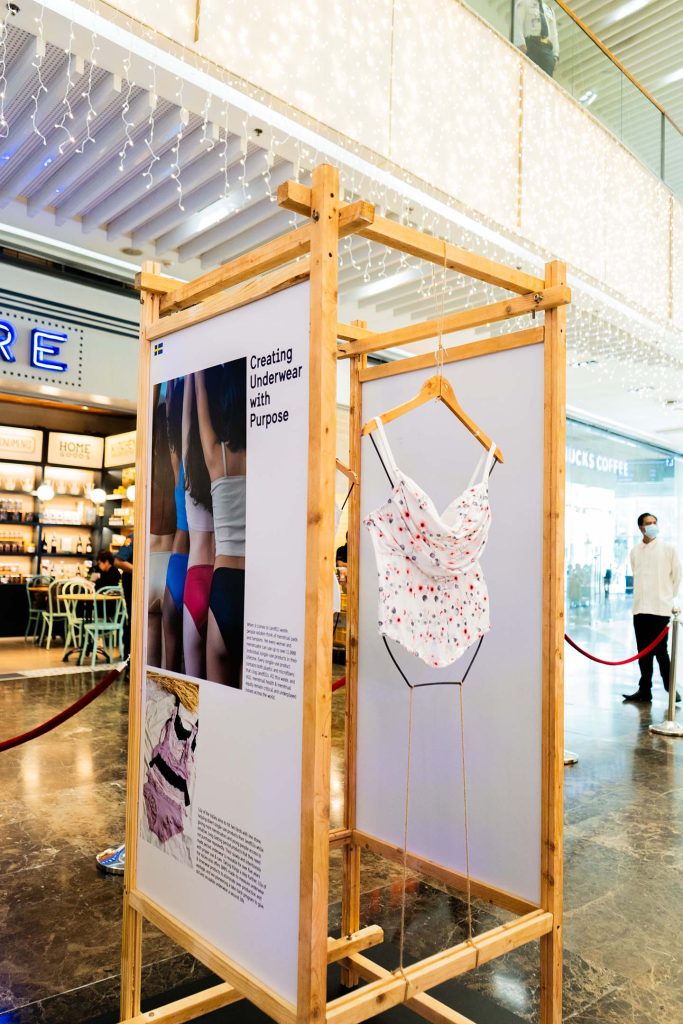 Siptex is a first-of-its-kind facility where textiles are sorted by color and fiber composition using near-infrared light. The facility can handle large flows of textiles and sorts them into different fractions for continuous recycling.
Renewcell is a textile-to-textile recycling company that produces Circulose® – a branded dissolving pulp made from 100% textile waste with high cellulose content, such as worn-out cotton jeans and cotton production scraps. Circulose® is then used to make viscose, lyocell, modal and other fabrics and sewn to create other high-quality textile products.
"Through the integrated work of fashion retailers, design schools, and science parks in Sweden, supported by the Swedish government, the fashion industry can continue to be creative, exciting, and lucrative, all while being kinder to the planet and better for the consumer," said Swedish Ambassador Annika Thunborg.  
Swedish fashion retailer H&M, which aims to be 100% circular by 2030, showcases its "Innovation Stories" — a sustainability initiative focusing on forward-thinking ideas and innovative fabrications and design. 
The first capsule collection, Science Story (March 2021), champions the use of cutting-edge materials inspired by research and science that challenge the boundaries of sustainability. This has been followed by equally compelling and remarkable collections: Color (April 2021), Co-Exist (November 2021), Circular Design (December 2021), Cherish Waste (April 2022), and the most recent Re-enchantment Story last March 2023 highlighting elevated fashion pieces that dazzle thanks to 100% recycled-content sequins, rhinestones, and beads.
The Fashion Forever exhibit highlights that the circular economy in fashion can start at home. Filipino brands and artisans such as Zarah Juan and Lily of the Valley use local weaves, artisanal skills, and made-to-order processes to avoid excess production in fashion and to handcraft garments and accessories that are made to last. 
Zarah Juan, a brand known for its quirky, colorful, and distinctly Filipino designs, prides itself on using ethically and locally sourced materials and community-based, small-scale production. Lily of the Valley offers 100% made-to-measure innerwear products to reduce overproduction and wastage, and is pioneering a take-back program to give old and unusable underwear a second life.
Fashion Forever is an initiative of the Embassy of Sweden in Manila, supported by the Swedish Institute and held in partnership with SM Aura and H&M.