MANILA, PHILIPPINES — As people optimistically embrace the new year, graphic design company Canva Philippines shares its predictions and top trends to look out for in 2023. While designers and creatives navigate this post-pandemic world in different ways, visual design and storytelling remain essential tools in helping brands communicate their message.
Here's what to expect to expect this year in graphic design trends, according to Canva Philippines.
---
2022 marked a somewhat return to normalcy in the Philippines. Pre-pandemic businesses swung their doors open again to patrons, old and new. Offices and schools welcomed their communities back to hybrid setups. Most borders opened back up to travel-hungry adventurers.
2023 is poised to be an even better year. In some ways, returning to the comforts of pre-pandemic life, and, in others, embracing new experiences coming out of the past 2 years.
Our visual world also reflects this – revisiting the familiar, and, in others, exploring the new. We looked at the top-performing templates, elements, and the most-used document types on Canva, as well as style and element trends that resonate well in the Philippines and paired them with insights on the future of design from Canva Philippines designers.
Here is a list of local design trends to try in 2023.
A Human Touch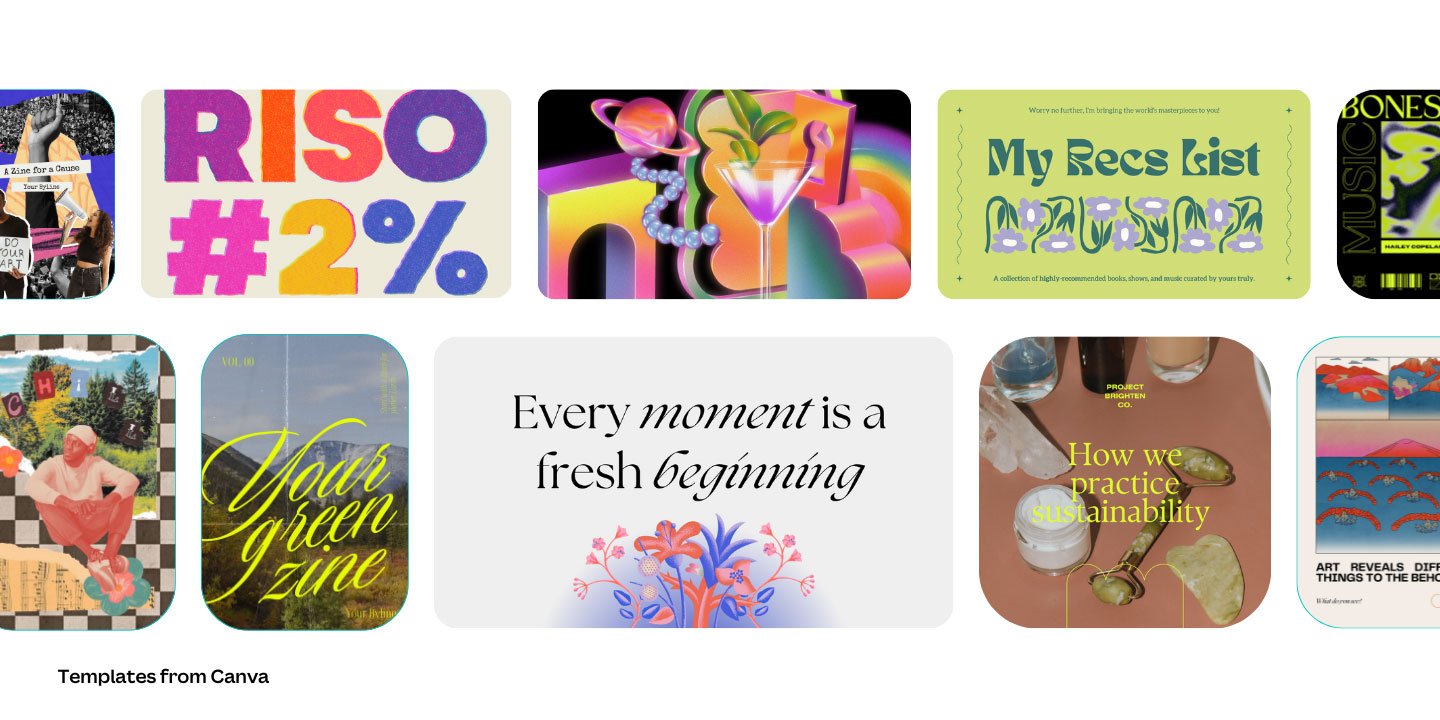 During the lockdown, most people got used to living online lives through virtual meetings and hangouts, remote work, and hybrid events. People craved human connection. As design is often a reflection of its time, we continue to find comfort and familiarity in visuals that have a human touch or voice. We are seeing designs that lean on playful, organic shapes, hand-drawn elements, analog textures, and a renewed love for physical print. You can try searching for these keywords on Canva for your next design: nature and floral for a Modern Nature look; graffiti, collage, punk or zine for an Anti-Establishment style; riso and airbrush for analog textures and elements.
Type Expression
Local typography and lettering boomed over the last 2 years. 2023 looks to build on the success of Filipinos' unique voices expressed through type.
Typography

Over the last few years, we saw Aaron Amar's jeepney-lettering-inspired Cubao typeface extensively used, not only in the Philippines but in different parts of the world. Alli Cunanan's Ladybird typeface has received worldwide acclaim in the world of K-Pop. Her new typeface released through ALT Type Foundry, ALT Maria Clara, drew a lot of inspiration from Filipino culture and the modern Filipina. In 2023, even more new typefaces with inspiration drawn from Philippine culture and tradition are set to release. It's not too hard to imagine these Pinoy fonts on the world stage too. Some fonts you can try on Canva by local typographers are: Aaron Amar's Cubao and Kawit, John Edward Maza's Maragsa, and And A Half's Para.
Playful Lettering

Creatives are also exploring breaking out from the constraints of fonts and typefaces to bring their personality into their designs. Playful lettering, organic shapes, and a bit of panache all come together to bring life to a message.
Resurgence of 3D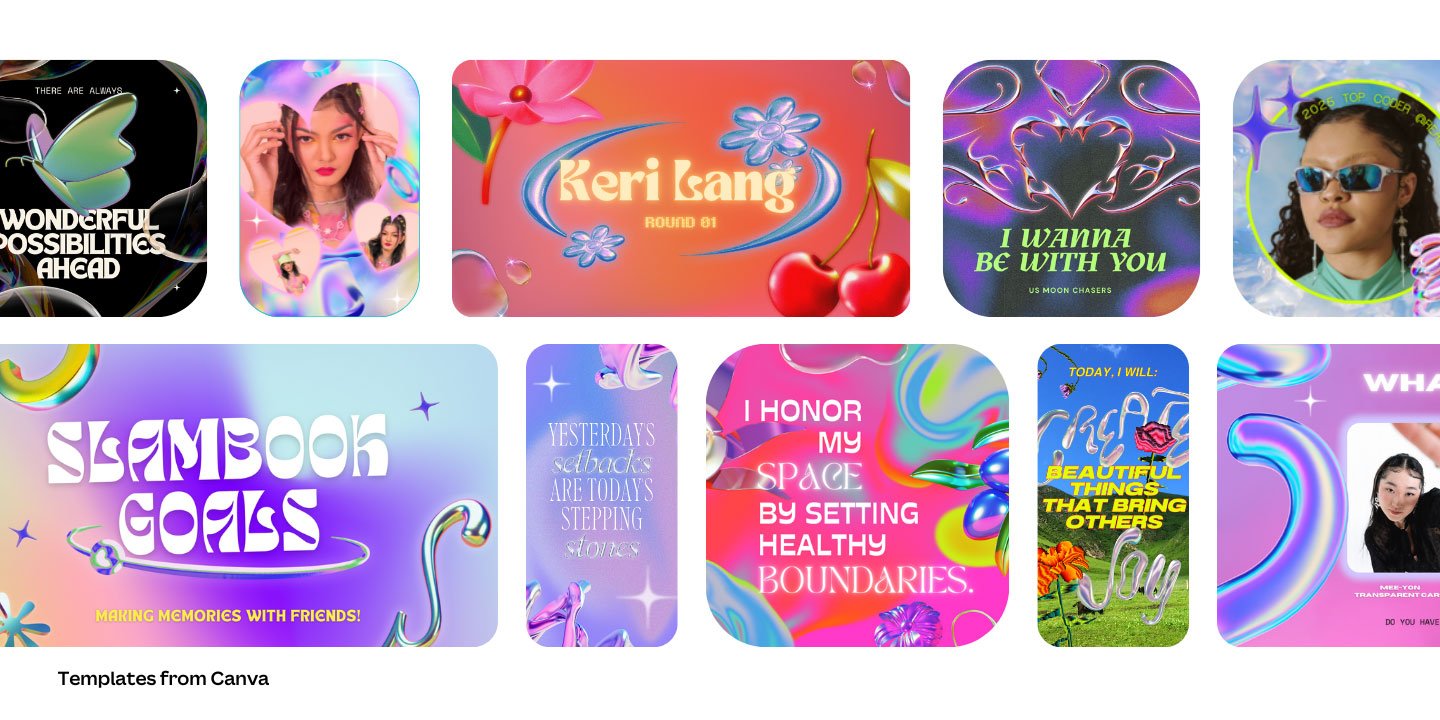 3D resources and software have become more accessible in the last few years. It's allowed new users to explore and experiment beyond 2 dimensions. Simple, soft-vinyl-looking 3D assets are making a comeback to lend a friendly face to a design. On the more experimental side, gritty, noisy textures are applied on simple 3D shapes to give a human voice to a story. There's also a resurgence of some graphic trends from the y2k era. Some keywords to try searching for: y2k aesthetic and web 3.0 for that Expressive 3D style and pastel aesthetic, holo, dreamy, and maximalism for a Pastel Maximalism look.
While these trends aren't the end-all and be-all of 2023 design trends, they serve as guides for local creatives to draw inspiration from and build upon for their next project. We like the idea of sharing these trends as a way to build upon the bayanihan spirit in the creative community – coming together for common causes, lifting people up, and thriving as a community. Design by itself can't change the world but it can certainly aid worthy causes, bring voices to those who have none, and inspire the next wave of change-makers.
To find your next design inspiration or to jumpstart your own design journey, visit here.
About Angelo Cuyegkeng:
Angelo Cuyegkeng is a motion designer and producer with over 10 years of experience in the creative industry. Currently, Angelo leads the Design Specialty at Canva Philippines where he helped grow the team from 35 creatives in 2019 to more than 270 in 2022 – making the Philippines a design center of excellence across the global Canva network.
As Design Specialty Lead, Angelo oversees both global and local creative projects and provides strategic guidance to creative teams within Canva.