MUMBAI, INDIA — Peach, the global market leader in video advertising workflow and delivery, has launched an exclusive report on video asset management in the Indian market.
Commissioned in collaboration with Kantar, the world's leading marketing data and analytics company, the exclusive report explores video asset management in the market. The findings highlight vital challenges faced by the leading brands, agencies, and advertisers while delivering advertising campaigns. These challenges include adverts to be released on time, in correct formats, and via planned avenues, while ensuring adherence to content, brand safety measures, and accommodating continued performance measurement while creating a video advertising campaign. The challenges have been collated based on qualitative in-depth interviews that were conducted amongst brand and agency personnel across Delhi, Mumbai and Bangalore.
The report broadly shares the holistic solutions for different types of challenges like "complex workflow,"
"stakeholder collaboration," "asset management," "performance measurement," and "consolidated reporting."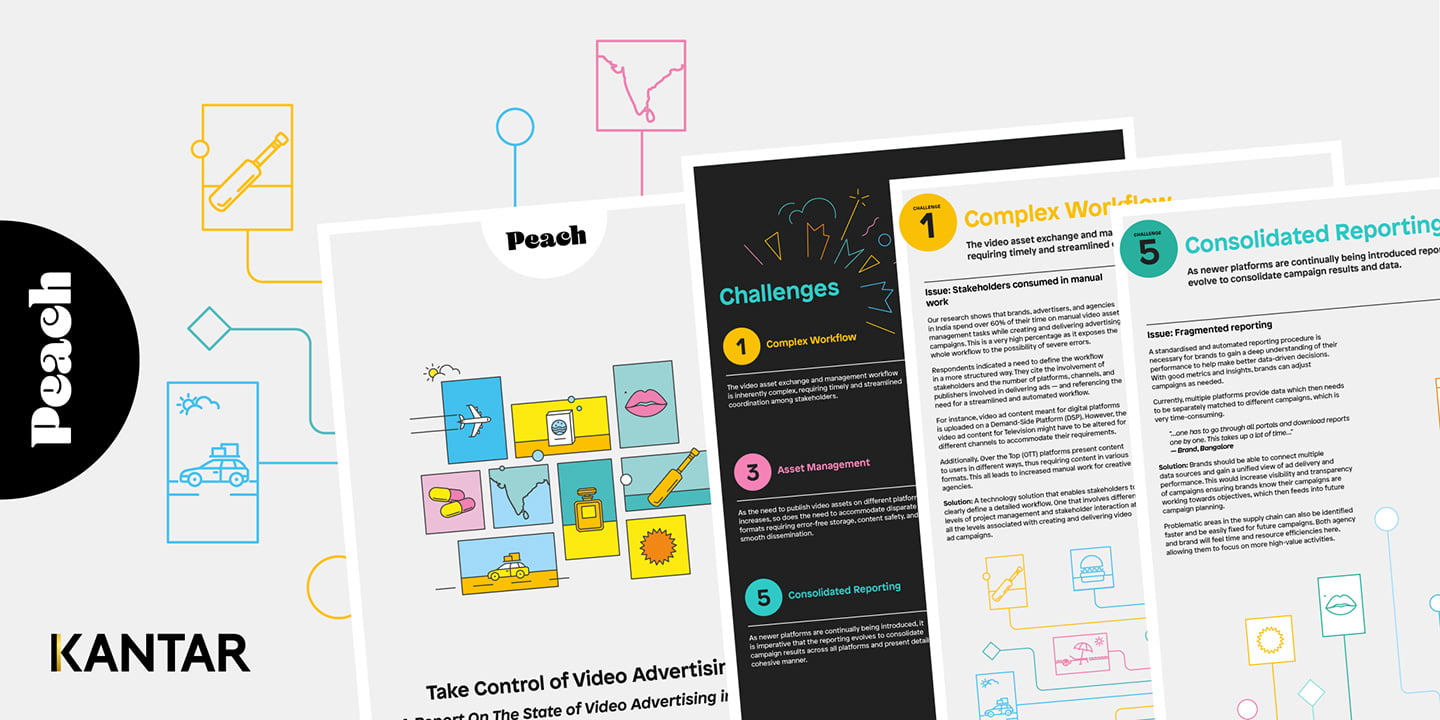 The industry needs to note these challenges and openly discuss how to create more efficiency and effectiveness in the advertising workflow. India's ad spending growth rate is predicted to grow by a Compounded annual growth rate (CAGR) of 15% to INR 1,13,575 Crores in 2024, making it the fastest-growing market globally. While approximately 40% of ad spend in India is via television, and 35% focus on digital, the latter percentage will only rise, so brands, agencies, and advertisers must be on the front foot to address these challenges and create solutions.
Peach's initiative aims to motivate the industry to address the issues and bring about a more collaborative approach in the advertising workflow to create efficiency, effectiveness which helps deliver exemplary results.
"We are excited, with our partners Aidem, to share this research with the Indian market. It is groundbreaking in identifying how much time can be wasted on manual tasks in the current ad workflow and highlighting the opportunities to implement digital workflow solutions, freeing up time for creativity and ensuring value for money," said Peach VP APAC Andy Gilroy. "We are calling for the industry to stand up and acknowledge these challenges and to talk openly about how we can collaborate to make the creative video ad workflow more streamlined. Multiple stakeholders are involved in the ad workflow process, so there is a huge opportunity to drive campaign deliverables without wasting time on manual tasks. Let's use the technology that is available at our fingertips."