SINGAPORE — The power of harnessing popular culture to build brand equity and boost consumer engagement has never been more apparent. Marketers, who might have missed the two big pop culture waves of the previous decade (K-culture and gaming & esports), now have the opportunity to harness the fastest-growing content genre of the past two years globally: anime.
This is one of the takeaways of the new report titled "The Anime Impact" released by pop culture and lifestyle marketing agency Culture Group.
Topics covered
The objective of the report is to help marketers unpack the opportunities for building cultural relevance through anime. Amongst other insights, the report addresses three key areas of this cultural phenomenon: the growth of anime into a mainstream cultural powerhouse, and its outsized significance in Southeast Asia; an overview of the Anime, Games, Comics & Novels (AGCN) space; and the roles and opportunities brands can activate within this passion point.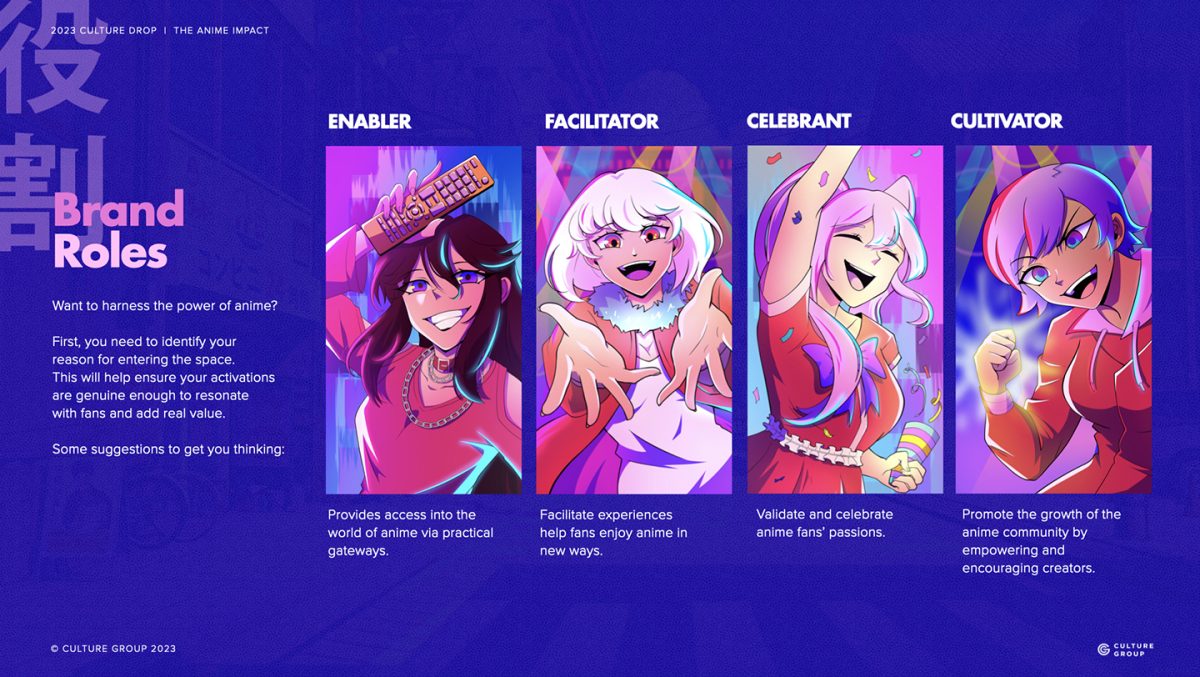 Anime in Southeast Asia
An area of focus in the report is the Southeast Asia region, home to three out of the top five countries globally ranked by anime popularity, and where anime is one of the most popular fandoms, alongside K-pop and gaming. Anime has always been part of the region's cultural fabric and many consumers' growing up experience. But now, the global boom means content, experiences, and opportunities are more accessible. In turn, fan communities are thriving, while artists and creators are remixing anime inspiration with local heritage.
Michael Patent, Founder and President of Culture Group, said, " Anime has quietly evolved into a $28 billion industry offering exciting opportunities to brand marketers. The objective of this report is to demystify the anime space and outline areas in which brands can get involved. Our experience of working in the space has shown that harnessing a passion point is a powerful way to build relevance and emotional connections with consumers."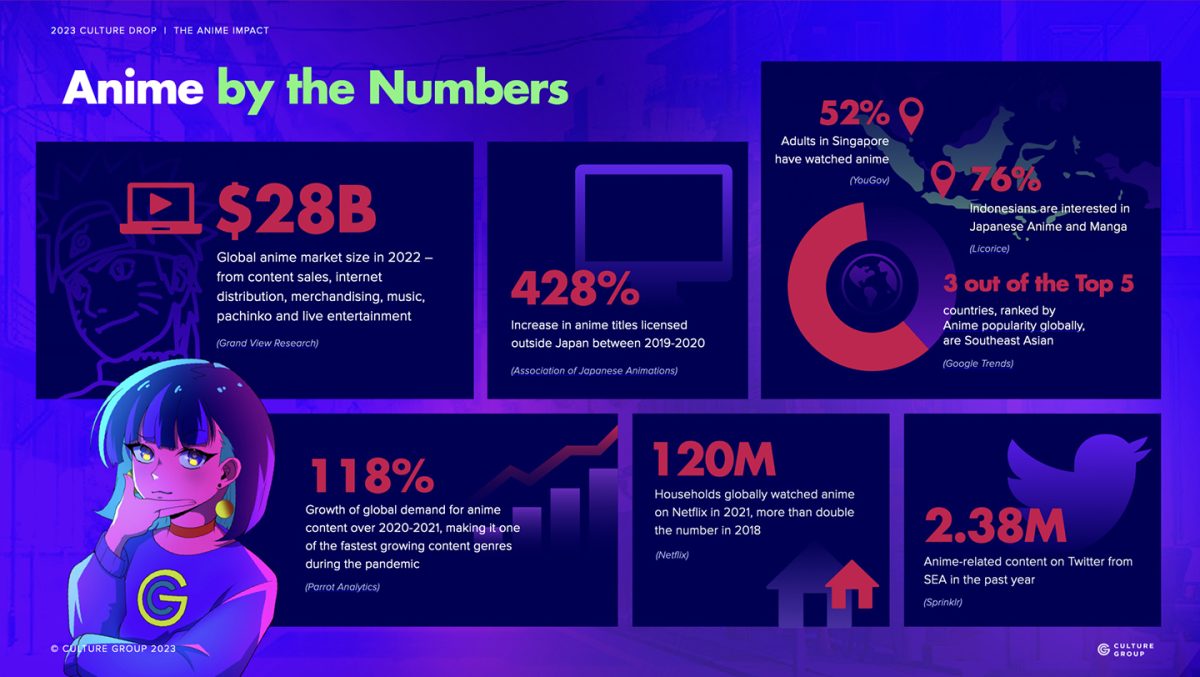 Growth drivers
The growth drivers for anime are also explored in great detail as part of this report.
For existing anime fans, OTT platforms are making titles more accessible. This fuels viewership, and in turn, drives the availability of more content such as new adaptations, localizations, fan remixes, and more. Observing the growing cultural appeal, brands are jumping in, bringing beloved IPs to life via official collaborations.
New fans are also coming into the genre thanks to the increased accessibility of content. Further, as anime collaborations with mainstream brands and remixes with other popular passion points become more common, there is also a perspective shift around what used to be perceived as niche or "nerd culture." The result? Lower barrier to entry and bubbling interest among casual enjoyers.
Brand roles and opportunity
When it comes to cultural trends like anime, brands can strengthen their equity by understanding and leveraging the space. The report outlines four specific roles that brands can consider playing as an enabler, a facilitator, a celebrant, or a cultivator.
There is merit in creating content, IP, and products that take inspiration from anime while highlighting local culture. This is an important opportunity white space in SEA due to the growing demand for more diverse sources of culture, and consumers are increasingly looking for anime that remixes culture with local heritage.
The current report is the latest edition of Culture Drop, a publication by Culture Group to educate marketers and industry stakeholders on the latest trends in pop culture and lifestyle that brands can harness. The report features data from Culture Group's insights partner ampd.
The last report titled "2023 CultureCast: Your Pop Culture Marketing Cheat Sheet" was launched in January this year.