I bought a guinea pig from Facebook once. There was a group that buys and sells everything guinea pig related and I joined it in the hopes of getting a pet. The process was swift — someone posted a guinea pig, and we traded messages until we finally met up for the transaction. It was as easy as that. 
Even after I got the guinea pig, I was able to chat the seller about any questions or clarifications I had about taking care of my new pet. The connection between me, the buyer, and him, the seller, wasn't severed after my purchase because I could chat him if I encountered any problems. I didn't know at the time that I was partaking in something called Conversational Commerce. 
Conversational Commerce is when people use chat or messaging apps to sell goods and services online. It combines the convenience of online shopping with the perk (and sense of security) having the personal attention of a seller. According to a study that Facebook did with Boston Consulting Group (BCG) to better understand the trend of Conversational Commerce, Filipinos are embracing chat to buy online — with 97% of people surveyed in the Philippines planning to maintain or increase their conversational commerce spending in the future.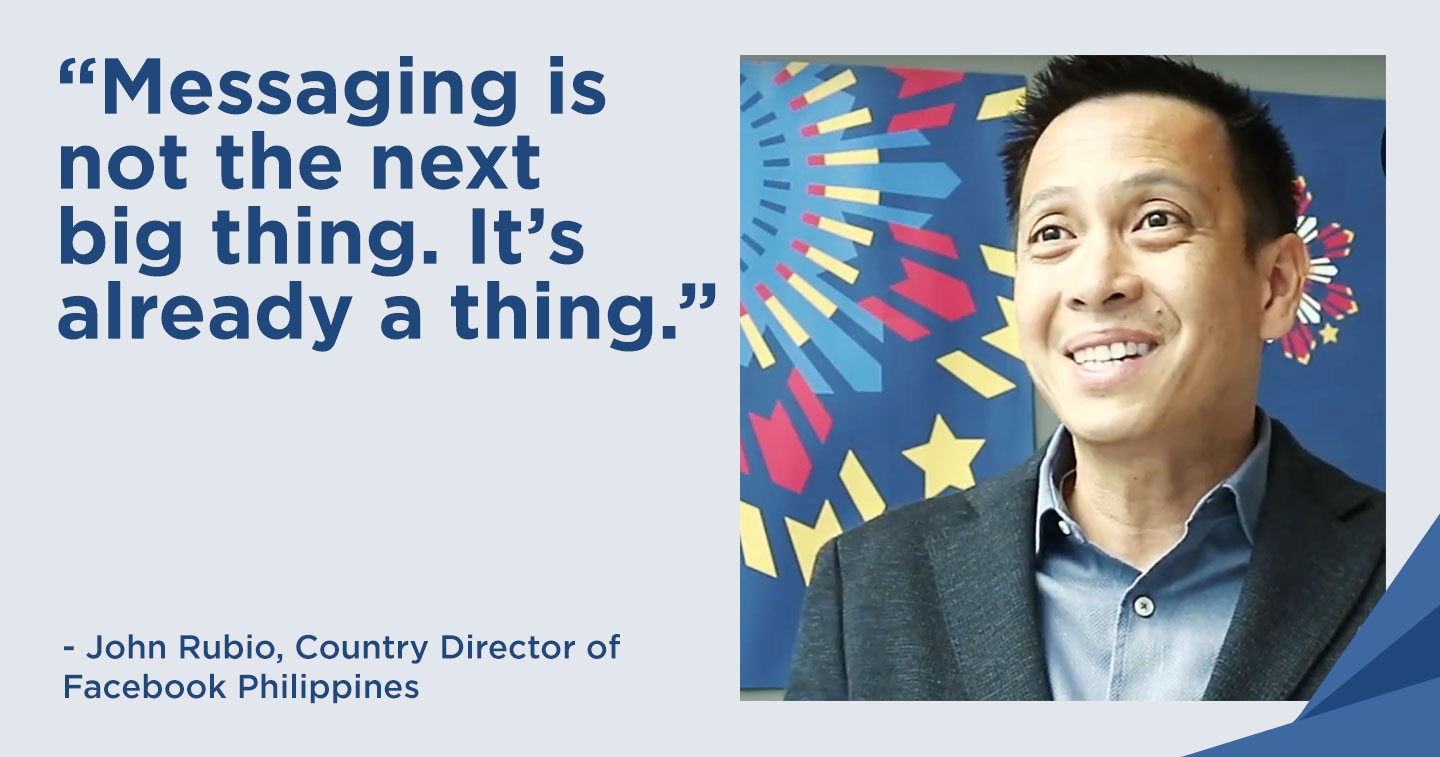 "Messaging is not the next big thing. It's already a thing," John Rubio, Country Director of Facebook Philippines, said.
According to the study, social media was primarily how majority of Filipinos learned that they can chat with and buy from the seller. This result isn't entirely surprising considering Filipinos are the biggest social media users in the world, according to We Are Social and Hootsuite's digital report. With their eyes on the screen daily, one cannot help but encounter items for sale or go on trading groups or marketplaces to buy the stuff they need. 
Rubio said that the trend of conversational commerce is a uniquely Asian thing, as we don't have large scale e-commerce infrastructures like in the West. While we do have e-commerce sites like Lazada and Shopee, some still prefer the intimacy of being able to converse freely with the buyer. "There's a sense of trust when you can converse with the shopkeeper," Rubio shared. 
To talk in numbers, 9 out of 10 Filipino shoppers said that they were more likely to buy from a business they can message. I agree with this personally because I tend to buy more from people who are easy and clear to talk with. Despite the barrier that chatting gives between two people, I still try to gauge if the seller and their items are for real or not via messages traded on Facebook. 
When asked about the rise and beginning of Conversational Commerce, Rubio shared that it started with buy and sell groups. "It's an interesting innovation that started happening in Asia and some Latin American markets, and we had actually said that this is how people are using our platform."
It's not unusual for a Facebook user to see or be a part of these buy and sell groups — be it for Doc Martens, guinea pigs, wooden furniture, or headphones — because these enable users to find people with the same interests as them, and to discover items that one would usually not see in physical shops. These groups also often sell for cheap, as some items are second hand. 
However, Conversational Commerce does not stop at chatting with a real live person as there are chatbots for business pages. Another finding in Facebook and BCG's study is that 55% of their Filipino respondents are comfortable chatting with a bot for a transaction. Bots make it easier for businesses with Facebook pages to converse with their buyers. No longer do they have to reply to them one by one because the bots will do if for the owners. 
"One of the things we're most proud of is the ability to enable small businesses," Rubio shared. "For example, you don't need to create a website, you can have a presence on FB for free. You can basically then reach out to your customers on FB for free as well."
Among the respondents who engage in Conversational Commerce via social media or messaging platforms, 84% said they do so using Facebook products. 
"Conversational commerce is very interesting because it crosses ecosystems," said Anthony Oundjian, Managing Director & Senior Partner leading BCG's Telecommunications, Media & Technology practice in South-East Asia.  "For example, seeing an ad on a social platform may prompt someone to initiate a chat with a retailer using a messaging app and then complete payment by pulling the retailer's site into their chat thread."
About Facebook
Founded in 2004, Facebook's mission is to give people the power to build community and bring the world closer together. People use Facebook to stay connected with friends and family, to discover what's going on in the world, and to share and express what matters to them. Facebook is a trademark of Facebook, Inc.
About BCG 
Boston Consulting Group partners with leaders in business and society to tackle their most important challenges and capture their greatest opportunities. BCG was the pioneer in business strategy when it was founded in 1963. Today, we help clients with total transformation—inspiring complex change, enabling organizations to grow, building competitive advantage, and driving bottom-line impact.
To succeed, organizations must blend digital and human capabilities. Our diverse, global teams bring deep industry and functional expertise and a range of perspectives to spark change. BCG delivers solutions through leading-edge management consulting along with technology and design, corporate and digital ventures—and business purpose. We work in a uniquely collaborative model across the firm and throughout all levels of the client organization, generating results that allow our clients to thrive.