CEBU, PHILIPPINES — BaiCon InFest, the country's biggest gathering of creators and influencers in the Philippines, is happening again on November 05 at the IEC Pavilion in Cebu City. The event, which is now in its fifth year, is known to create a platform for fans to reach their favorite creators while being educated on the responsible use of social media through its segments and fundraising CSR initiatives.
Having gathered more than 300 creators on one stage and having reached over 20 million physical and digital audiences in the last five years, BaiCon InFest is set to be bigger in 2022 as it opens its doors to the public again after the pandemic.
"The last two years of online events have been amazing but now that pandemic protocols have allowed more physical interactions, we don't want to miss the opportunity to reunite creators with their audiences physically again," shared BaiCon InFest Creative and Production Lead Bea Alfar Evardone.
Attendees of the event can enjoy a fan meet-and-greet, creator performances, a Mobile Legends show match, K-pop dance rave and random dance play, and musical performances as well.
The event is expected to bring in more than 100 creators from all over the Philippines and some parts of the world. Joining the event this year are Ranz, Niana, Natalia Guerrero, Kimpoy Feliciano, Viñas Deluxe, Precious Paula Nicole, Brigiding, Pipay, Wil Dasovich, Mikey Bustos, Davao Conyo, Esnyr, Inka Magnaye, Marj Maroket, Mighty Magulang, Justine Luzares, Kerwin King, Jen Barangan, Jae Miranda, Krizzle Luna, Blink Gaming, Isis, Pinda Panda, Pabbie, Arshie Larga, Gino Quillamor, Bogart D'Explorer, Nana Silayro, Charuth, Jiconyo, Merry, Aro John Muñoz, Renz David, Kit Digno, Ady Cotoco, Ezzy Algabre, Ian Mauricio, Dex Mallari, Medyo Maldito, Snake Princess, Papa Vince, Chardie B, Christy Tabañag, Warren Osinaga, Glester Capuno, Japhet Capuno, James Uca, Dan Colanse, Pats Pinote, Kobe Go, Katik, Alem Garcia, and many more.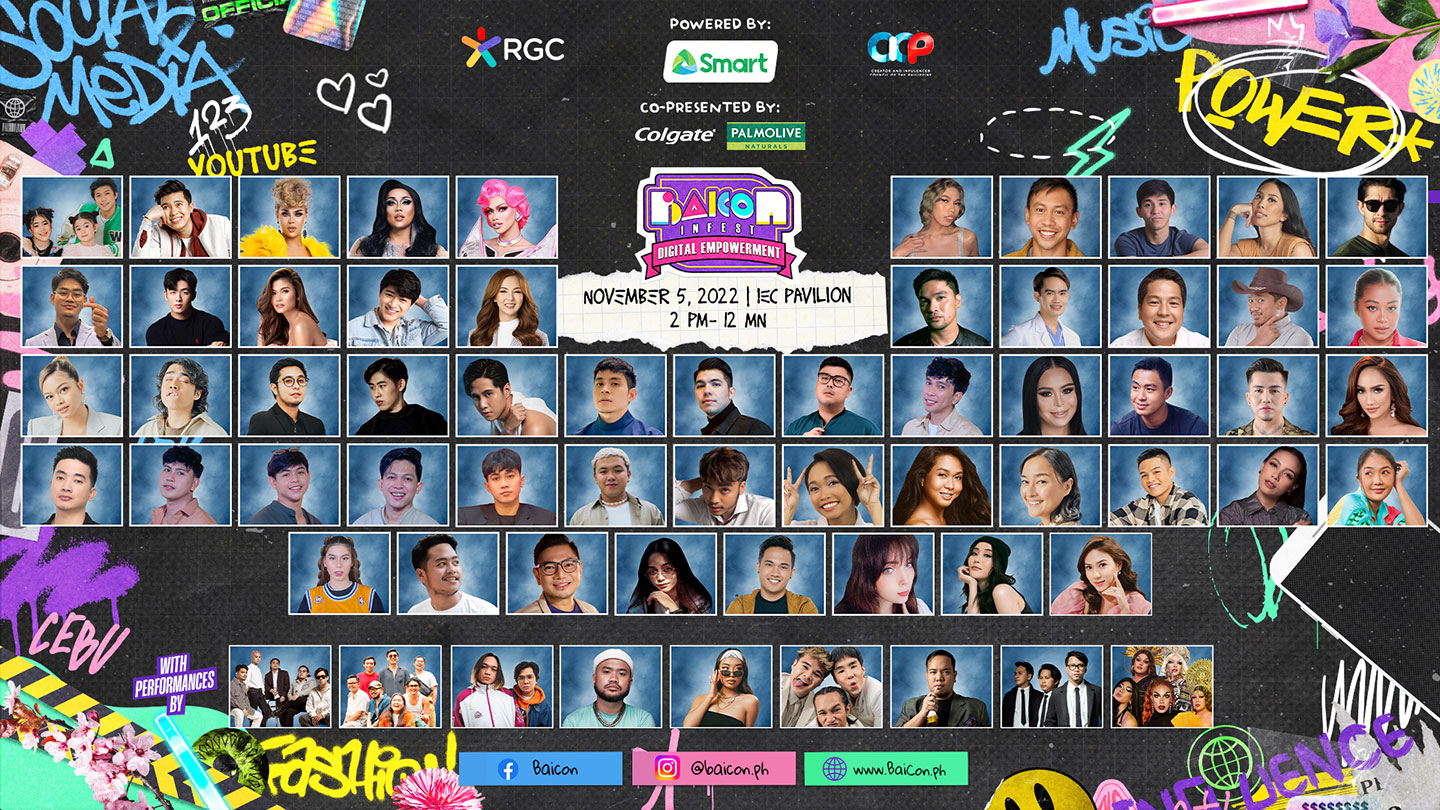 The CICP Spotlight Awards, the first-ever award-giving body for creators and influencers, will cap off the BaiCon weekend with a prom-inspired party. The Spotlight Awards aim to recognize them and their best efforts toward creating a healthy ecosystem for the content creation industry in the country. It is composed of three major categories, such as the Platform Superstars, Premium Awards, and Category Champions.
Here are the nominees this year:
Platform Superstars
● Facebook Superstars – Darbs Kim / Real Talk Darbs vs. BGYO
● Instagram Superstars – Ben Cua vs. Jazmin Reyes
● Tiktok Superstars – Niana Guerrero vs. Esnyr
● Youtube Superstars – Karen Davila vs. Small Laude
● Twitter Superstars – Kerwin King vs. Jai Cabajar
Category Champions
● Beauty Champs – Marj Javier vs. Kai Javier
● Fashion Champs – Ida Anduyan vs. Laureen Uy
● Food Champs – Ninong Ry vs. Chef Hazel
● Life Champs – Lynell Lopez vs. David Guison
● Parenting Champs – Ong Fam vs. The Kramers
● Travel Champs – Wil Dasovich vs. Jen Barangan
● Gaming Champs – Blink Gaming vs. Bulldog
● Education Champs – Arshie Larga vs. Dr. Krizelle Luna
● Entertainment Champs – Ranz, Kyle, Niana, Natalia vs. Pipay
● Tech Champs – Ivan de Guzman vs. Kevi Charles Dela Cerna
Premium Awards
● Creator of the Year – Skyfam vs. Cong TV
● Innovator of the Year – Mighty Magulang vs. Davao Conyo
● Rising Creator of the Year – Papa Vince Davao vs. Forda Ferson
BaiCon InFest is an event organized by the Republiq Group of Companies (RGC), VisMin's largest digital agency, in partnership with the Creator and Influencer Council of the Philippines, an organization that aims to elevate the standards of content creation and influencer marketing in the country.
Tickets for BaiCon InFest: Digital Empowerment on November 05 are available via its official
website as well as through its ticket promoters. For more information, follow BaiCon Infest on Facebook, Instagram, and TikTok.