MANILA, PHILIPPINES – The Internet and Mobile Marketing Association of the Philippines' (IMMAP) Boomerang Awards, the country's premiere digital marketing awards show, together with adobo Magazine, will host the first-ever edition of "Boomerang Into the Future," where the creative and innovative minds behind this year's Booms winners will talk about their winning works, and their fearless forecasts on how the local digital marketing landscape will be for 2023.
Bannering the event will be guest panelists from the 2022 Boomerang Awards winning campaigns such as "Save Our Sharks" (Octopus & Whale), "Retold with Pride" (Propel Manila), "Magparehistro Ka" (MullenLowe TREYNA), "WeMen for Women" (Dentsu JaymeSyfu), "Chuckie Snack N' Play" (NuWorks), "Selecta Happinas" (BBDO Guerrero), among others.
The event will have three main segments and panels, that will touch on topics on: 1) how digital drives brand building; 2) how digital accelerates business growth; and 3) how digital will change the landscape of Philippine marketing in 2023 and beyond.
"What we have seen in the 2022 edition of the Boomerang Awards is how digital has become more vital both in brand-building and business transformation, which will further define the role of innovation as we move through and out of the pandemic," said Manny Gonzales, 2022 Boomerang Awards chair and Ogilvy Consulting Philippines' lead.
To cap off the event, the IMMAP Digital Measurement Board (DMB) will also give the participants a glimpse into the latest updates on what's happening in the digital measurement front, as we head towards 2023.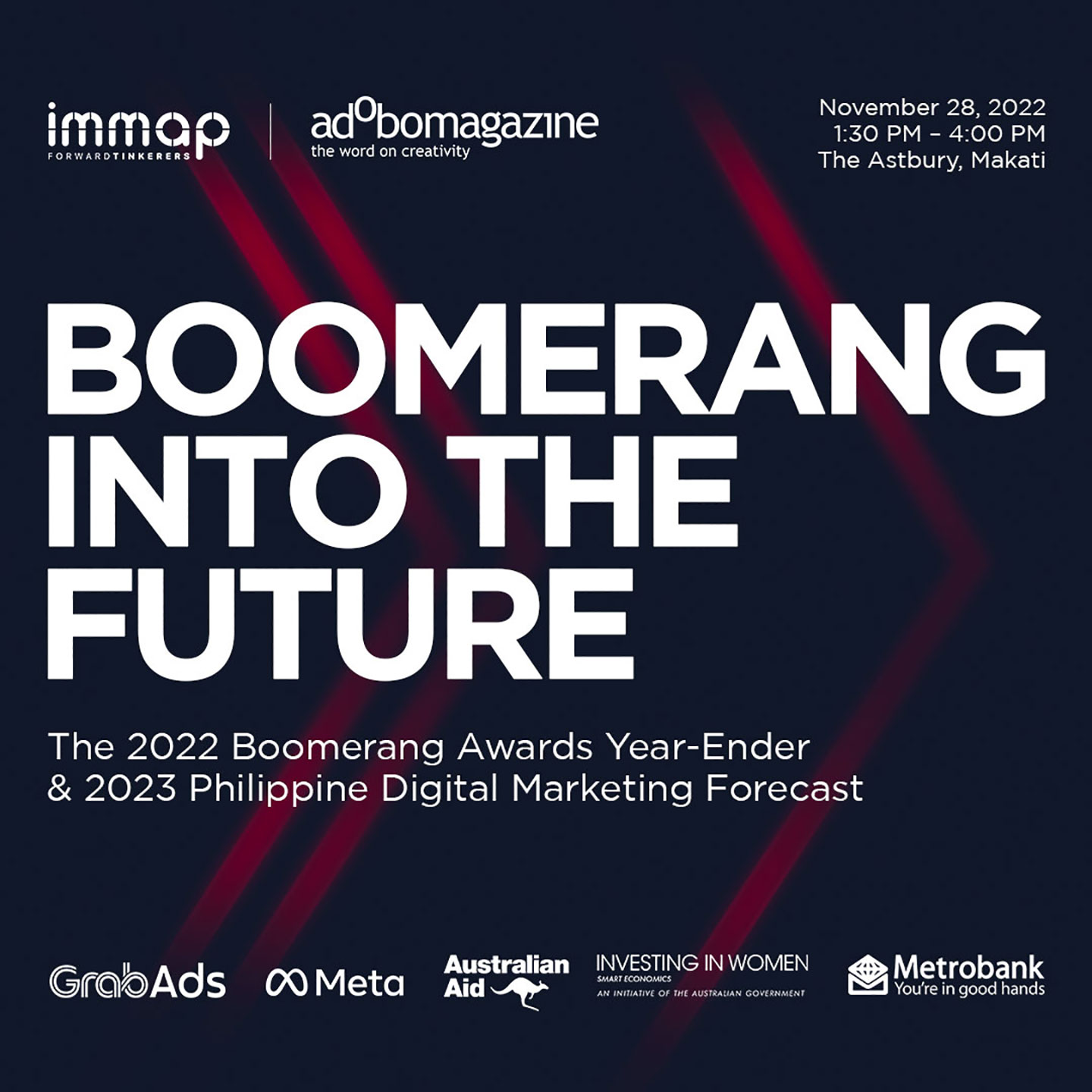 Boomerang Into the Future will be held at The Astbury Makati on November 28 from 1:30 pm to 4:00 pm, and will be streamed live as well over at the IMMAP and adobo Magazine Facebook pages.
The 2022 edition of Boomerang Into the Future is made possible in partnership with GrabAds, Investing in Women – An Initiative of the Australian Government, Meta Philippines, and Metrobank.
Boomerang Awards 2022 reveals winners as Octopus & Whale marks momentous year with 6 major wins