MANILA, PHILIPPINES — Growsari, the leading business-to-business ordering and store solution platform in the Philippines, is pioneering financial inclusion to reach the broader MSME's and Filipino consumers by outfitting the smallest of retail outlets, sari-sari stores, to accept digital payments through the Growsari app.
Small physical retail sectors have always been underrepresented and underbanked, mainly because they are technologically-marginalized and logistically difficult to organize as a group. And with the pandemic accelerating the shift to digital, store owners are feeling the pressure to adjust to the new landscape. Addressing this, Growsari continues to bridge the gap between financial institutions and sari-sari stores by rolling out Universal PH QR codes, in partnership with Instapay-approved member institutions.
Quick Response, or QR technology, involves a safe and secure payment method and benefits customers through faster, easier and cheaper payment options with greater convenience. Through Growsari, sari-sari stores can now accept digital payments from their customers (sukis), making them more competitive and leveling the playing field between small and large retail stores. Sukis just need to look for the Sariclub QR code displayed in the front of the neighborhood store, and scan to pay using their preferred bank or wallet.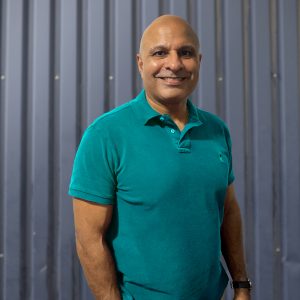 Growsari Head of Financial Services Sandeep Bhalla, shared his excitement on the launch of QR digital payments to the grassroots level. "We are pleased to show support for BSP's initiative for a cashless society through QRPH to our market. This also strengthens Growsari's commitment to assist MSMEs to adapt to the age of digitalization and to modernize their store operations."
Each transaction paid by the suki to the store will be instantly available on the store's wallet in the Growsari app, and all transaction receipts and records are easily accessible. By driving digital payments, Growsari is educating and enabling store owners to track their daily earnings and minimize errors on balancing their manual cash ledgers.
"We are entering into a new normal after the pandemic. And Growsari is building a digital ecosystem that is inclusive and easy to understand for the millions of mom-and-pop stores in the country. We are confident the initiative will facilitate better store management and an efficient digital payments gateway to the local communities," explained Sandeep.
All digital payments received through the QR code are credited to their Growsari merchant wallet that can be used seamlessly for all other Growsari transactions such as ordering FMCG and e-service products like load, bills, or wallet top-ups without the restrictive limits of personal wallets.
"Malaki tulong talaga ang Growsari para makasabay kami sa panahon ngayon. Pwede na kami tumanggap ng bayad sa QR na pupunta sa aming Growsari wallet na pwedeng ibayad sa iba't ibang supplier. Mas malaki din ang mga transaksyon limits ng Growsari kumpara sa personal kong apps," shared by a Growsari user and sari-sari store owner, Yvonne Bautista.
("Growsari is helping us sari-sari stores catch-up to the times. We can already accept payments through QR codes, which goes directly to our Growsari wallet that we can use to pay other suppliers. There are also higher transaction limits in Growsari compared to my other personal apps.")
And to fully help stores in adapting and using Digital wallets in app, field agents visit stores frequently to facilitate instant top ups for store owners who don't have any bank accounts.
"At kung mahirapan kami may mga ahente na bumibisita. Malaking pasasalamat talaga namin sa Growsari. Naiintindihan nila ang mga pangangailangan naming tindera," Yvonne added happily.
("There are agents on standby to teach us as well. We are really grateful for Growsari. They understand what we, the store owners, need.")
Growsari has begun to install QR PH codes across their network this October 2022, and is targeting to have 200,000 sari-sari stores to start accepting QR PH payments by 2023.