KUALA LUMPUR, MALAYSIA — Streaming service Netflix, in collaboration with Mash and renowned Malaysian artist Eten Teo, created a piece of cultural artwork to celebrate Lunar New Year for viewers across Singapore, Malaysia, Vietnam, Hong Kong, and Taiwan.
Lunar New Year is more than a seasonal holiday. It's a traditional celebration deeply rooted in the history and culture of Asian communities all over the world. To create something that spoke to the diverse Asian market in a unique and authentic way, Mash curated a Virtual Creative Studio, that brought together seven creatives from Mash's global network, each with deep personal and cultural connections to Asia and the various regional traditions of Lunar New Year.
Inspired by the artwork of award-winning Malaysian paper-cutting artist Eten Teo, they dug deep into their experiences to uncover one key theme that spoke to the true essence of the Lunar New Year: the tumultuous and chaotic beauty of cross-generational families over the most important holiday of the Asia calendar.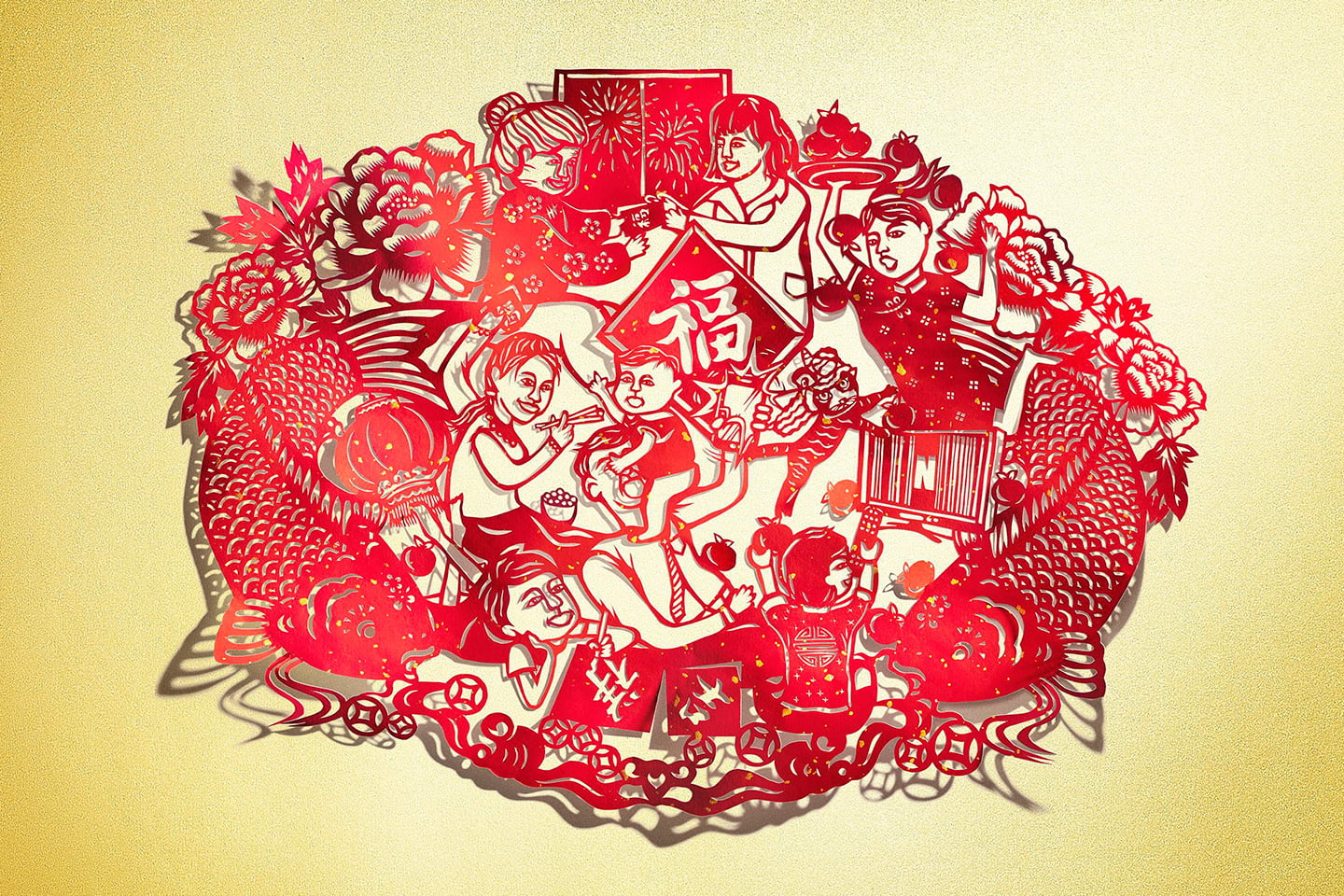 Framed by auspicious elements such as fish (abundance), coins (wealth), and peonies (prosperity), the piece reveals a cross-generational family celebrating Lunar New Year. A tired father finally happy to be off his feet is blocked from looking at his phone by a baby. The aunty feeds the baby while slipping grandma a lucky red envelope, angpao. Grandma in turn greets her granddaughter in a traditional manner. The mother, dressed in a beautiful Spring Festival cheongsam, is knocked askew, sending a platter of mandarin oranges (symbolizing riches) flying. Kids gather around the family television, watching Netflix of course. The piece is a chaotic mish-mash of the myriad tiny yet meaningful familial interactions that happen and have happened, year after year, in years past, and years to come.
Teo's papercut piece marks the first time a physical artwork is digitized to be featured on a local moment on Netflix, a specially-curated collection of titles that celebrates seasonal moments or social events that are important to local audiences.
Mash's curated Virtual Creative Studio worked with Teo on the development of this artwork, which will live on the Netflix screens of millions of viewers across Singapore, Malaysia, Vietnam, Hong Kong, and Taiwan for the duration of the holiday. Check out the unique and humorous BTS view of the intricate process Eten took to bring it to life here.
Teo said, "As a child, I was the one helping to decorate and arrange the decorations. Although my family can be a bit chaotic, it is actually a very warm scene. Getting together for the new year is a very happy occasion for me." Teo also considers the piece as a milestone in his craft, "It is not the neatest and perfect in terms of technical aspects, but it shows the different movements and expressions of each character. When it's placed in the context of paper-cutting art, it's a relatively new art style."
Rich Akers, Mash Director of Creative Services (Asia) and Project Lead added, "We're always excited to work with Netflix. Building a virtual creative studio and partnering with an incredible artist, like Eten to deliver on such an ambitious vision, is not a project you get to do every day. We were honored to have been invited to collaborate on this uniquely personal project. Our Virtual Creative Studio team, spanning 15 countries, and I have spent a lot of our professional careers looking for projects like this, opportunities to leverage our histories and heritage in such a rewarding way."
Mash's flexible model brought together lived experience combined with high-caliber creative thinking. What resulted was a piece of thought-provoking, memory-evoking artwork symbolic of the Lunar New Year, from the minds and hearts of people that have lived it their entire lives.
CREDITS:
Client: Netflix
Creative Curator: Mash
Virtual Creative Studio team:
Rich Akers, Thailand
Annisa Dharma, Singapore
Antuong Nguyen, Australia
Dominic Johnson-Hill, China
Kolo Lee, Taiwan
Rocky Yip, Hong Kong
Andrea Wong, Malaysia
Paper Artist: Eten Teo, Malaysia