MANILA, PHILIPPINES — Sustainability is no longer just a buzzword; it's a reality. With consumers on the lookout for purpose-filled brands amid today's global realities, brands and businesses are compelled to keep up and hold the line for a sustainable future as consumers continue integrating sustainable practices into their everyday lives. 
Impact matters, and the world's favorite brands have a hand in this. The recently concluded adobo SheCreative Network session, "#WhatWomenBuild: Blueprints for a Sustainable Future," saw the women who are leading brands and businesses in the Philippines and the Asia Pacific region on how they integrate practices that enhance their sustainability footprint, and become a positive force for change.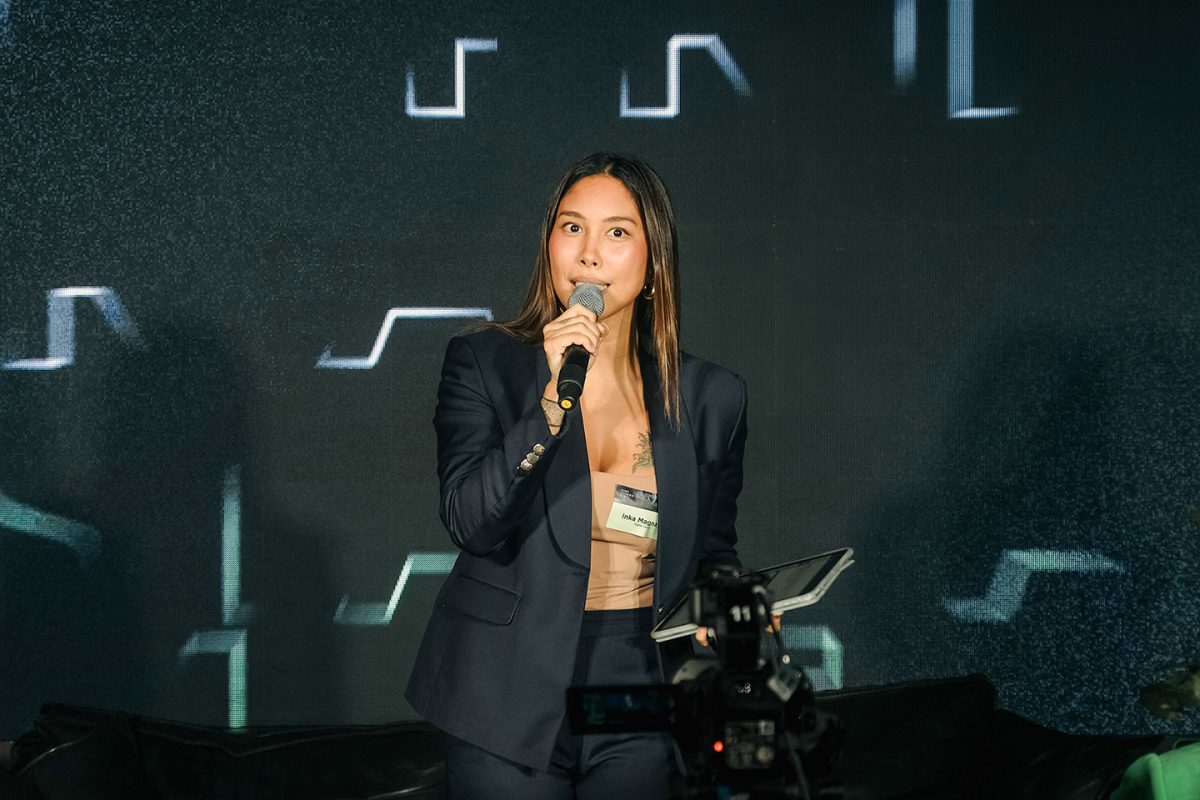 Hosted by voice talent and digital content creator Inka Magnaye, the event spoke to marketing leaders and creatives leading sustainability initiatives that shape the environment. 
Roche Vandenberghe, Chief Marketing and Digital Business Officer at FWD Life Insurance, talked about realizing the insurance company's impact on communities that can be felt, even with a "non-tangible" product like insurance.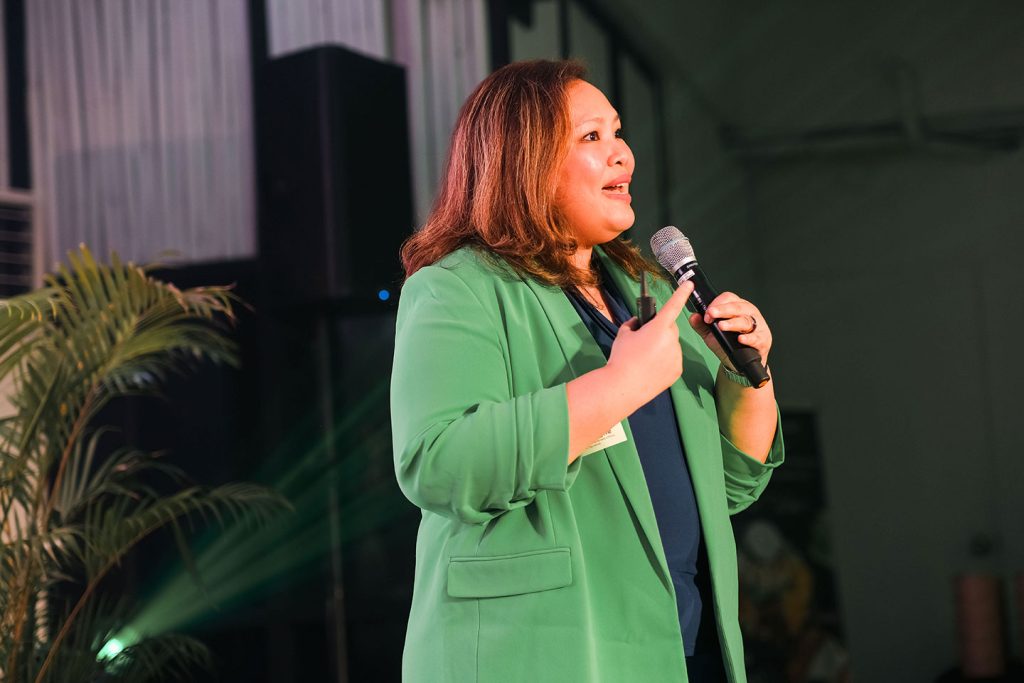 Roche shared the company's efforts with the Solar Lolas, the Aeta community of elderly women in Bamban, Tarlac, who have been trained to make solar lamps for a living. Together with Bayan Academy, FWD ran a three-month literacy program, which revealed insights into the hopes and dreams of the Solar Lolas for their children, grandchildren, and for their fellow Aetas.
She also talked about the mileage FWD can reach in supporting and enabling other companies with solid Environmental, Social, and Governance (ESG) initiatives. This was seen in FWD's launch of the Global Good ESG Fund, which allows consumers to build their wealth and protect their future by acquiring an insurance plan with an investment component. This fund also allows consumers to invest in companies that are best in managing their ESG risks.
"What's good about Gen Z, you're very inquisitive with regard to your money. You want to know that what you put on the table is being put to good use. You don't just want to give your money away. That really resonated with our young market well. We have a lot of young clients in our fold. People we know really care where their money is being put," she said.
Meanwhile, Yoly Crisanto, Chief Sustainability and Corporate Communications Officer of Globe Telecom, set the tone for urgency in initiating sustainability practices, and how the time to act for businesses is now.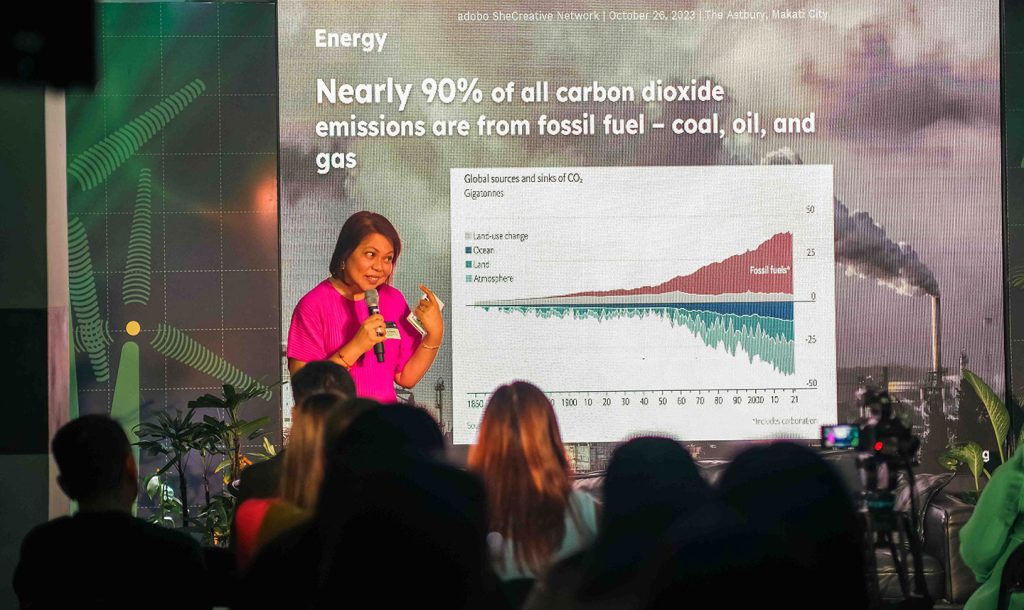 Speaking about the nine planetary boundaries by the Stockholm Resilience Centre, the world has now crossed six of them. "In other words, we're really treading on thin ice here – and that is giving us the impetus to hurry up, come out with our sustainability activities, and save this planet together," she urged.
That said, sustainability is an undertaking of all and not just a few — and there is a lot that can still be done to change course. Yoly highlighted the importance of brands in telling stories and providing access to factual information to the public.
"As communicators and storytellers, we bear the responsibility of equipping ourselves with a deep understanding of the science of sustainability. When we influence and engage the present & future generations of Filipinos, accuracy and urgency in our messaging become indispensable," she said.
Meanwhile, with great power (and great scale) comes great responsibility, according to Anna Mangilin, Chief Marketing Officer for Beauty & Wellbeing SEA and Country Head for Beauty & Wellbeing Philippines at Unilever. With Unilever holding 13 of the top 50 consumer brands across the world, and 400 brands worldwide, sustainability is at the heart of Unilever's strategy.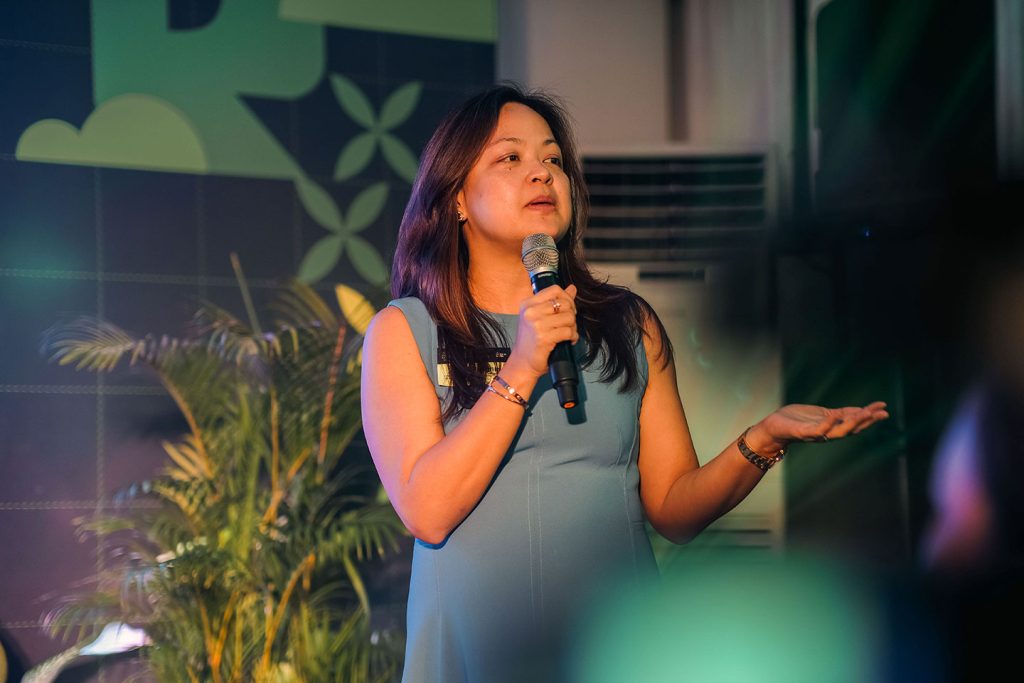 "Sustainability cuts across our business through brands. It cuts across the very foundation of the company and how we feel we will last into the next 100 years, and how we build the culture across the business. But this isn't a very difficult decision to make. Sustainability is sustainable; it's good business. It's something we felt as a company we could really leverage," Anna said.
According to her, the case for sustainability in business is strong. "Sustainability attracts consumers. We know that consumers who know and have the privilege to think about sustainability, it does influence their purchase and choice of products. This is especially true in developed countries, but more and more is also becoming very recognizable in our own country today," she said.
Highlighting that brands that score well on sustainability also add to their distinctiveness as brands, she emphasized that consumers' connections with brands become more meaningful when they know these brands stand for something.
She highlighted Dove as an example. "Dove was well ahead of its time when it talked about sustainability, purpose, real beauty – and that's a big part of what sustains that brand today. It's what makes it feel very meaningful, current. Even if it's many years old, it doesn't feel that way because it stands for authenticity."
When consumers can sense authenticity in a brand's purpose, this creates value. Not only are they buying a piece of shampoo or detergent, but they also know they're contributing, which adds to the products' value perception.
For Teejae Sonza, who has a sister leading a career in environmental law and another who works in a non-profit helping indigenous peoples, she seemed meant for a similar trajectory – she once dreamed of working for the United Nations and changing the world.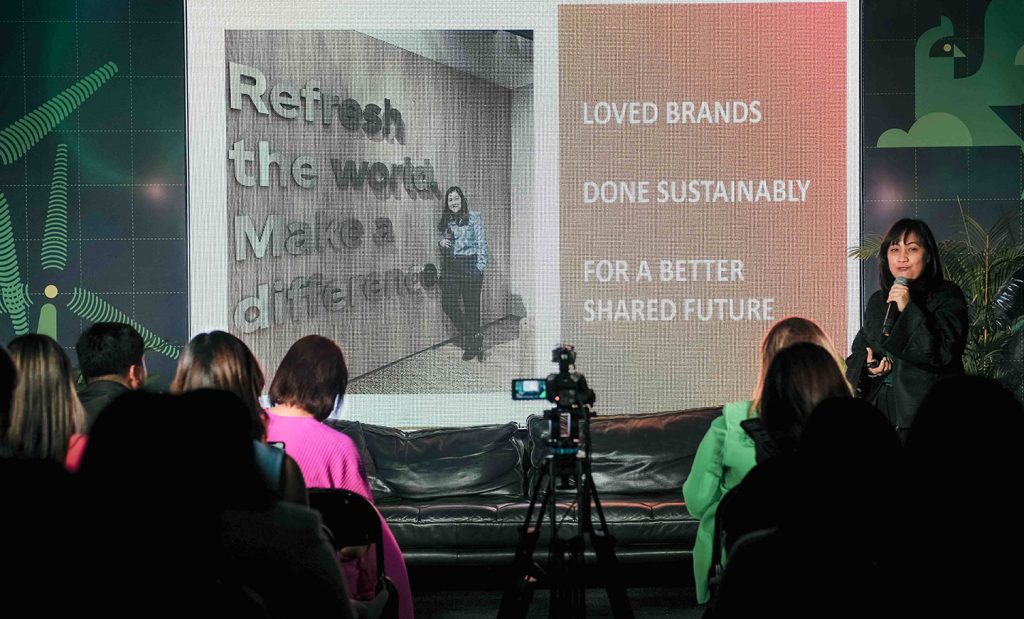 Instead, she stayed at Coca-Cola for two decades, eventually rising up the ranks to become Group Marketing Director for Coca-Cola Trademark, Coca-Cola ASEAN & South Pacific Operating Unit.
Teejae said she was inspired by the mission of the Coca-Cola Company: "Refresh the world; Make a Difference."
"This means to create loved brands that refresh people in body, mind, and spirit; creating a positive change in the world by helping build a sustainable planet; and building a better-shared future. So we invest in people: our employees, our customers, our investors," she shared.
Teejae shared that Coca-Cola has seen this mission in action through disaster relief, community building, uplifting women, and enhancing diversity and inclusion.
One memorable example for Teejae was in 2014, when the company was about to embark on a massive Christmas campaign,  "Share the Magic, Share the Happiness" – then Typhoon Yolanda, the world's strongest supertyphoon yet, hit the country.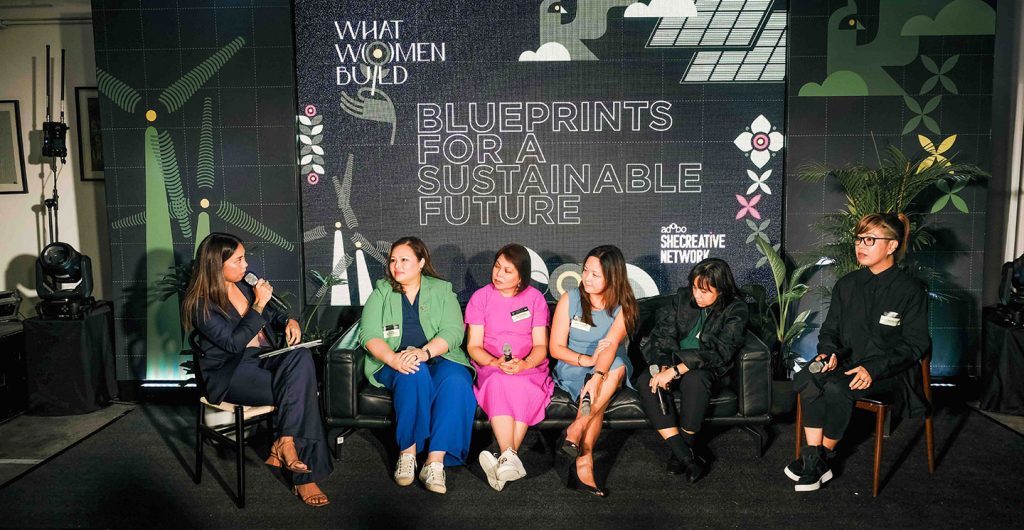 Teejae shared she went to her boss and proposed RebuildPH, a disaster response to the typhoon that affected millions in the Visayas region. "How can we say open happiness if 11 million people in our country can't experience that? The proposal was to suspend the entire Christmas program and just give the money for relief and rebuild," she narrated.
"Everything we were supposed to spend on the campaign, we spent on initial relief and rebuild. 24 hours after the typhoon hit, we opened the Tacloban plant as a relief hub and as potable water source, with 120,000 cases of clean water deployed. On Day three, we were in relief packing centers, on Day four the first caravan of trucks were already there," she added.
Coca-Cola's initiative continued through many months. This included the rehabilitation of 5,000 sari-sari stores, empowering 10,000 women through the 5by20 STAR Program, and the rehabilitation of 20 schools.
"When you experience that as a marketer and a business manager and you get your support, you realize, 'This is not just a mission we put in the walls of our office. This is a mission that we actually do day to day,'" she said.
As a director who handles the ASEAN and South Pacific regions, Teejae now looks at how she can integrate sustainability in the bigger picture, across various markets. It took her team a year to launch Reborn, Coca-Cola's global sustainability platform.
"This platform connects two interlocking ambitions: one is the marketing ambition to enjoy a Coke, and [second,] as a company, to realize our ambition of a world without waste," she said.
Teejae and her team created the Reborn toolkit, a framework that any market can use and tailor-fit with their proof points — from using recyclable packing and encouraging consumers to return their bottles, to education and awareness campaigns for the public.
Meanwhile, Joey David-Tiempo, a former advertising executive, launched her own company and is now Founder and CEO of Octopus&Whale, a three-year-old design agency launched during the pandemic. Named after a song her daughter wrote when she was three, Octopus&Whale is a tribute to her – mainly in figuring out how to run the company for the long term.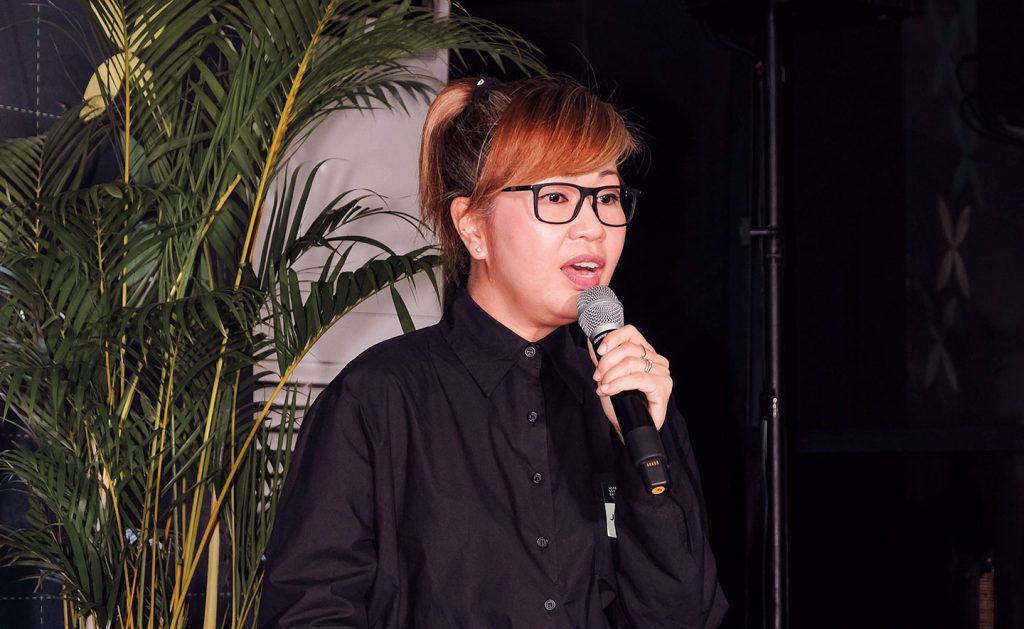 "Sustainability is a very inconvenient thing to do. They ask us to buy things in paper, drink from paper straws, return our bottles, recycle our plastic products… we often ask first, why do you have to do that? Why don't we just make things easy? As customers think about daily life, financial situations, it becomes very difficult for them to think about these things. How can you think about saving the future when you're trying to survive the day? As marketers and creative people, this is what we try to figure out and we figure this out as individuals, as business owners, as creatives," she reflected.
Sustainability doesn't just impact the environment; it impacts people, Joey underlined. While being mentored by a social entrepreneur, she was told she should think of three Ps: people, profit, and planet. This helps her look at the bigger picture with every project.
"I know as a creative person operating in advertising for a long time, you are complicit to what is happening to the planet right now — who have sold products, marketed products, polluted our oceans. How do we make a change? How do we change our behavior?"
This includes lending voices to those who are usually unheard of, such as non-profit organizations. "We have always been very passionate about helping NGOs. As advertisers and corporate people, our value and contribution would be to always help them push their agenda, as they are the ones working closely with communities, wildlife, and animals," she explained.
Joey also said that her company advocates for creative sustainability: "If we die because of our work, how do we keep helping? Sustainability is not just for the planet; it's for everything we do."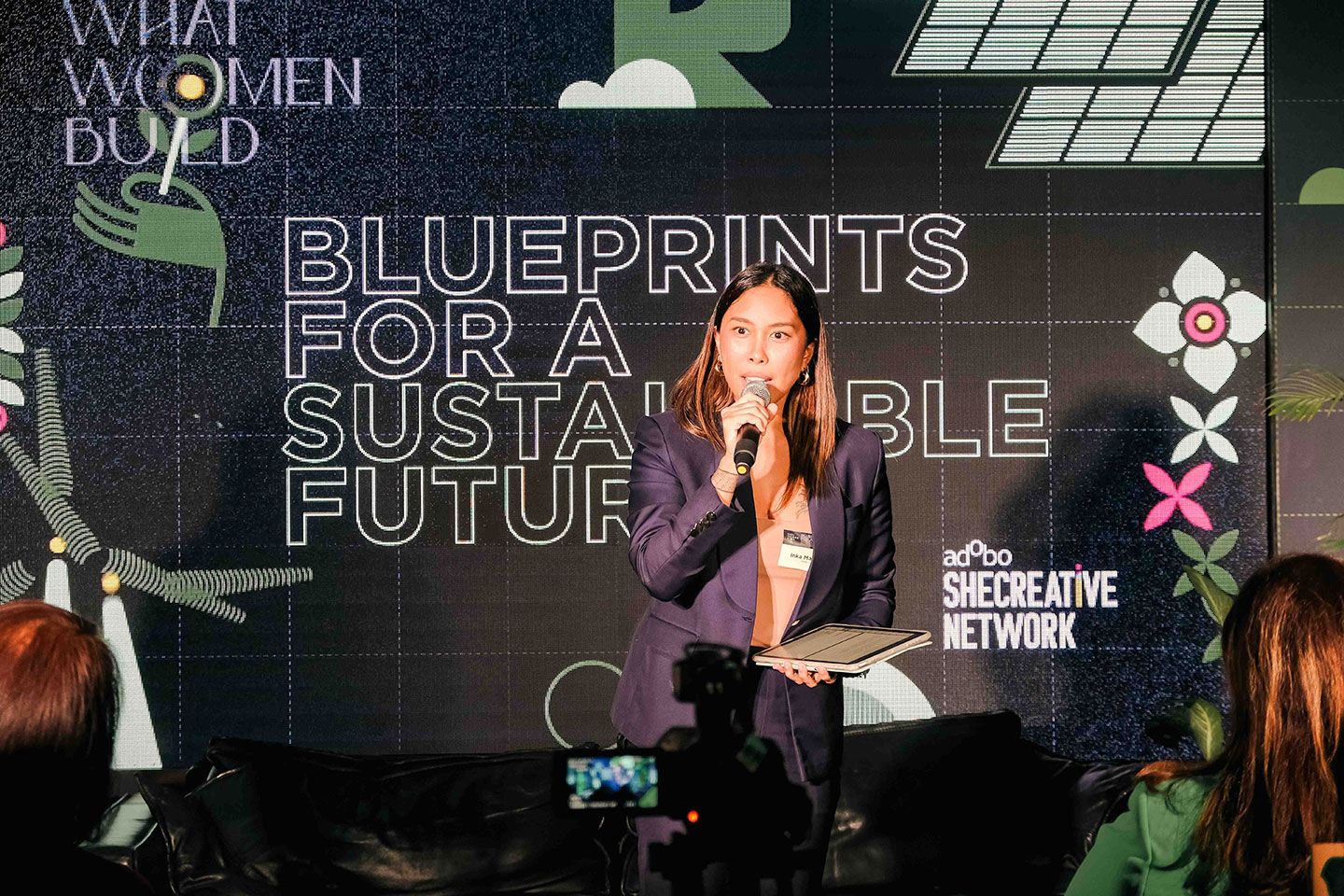 The adobo SheCreative Network session, "#WhatWomenBuild: Blueprints for a Sustainable Future," is made possible thanks to our event partners and sponsors:
VENUE PARTNER: The Astbury
STAGING PARTNER: Hwangs
BRONZE SPONSORS: Coca-Cola, Unilever
FOOD AND BEVERAGE PARTNERS: Salad Co., Tilde Bakery, Jemross Bakery, Jade's Temple, Candid Coffee, Ecolutions
SWAG PARTNERS: Deli by Chele, KonsultaMD, Mikana, Mondelez, Store it PH, Shigetsu
MEDIA PARTNERS: Radio Mindanao Network, Kumu
NETWORK PARTNERS: Girls Got This, Philippine LGBT Chamber of Commerce, Workbean, ASEAN SOGIE Caucus, Asia Society Philippines, and the Philippine Association of National Advertisers (PANA).
Watch the recently concluded SheCreative session on demand here.