MANILA, PHILIPPINES — Seven years after his Graphika debut, Matthew Encina returned to the stage as one of the brilliant creative minds that occupied this year's lineup. But this time, he didn't come as a representative of Blind, the multidisciplinary studio he was Creative Director for for almost a decade. For Graphika Manila 2023, he stood in front of the room of creatives — many of whom were huge Matthew Encina fans — representing himself.
So, who is Matthew Encina as a creative? With the number of creative endeavors he explores, there's no short way to answer this. But Matthew put it this way: "I'm a designer by trade, but an artist at heart."
To try and fully answer the loaded question of "What do you do?" during his talk, Matthew walked through his creative journey and all the big lessons, hard decisions, and new inspirations that made him into the multifaceted creative and educator he is today. "Hopefully, in sharing my story, it will you navigate your own," he told the audience.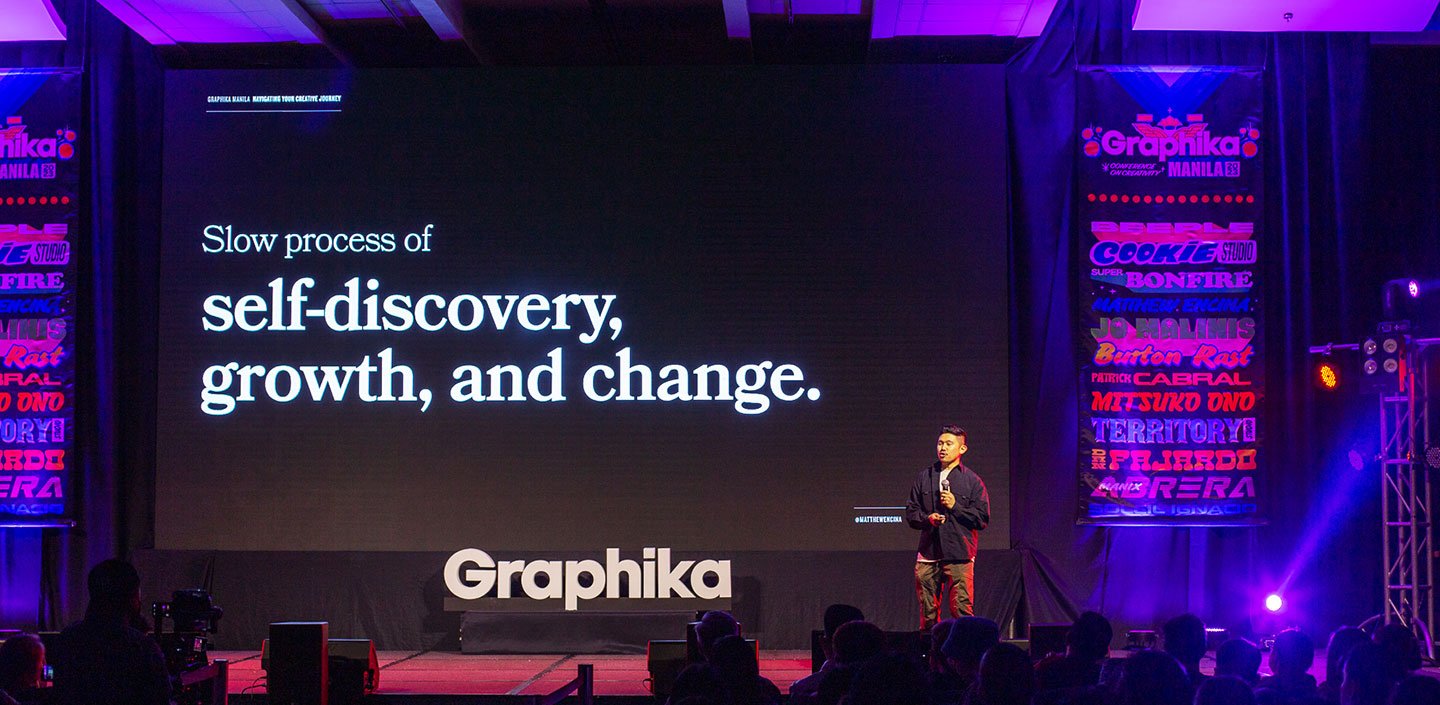 Matthew talked about the impressive trajectory of his career, from the freelance jobs he had as a Motion and Graphic Design student, to all the projects he's had the opportunity to work on in the years at followed at Blind and The Futur. All that amounted to working with amazing clients — designing, animating, directing, and more — for over 15 years.
But the main takeaway of his talk, however, was that creativity doesn't just boil down to what your job title is or what outputs you can present as a product or piece of art.
"In [The Futur,] I was wearing many hats, and I was able to use my creativity to solve problems without the need to create visual solutions," he said. "How else can you create creativity beyond visual arts, beyond traditional arts? As creatives, it is our job to identify dots and connect those dots to create meaning."
Matthew expounded on this during a quick chat with adobo Magazine, saying, "You can use your creativity for anything. So, beyond a visual output, beyond the career that you had studied for or work in, creativity is just a toolset, a way of connecting things together, connecting the dots in places in ways that other people don't see."
Because of this mindset, Matthew was able to make these connections in his life that led to self-discovery and exploration. Through this view on creativity, he not only was able to channel himself into different modes of expression — from building furniture to exploring new obsessions — he was also able to approach big life decisions with the ability to problem solve and connect the dots that allowed him to see the bigger picture.
This was especially important when he realized it was time to leave his job of 10 years to go solo. When he realized that a lot of people loved and learned from the content he made — YouTube videos that focus and expound on the different ways he has channeled creativity into his life not just through hobbies and projects but also introspection and problem-solving — he realized that going solo was possible for him. And, gradually, he was able to do exactly that.
"You always have more than one option, and you never lose your ability to choose," Matthew reminded the audience as he talked about the many choices he faced in the transition that led him to leaving a job he loved in order to pursue his solo career.
He added, "Sometimes, the only way to move forward is to let go of your past. Even if it's a good past, even if it's meaningful to you."
Now, Matthew has a huge following on YouTube, with millions of views across his videos. He continues to create content about his different creative endeavors — from his current tech obsessions to his personal DIY and renovation projects at home — and engaging his audiences with stories and lessons about creativity, productivity, and what that can mean for each person. He has also been doing meaningful creative projects outside his channel, such as Webflow's Generation No-Code, a document series he directed.
"All of my projects begin with curiosity. And once I know where to direct that curiosity, I walk around the world and experience the world with questions on my mind. And when I have questions on my mind, the world tends to answer. And sometimes they come from unlikely places," he said when asked about where he finds the inspiration to keep creating.
As someone with so many creative pursuits — both personal and professional — in his life, though, Matthew is no stranger to realizing that something he has taken on is just causing stress and isn't bringing him joy. He touches on this during his presentation when he talked about getting a publishing deal for his book.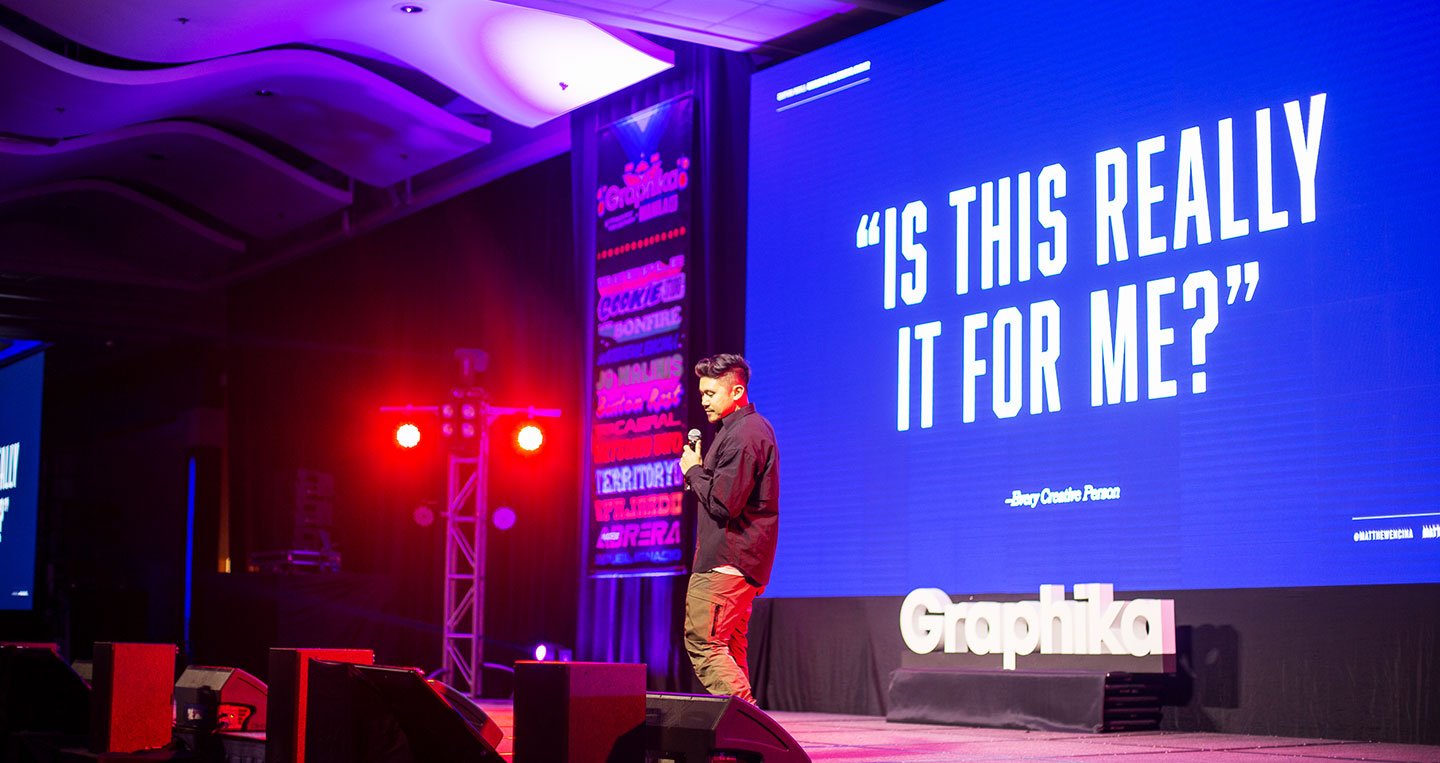 "My ego so badly wanted to be an author and have a book, but I had to check myself and [ask]: Why am I doing this? What is it actually bringing me? Do I need to write this book?" he recounted. "I walked out of that deal. The book is on hold for whenever I pick that up later, but I felt so much better. It was such a weight off my shoulder and helped me focus on the things that I really should be doing."
And knowing what you need to do, what you don't have to do, and what you want to do seem to be the critical points for Matthew when it comes to avoiding burnout or being overwhelmed with the work that you're doing. To him, ultimately, you have to use your judgment and sort out your creative priorities — and all the professional and personal factors that go into them — so that you can focus on what really matters.
"If there's something that's really taxing on me, if it's critical to do, I try to shut everything else out and focus on it and get it done. So, it's out of my life. It's a checkbox that I can click because I can only do one thing at a time," he said. "[However,] If it's something that's bringing me a lot of stress, I have to ask myself: Why am I doing that? Do I need to do that? Do I really need to do that?"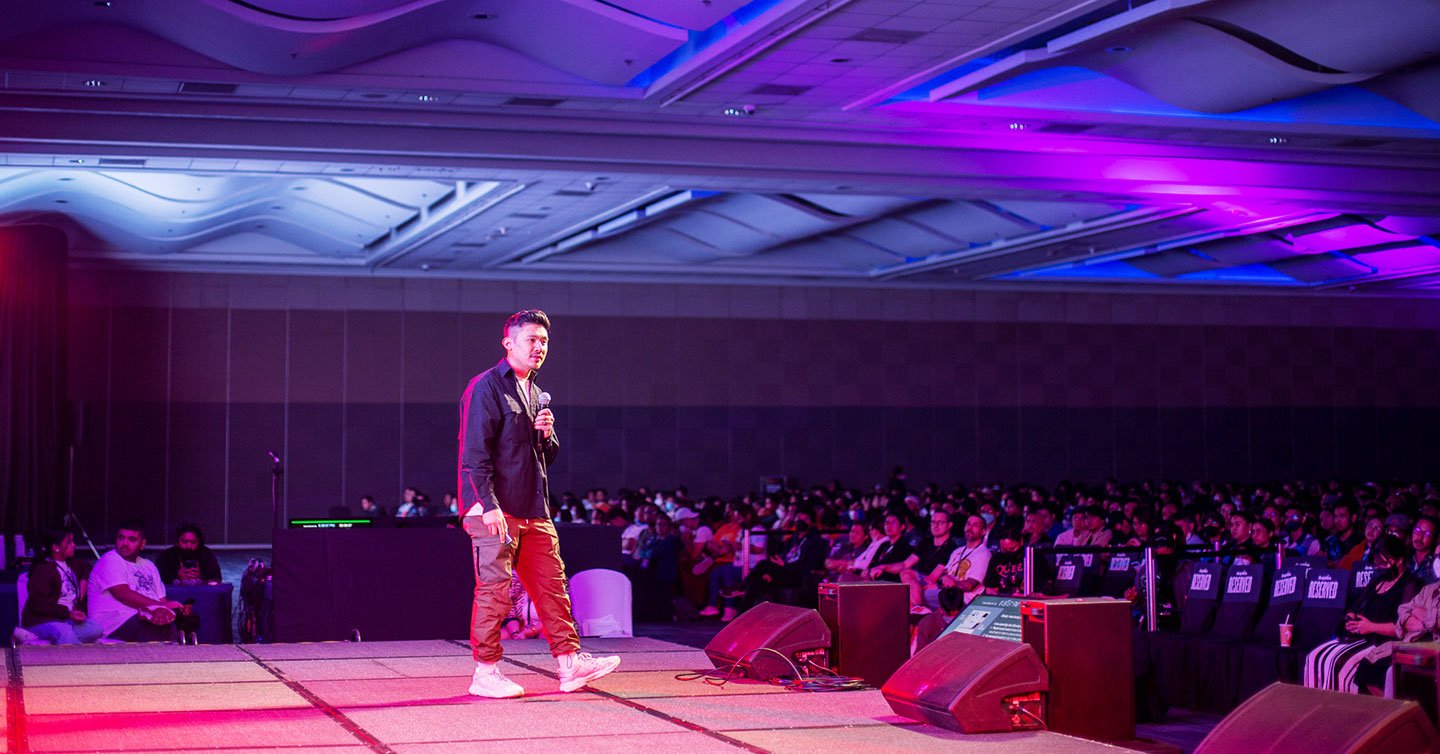 "You can choose to do less so that you can start to make time for things that you do enjoy. And once you start putting on your plate things that bring you joy, then I think your mindset and your perspective on life becomes a little different," he added. "Not everything that brings you joy has to make you money, either. There are certain creative endeavors that are just meant to bring you joy. And that is the sole purpose."
adobo Magazine is an official media partner of Graphika Manila 2023.