MANILA, PHILIPPINES — Every day, new ideas are being developed and pitched for by people from disenfranchised groups. Unfortunately, though, this doesn't automatically translate to big leaps toward a more diverse and progressive startup ecosystem. There may have been an acceleration in the ecosystem in the Philippines in recent years, but huge gaps remain to be addressed when it comes to making financing accessible to entrepreneurs who come from, or want to address the needs of, underprivileged sectors and communities.
While many in the startup ecosystem continue to overlook this glaring problem, the same can't be said for Impact Pioneers Network. The network is jointly designed, developed, and managed by incubators Villgro and xchange, which have a combined legacy of over 30 decades in the startup game, and are no strangers to helping create scalable social enterprises via impact investing. By bringing together people and institutions to co-invest and back impact startups in the agriculture and fisheries, education and employment, climate crisis, and affordable healthcare sectors, this angel investing network is giving the capital and support entrepreneurs need to address the most pressing needs in the country.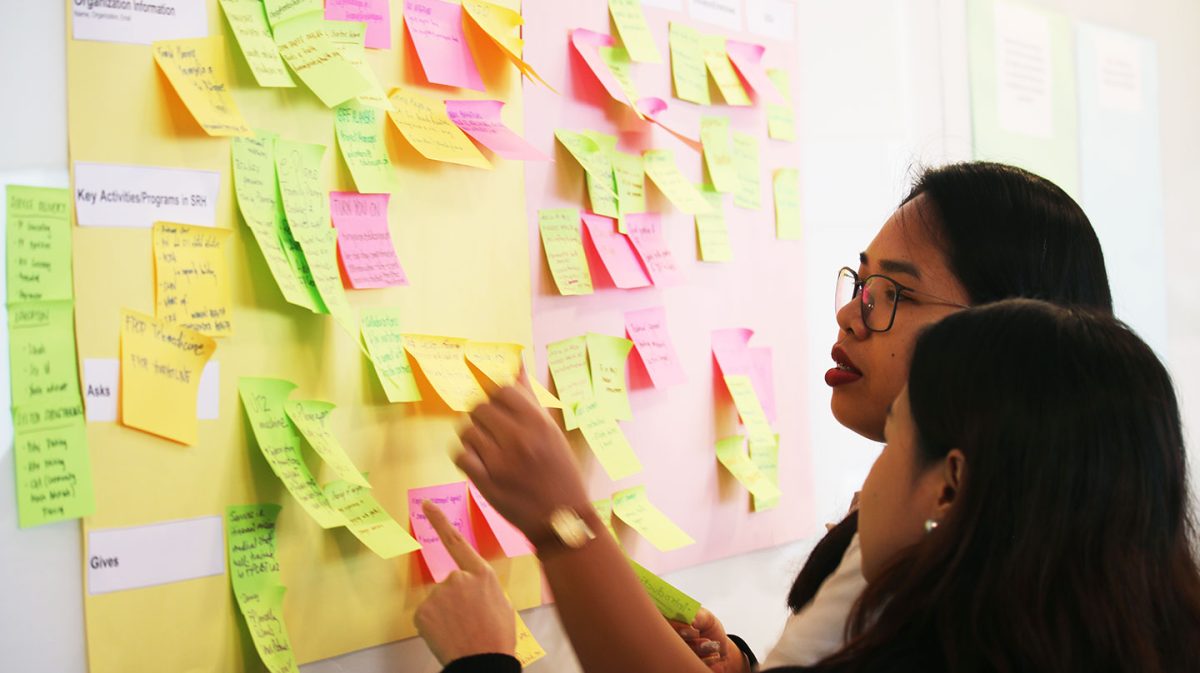 What's important to note, though, is that even within these sectors, there's still another societal hurdle that needs to be taken away — the one that are too often faced by women who belong in these sectors, or who seek to elevate them. The culture surrounding entrepreneurship and investing has been a man's game for too long and Impact Pioneers knows that. Not only does it prioritize neglected sectors, but through financing and mentorship, it also works to address the glaring gender gap in the ecosystem that women face in securing financing for the enterprises they are building.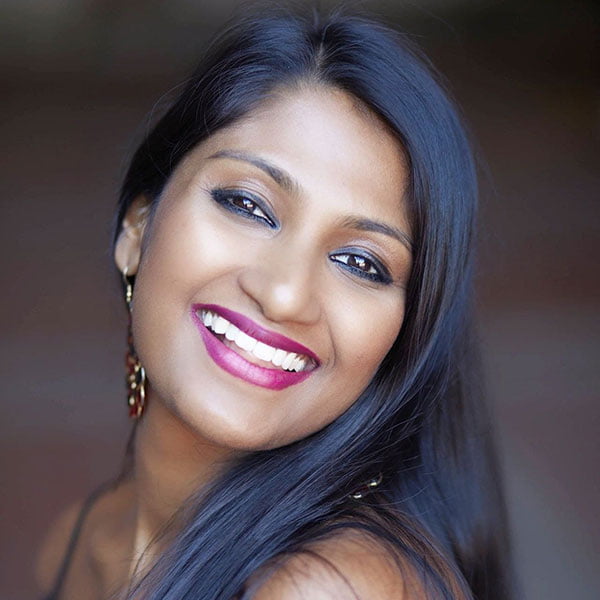 So, what exactly does it mean to "apply a gender lens" in the scope of the startup ecosystem? How does the gender financing gap affect the Philippines' entrepreneurial culture? And how does one get women to build confidence in their ideas and take up their deserved space in the ecosystem despite that?
Priya Thachadi, Villgro Philippines Co-founder and CEO, answered these questions as she gave adobo Magazine a behind-the-scenes look into the story and inspiring work of Impact Pioneers Network. Speaking with years worth of experience as a gender equality advocate, investor, and entrepreneur, she laid out how the importance of angel and impact investing in effecting progress in the country, why focusing on disenfranchised sectors is vital, and what it takes to close the gender gap that's been holding women back from realizing ideas that can better their communities.
adobo: Impact Pioneers Network is an amazing initiative that addresses the gaps in the startup landscape. Can you walk us through how this investing network came to be? How did the idea come about and how did Villgro Philippines and xchange ensure it got off the ground?
Priya: It has been fantastic to see the acceleration of the startup ecosystem in the last few years in the Philippines, especially in the tech space. However, it is still quite challenging for impact or social enterprises to access financing, especially at the early stages when the model still needs to be tested and validated, and needs to move beyond early traction. The impact investing sector in the Philippines is very young, and both Villgro Philippines and xchange saw that many enterprises were stagnating without adequate financial and non-financial support.
So, we decided to join our efforts to address the issue of risk capital for early-stage impact enterprises. In many ways, we are still getting off the ground ourselves. Our aim is to bring investors, individuals, and institutions together to co-invest in and back enterprises in the Philippines that are solving the most urgent social and climate challenges.
Without adequately funding enterprises at the early stage, we will not be able to build a robust entrepreneurial ecosystem — so, we believe it's imperative to address the "missing middle," which means funding up to around USD 20,000 to USD 250,00, and that is our focus at Impact Pioneers.
Villgro Philippines and xchange designed, developed, and continue to manage Impact Pioneers. What made xchange the perfect incubator for Villgro Philippines to partner with? What is it about this collaborating relationship that makes Impact Pioneers Network successful?
Villgro Philippines and xchange have been long collaborators, and what we discovered about each other is that we have a very similar philosophy and approach. Our more than 20 years of experience in India for Villgro and over 10 years for xchange in the Philippines taught us that impact entrepreneurs need hands-on support and funding that can absorb risk to build out their models and prepare for scale.
Hence, for us, it was only a matter of time before we formally worked together on an initiative. We have a common mission to help create impactful, successful, scalable enterprises in the Philippines, and we believe that entrepreneurial solutions are critical to solving these intractable social and climate problems we are facing today.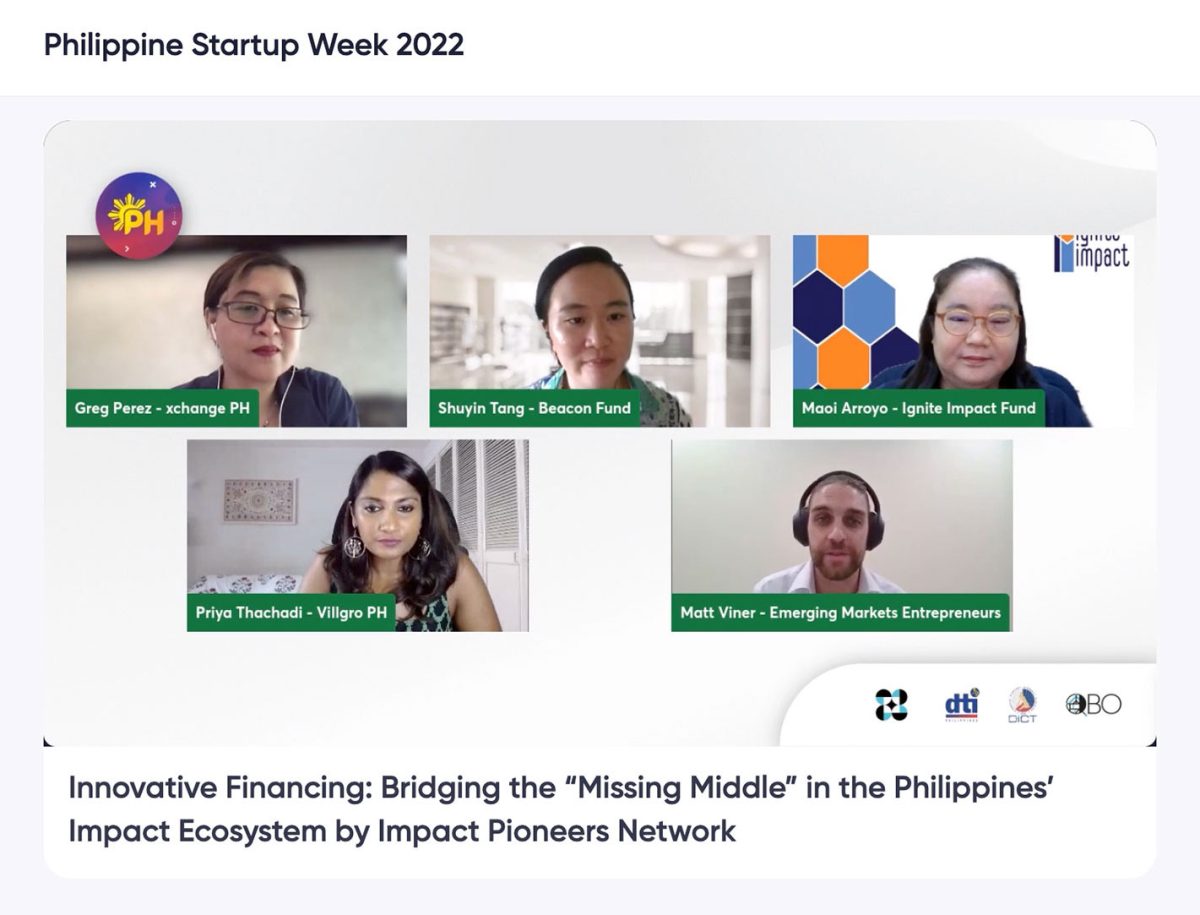 When you are aligned on the mission and values, it then becomes very easy to work together. What is tougher is to work in a developing market and try to duplicate ourselves. Very often in startup ecosystems, players tend to work in silos. For us to become a truly robust and successful startup ecosystem, we need to create a continuum of support and capital for startups. No one organization or enterprise is going to be able to build an ecosystem; it takes a village. We hope that our coming together will inspire more players to collaborate.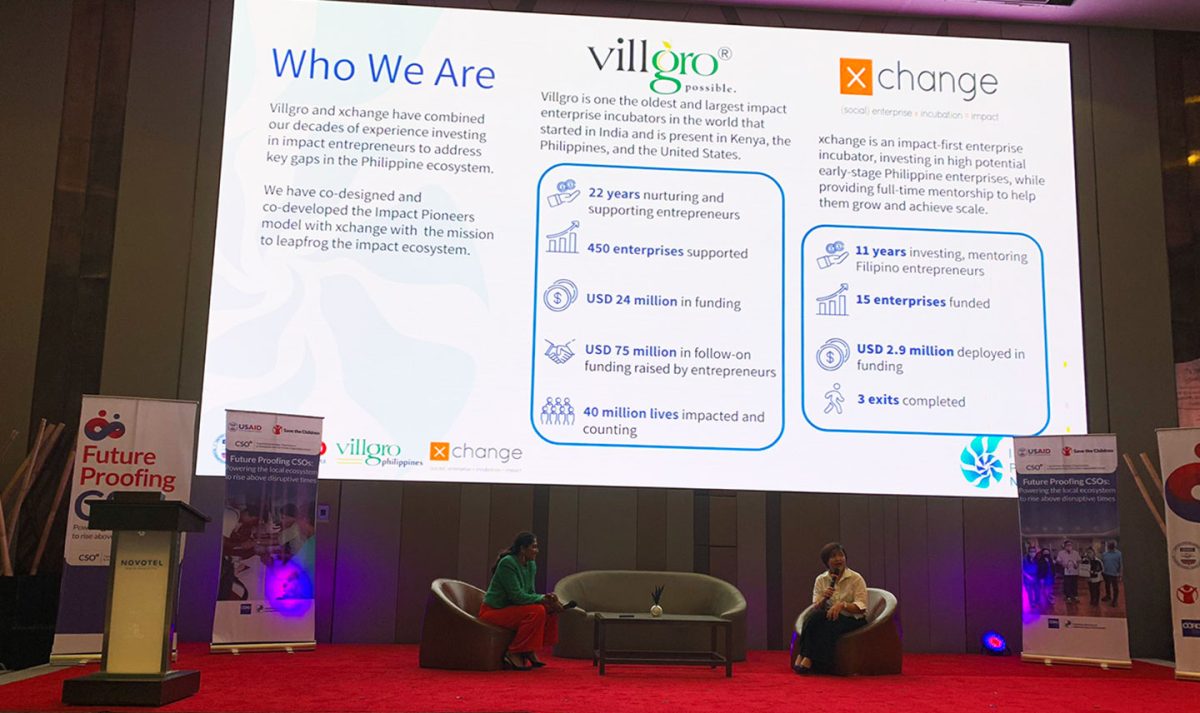 This network prioritizes the agriculture & fisheries, education & employment, climate crisis, and affordable healthcare sectors. Has that focus always been in place since the beginning of Impact Pioneers or was it a focus that you and other members realized over time was needed?
In the early days of the ecosystem, perhaps one could not be sector specific. But given the urgency of the problems we are facing on the ground, we felt it was important to back entrepreneurial solutions in certain sectors.
When we look at the Philippine landscape, farmers and fisherfolk continue to be the poorest of the poor, and we have a very big problem when those who produce our food are going hungry. This is all further exacerbated by the climate crisis. The pandemic also showed the weak links in our healthcare ecosystem, whether it's last-mile delivery, affordable but quality healthcare, or sexual and reproductive health rights.
So, while these seem like very separate sectors, the intersectionality of these issues is very clear. Many of our fellow investors in the Network also see these big problem areas as opportunity areas. We need ethical, sustainable, and scalable entrepreneurial solutions urgently alongside government or traditional philanthropic approaches.
What do you look for in members? How do you find members whose priorities are aligned with Impact Pioneers Network or ensure that they're dedicated to solving the pressing social issues that Impact Pioneers is focused on?
We welcome all individuals and institutions who are keen to find sustainable ways to address these urgent social and climate issues. Members are those who want to back startups locally, those looking to get into impact investment, or those who are already in investments but looking for deals.
I personally do see [that] there is a lot of intention to create social impact, but many times when [people] consider investments, it's either commercial or fully philanthropic. So, we don't really have a problem with anyone being genuinely interested in solving social issues. In fact, many do. But when it comes to parting with the capital, the risk appetite is not always there to support impact entrepreneurs.
Therefore, impact investing — which is not 100% traditional philanthropy or 100% commercial investment, but really a blend of the two — becomes a bit challenging to grasp. There really is a spectrum in impact investing, and hence as Impact Pioneers, we want to help manage that risk for those investing or thinking of getting into it.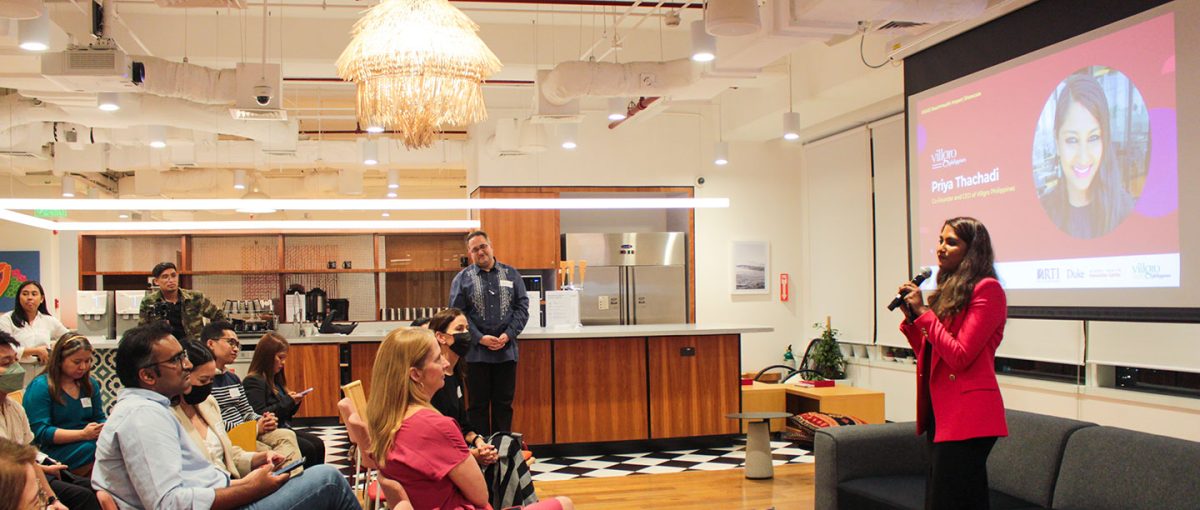 One of the gaps Impact Pioneers addresses is the gender gap. What does it mean to you to apply a gender lens to these operations?
For us Villgro Philippines and xchange, we are gender-smart organizations. Applying a gender lens means that first, we apply this internally in the makeup of our team, leadership, and board; Second, we have an explicit commitment to support a majority of women-led businesses; and lastly, in all things we undertake externally, we apply a gender lens, [and] this means applying it to events and gatherings, ensuring a diverse group.
You will never find a "manel" (all-male panel) at any of our events, for example! As Villgro Philippines, we adopted a gender-smart approach three years ago and are committed to applying a gender lens. In fact, 86% of our portfolio is women-led businesses.
We also co-created a community for women entrepreneurs in the Philippines, named WE Rise, in collaboration with UN Women, the Sasakawa Peace Foundation, and the Aspen Network of Development Entrepreneurs (ANDE). Further, we trained more than 50 incubators on gender smart incubation. Ultimately, we hope every organization in the startup ecosystem becomes gender smart.
Can you tell us more about angel investing, impact investing, and how these kinds of investments in particular help pave the way for women-led enterprises to thrive?
For most entrepreneurs, once they start seeing the problem-solution fit of their model, and start seeing early traction, they might need capital to help validate and scale up their models. And so, external capital can play a role in infusing cash to build the team, the operations, and tech or to fund inventory, a production facility, and more. Most often it is hard to grow only through your own revenues, you might stagnate or grow very slowly or even just collapse. It's essential to find the appropriate funding for your model.
In the early stages, angel investors can play a huge role in getting the business off the ground, by providing risk capital. Angel investors are able to make investment decisions faster and can provide patient capital that is needed when you are just starting your business. As a startup, if you can find an angel from your industry, they can open doors to key networks as well.
Meanwhile, impact investors are those who are investing in you, not just for your business and profits but also to help you create social or environmental impact. They are willing to take risks and support the build of impact-driven business models that are harder as you are balancing both the business and your mission. For women entrepreneurs and also others, it is important to find the investors and capital that is appropriate for your stage and approach, and also those who have the same values as you. When values align, it's always easier to work together.
Tell us more about the women-led ventures that Impact Pioneers Network has mentored and helped. Can you give us a couple of examples or stories that stuck with you?
Impact Pioneers is just getting started on our investment journey, and have already made an investment in women-led businesses. Since we have an explicit gender lens, we actively seek out a pipeline of women-led businesses. As Villgro Philippines, we also align with Impact Pioneers – so the women entrepreneurs from our gender smart programs like WE Rise or Inlife Negosyo, as well as our women entrepreneur community, can be fast-tracked to the Impact Pioneers deal-flow since many of them need external financing to grow their business.
For instance, I met Nelben Moreno, one of our first investees in Impact Pioneers, years ago when she was working for a foundation to train farmers, and I was thrilled to see her launch her own farm-to-market social enterprise, Green Habits. Nelben's commitment to helping farmers in far-flung areas of Mindanao by connecting them to the market to ensure that the income of the farmers can increase has been unwavering.
She and her team travel by foot and even by horse to reach some of the mountain farmers they support. It takes multiple visits to ensure that the vegetables are being grown under the right conditions, and harvested correctly, so they can fetch a good price. Backing entrepreneurs who are pioneers in many ways and working in the last mile is critical, and Nelben is one such entrepreneur not working for the glamor or fame, but truly to solve the urgent issues in agriculture and support farmers who have been stuck in poverty traps for too many years.
There is also Noreen from Panublix, who is daring to digitize and connect yarn and fabric producers to a consistent market. This means very often starting with training the producers, getting them to the market quality, while at the same time building the market side of the business.
What we see in Nelben, Noreen, and so many other women entrepreneurs, is that they are figuring out a scalable business model, but at the same time investing in and lifting up the communities alongside. That is why investing in women entrepreneurs is both smart business and essential to creating an equitable world.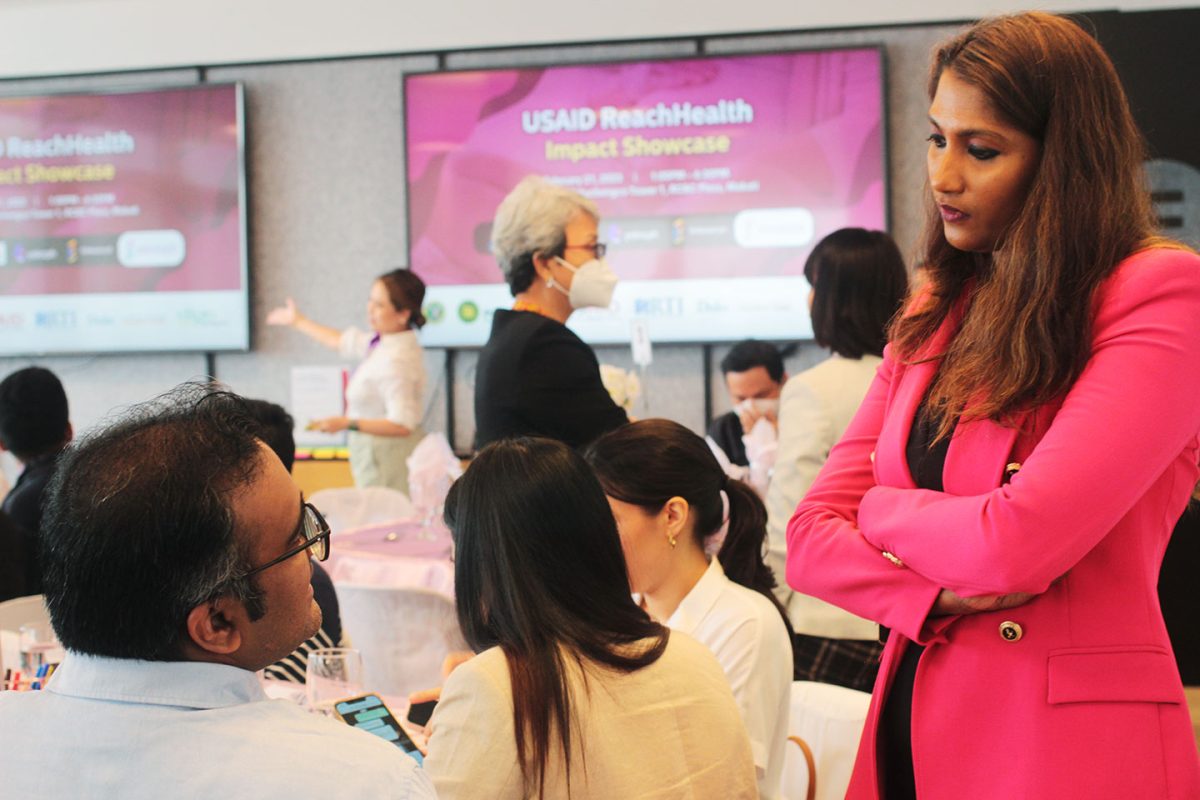 Since the startup ecosystem, like most industries, is unfortunately biased towards men, it can be intimidating for some women to learn about it, and much more to seek out investors and incubators for their ideas. How does Impact Pioneers Network try to make this concept and endeavor less intimidating and feel less out of reach for women?
Absolutely. Globally the gender financing gap continues to be appalling. Despite the Philippine ecosystem being quite progressive in the number of women entrepreneurs, we are not in the green yet. I believe there are issues on both sides: the demand and supply of capital.
On the investing side, most investors believe they are gender blind, and maybe so. But unconscious biases do exist and we also have to understand the issues we have in gender equity. Women entrepreneurs are not starting from the same position, it is very hard to access a loan, when you may not have a credit history or collateral. It is not easy for women to also access networks and very critically, we have huge information asymmetry issues locally.
Unless you are in a big city or have a well-connected family or friends, it is quite difficult to access opportunities today, it's not a level playing field. We also have very few female investors. So, when a woman entrepreneur starts looking to fundraise, it seems very daunting and so many today are choosing to just take personal loans to fund their business.
There is also a shortage of financial products that are appropriate to the types of businesses that women entrepreneurs are building. Many women-led companies may not be the hyper-growth companies that venture capital is looking for, and so may not actually find it tailored to their needs or fit the narrative that is out there today — this needs to change.
There are challenges with women entrepreneurs too, such as on the financial and compliance side. We also see women entrepreneurs underplaying their potential for growth quite often. Some lack familiarity with investment terms and generally how to get investment ready. We do encourage women entrepreneurs to be more imaginative about their potential for growth and build confidence to negotiate the terms of investments. More work needs to be done on that side. It's also very critical for women entrepreneurs to be part of communities and actively build their networks, so they can access the information to opportunities. There is huge power in the collective voices of women.